Europe In Fresh Push For Talks On Ukraine Crisis
@AFP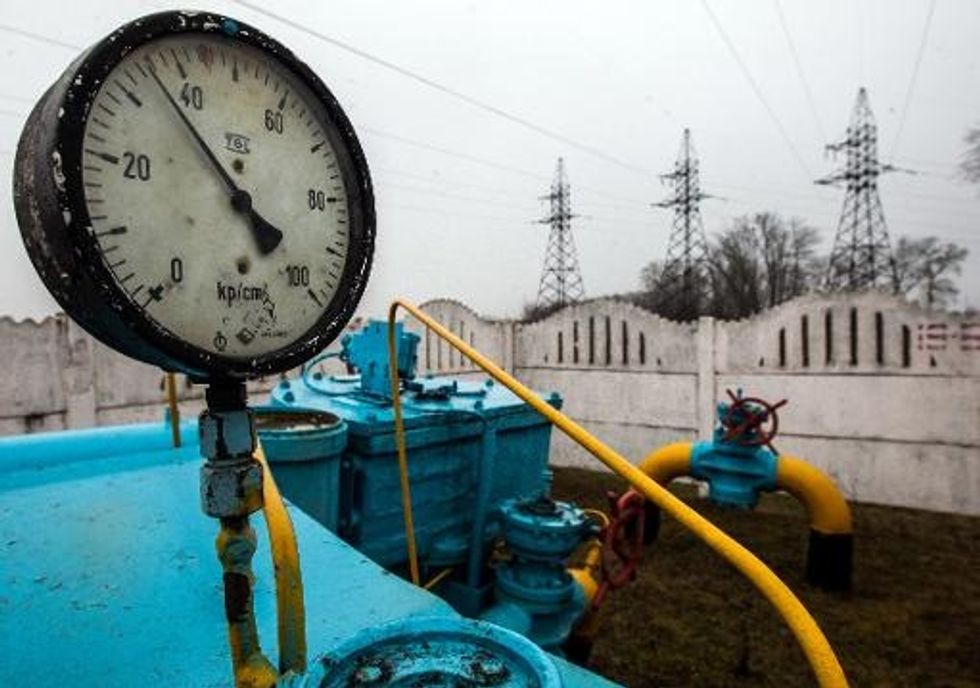 Kiev (AFP) – Europe stepped up diplomatic efforts to resolve the crisis in Ukraine Tuesday, with the German foreign minister in Kiev pushing authorities and pro-Moscow rebels to come together at the negotiating table.
German Foreign Minister Frank-Walter Steinmeier's efforts came amid guarded optimism after the OSCE East-West security body said Moscow supported its road map to resolving the crisis through talks, disarmament and elections.
Russia's lukewarm endorsement on Monday of weekend independence votes in the eastern provinces of Donetsk and Lugansk also allayed fears President Vladimir Putin would move quickly to annex the territories, as he did with Crimea earlier this year.
But Moscow kept the pressure on Kiev, insisting that talks on regional rights must take place before a presidential vote on May 25 and accusing the pro-Western interim government of refusing "real dialogue."
Later in the day the European Commission will host Ukraine's Prime Minister Arseniy Yatsenyuk in Brussels to offer support and discuss the next move in attempts to defuse a crisis that has brought the West's relations with Russia to their lowest point since the Cold War.
After talks with Yatsenyuk, Steinmeier said the situation in Ukraine remained "very threatening" but that he hoped progress was being made on resolving the crisis peacefully.
Calling for "a national dialogue under Ukrainian leadership," Steinmeier said: "I hope this will create the conditions to take a step to bring back occupied territory, disarm armed groups step-by-step and reinstall the authority of the state."
He also said presidential elections will "play a crucial role" in bringing the country out of crisis.
Steinmeier was later due to meet interim president Oleksandr Turchynov and travel to the southern city of Odessa.
In Moscow, the foreign ministry said Kiev's "refusal to engage in real dialogue…was a serious impediment to a de-escalation" of the crisis.
The ministry said Deputy Foreign Minister Grigory Karasin had met the European Union's Moscow representative Vygaudas Usackas and told him that negotiations must be held "in the near future, and in any case before the May 25 elections."
The fresh diplomatic flurry comes after rebels in eastern Ukraine appealed on Monday to join Russia following what they claimed were resounding victories in independence referendums.
Both European and U.S. officials denounced the votes as illegal, but Moscow said it "respects" the results and called for talks with rebels in the industrial regions of Donetsk and Lugansk, home to seven million of Ukraine's 46 million people.
Rebel officials in Donetsk said 89 percent of voters there backed breaking away from Ukraine in Sunday's referendum, while separatists in Lugansk said 94 percent had backed independence.
The Organization for Security and Cooperation in Europe (OSCE), which began life as a forum for East-West dialogue in the Cold War and is becoming an important player in the crisis, said Monday that Putin is "supportive" of its road map for Ukraine.
After a phone call between its chairman and the Russian president, the Vienna-based OSCE said the road map focuses on "restraint from violence, disarmament, national dialogue, and elections."
In a statement, the Kremlin said the two had agreed on "the importance of intensifying OSCE efforts to settle the crisis."
The OSCE is planning to send 1,000 monitors to Ukraine for the presidential election, "one of the biggest missions" in the organisation's history.
Kiev and Western leaders have accused Moscow of backing the rebels and on Monday EU foreign ministers announced new sanctions against Russians and Crimeans involved in the crisis.
A further 13 people and two companies were listed as subject to a European Union asset freeze and visa ban.
Among them were Natalya Poklonskaya, the prosecutor of Crimea who became an Internet sensation for her good looks, and the self-styled mayor of the rebel-held Ukrainian city of Slavyansk, Vyacheslav Ponomaryov.
Canada also slapped fresh sanctions on a dozen Russian and Ukrainian separatists.
Violence has flared for weeks in eastern Ukraine as government troops carry out operations against well-armed rebels who seized several cities and towns in chaos that followed the ouster of Ukraine's pro-Russian leader Viktor Yanukovych in February.
Ukrainian officials have said 49 people have died in the Donetsk region since the start of the unrest, and deadly clashes and an inferno in Odessa killed at least 42 people earlier this month.
Andrey Sinitsin AFP