Europe Wants New Spy Deal With U.S. Following Revelations
@AFP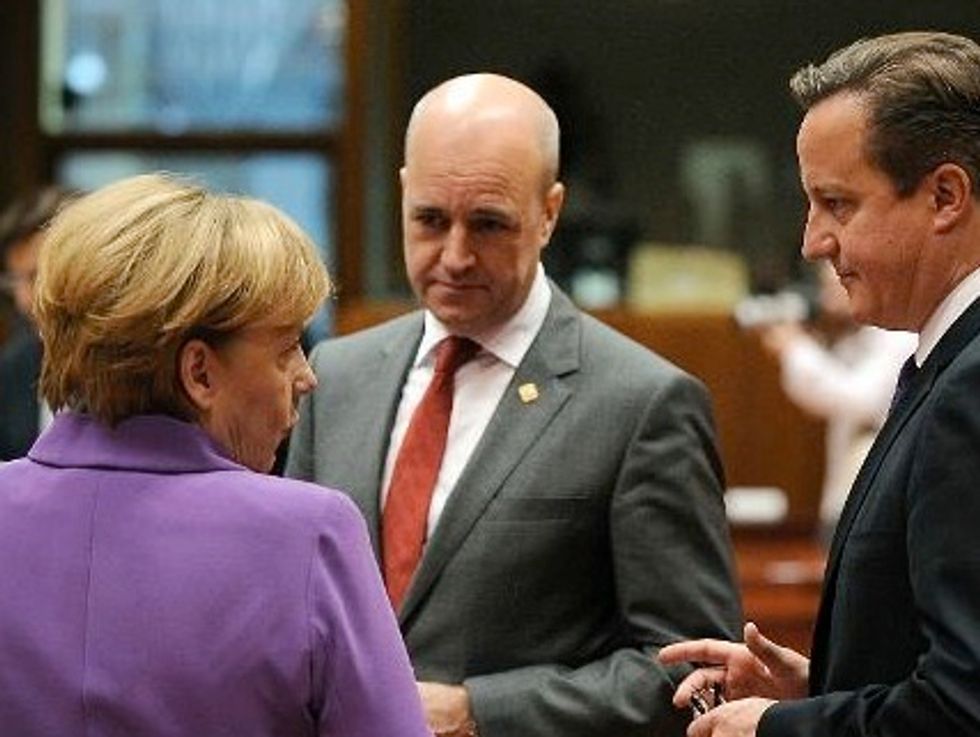 Brussels (AFP) – European leaders said Friday they want a new deal with Washington to end a damaging spy row so as to keep an essential alliance and the fight against terrorism on track.
The aim should be to agree rules for intelligence gathering rather than seek a pointless confrontation, Belgian Prime Minister Elio di Rupo said.
"The objective must remain the same — to fight against terrorism but also respect privacy," Di Rupo said as he arrived for the second day of an EU leaders summit which has been dominated by revelations of U.S. spying operations across Europe.
"Everyone can understand the need for exceptional measures given the danger of terrorism … but we are not in the position where we should spy on each other," he said.
France and Germany are to try to reach an understanding with Washington by year's end on intelligence gathering.
A statement approved by all 28 EU leaders — including Britain which has tight intelligence links with the United States — noted "the close relationship between Europe and the USA and the value of that partnership."
This must "be based on respect and trust," a lack of which "could prejudice the necessary cooperation in the field of intelligence gathering".
EU leaders "stressed that intelligence gathering is a vital element in the fight against terrorism," the statement added.
Revelations of U.S. covert surveillance, topped by reports German Chancellor Angela Merkel's mobile phone had been tapped, have sparked outrage in Europe.
"Spying between friends, that's just not done," Merkel said.
"We need trust between partners and such trust needs to be re-established," she said.
The growing scandal has embroiled U.S. President Barack Obama in embarrassing exchanges with key allies — from France and Germany to Brazil and Mexico.
More could follow after a fresh slew of damaging revelations in a report in Britain's Guardian daily saying Washington had listened in on the phone conversations of 35 world leaders.
A code of conduct is needed
French President Francois Hollande called for a new code of conduct, recalling that the EU had set up a special unit to review the issue after leaks by fugitive former U.S. intelligence contractor Edward Snowden earlier this year.
These experts have to "accelerate their work with our American allies," he said.
Because "this is a subject which is not going away."
Meanwhile, an advisor to President Obama acknowledged that U.S. surveillance had caused problems with its allies.
Recent disclosures "have created significant challenges in our relationships with some of our closest foreign partners," Lisa Monaco, assistant to the president on homeland security and counterterrorism, wrote in USA Today.
Monaco added that "the president has directed us to review our surveillance capabilities, including with respect to our foreign partners."
In another twist, the Washington Post reported that the United States was warning some foreign intelligence services that documents obtained by Snowden contain details of how they cooperate secretly with Washington.
Citing unnamed U.S. administration officials, it said some of the tens of thousands of documents harvested by the fugitive former intelligence contractor contain sensitive material about programmes against countries such as Iran, Russia and China.
The scandal has sparked widespread anger in Europe, with some senior EU officials suggesting talks on a massive EU-U.S. free-trade agreement could be suspended.
Merkel, however, cautioned against such a move, arguing: "When you leave the room you have to work out how to get back."
Di Rupo warned too that there was "no reason … to create more problems than there already are."
The European Parliament has already asked for a key EU-U.S. bank data-sharing deal aimed at fighting terrorism to be suspended.
AFP Photo/John Thys