European Allies No Help In Dealing With Putin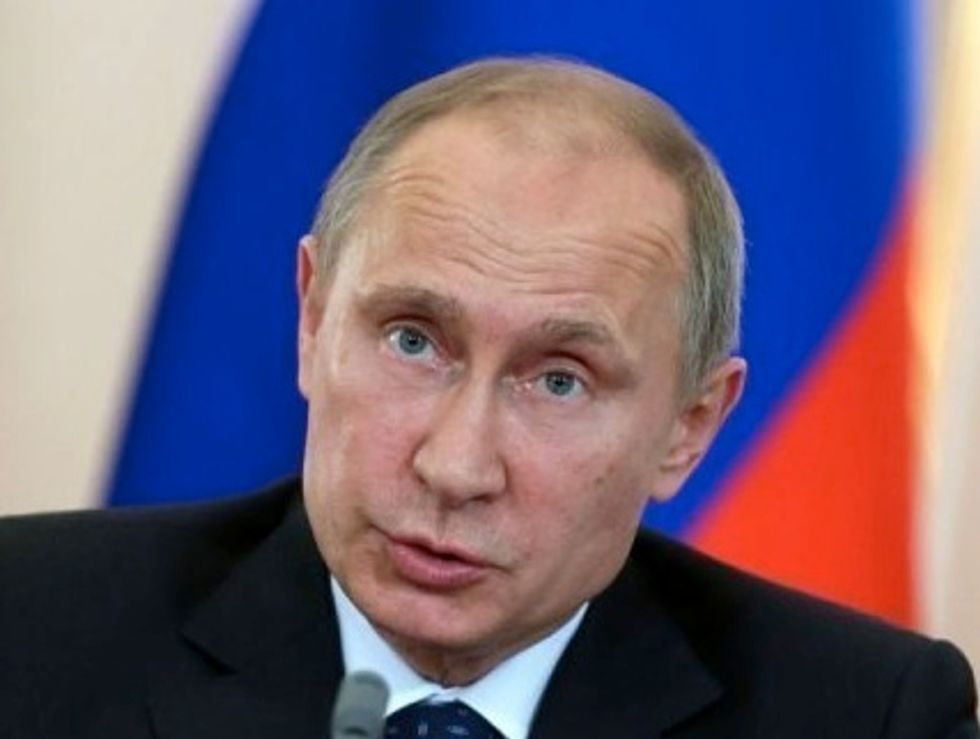 Even if it accomplishes nothing else, calling Vladimir Putin nasty names makes us feel a little better. Thug, megalomaniac, liar, war criminal, mass murderer — those are just the printable ones.
If only the Russian president cared what the rest of the world says (or thinks) about him. He doesn't, and why should he?
Among global leaders, only President Obama, British Prime Minister David Cameron and Australian Prime Minister Tony Abbott have expressed anything that resembles outrage over the downing of Malaysia Airlines Flight 17 by pro-Russian rebels in Ukraine.
Even in the Netherlands, which lost more than 150 citizens on that plane, the government continues referring to the missile strike as an aviation "disaster" instead of the reckless massacre it was.
All across Europe, the politicians in power have stated their obligatory shock and dismay, but there's scant enthusiasm for enacting the sort of economic sanctions against Moscow that the United States initiated months ago.
Foreign ministers who gathered last week in Brussels composed a wish list of prominent Russian individuals and companies for possible trade and banking restrictions, yet no action was taken.
At this point it's clear that the missile system used against the Malaysian aircraft was supplied by Russia, and that those who fired it were — if not Russians themselves — trained and coached by experts from that country.
Intercepted communications from the self-proclaimed separatists suggest that the shoot-down was a horrible screw-up, that the yahoos who had control of the missile launcher believed they were shooting at a Ukrainian military aircraft.
That doesn't mean Putin's hands are blood-free. But instead of apologizing to the families for Russia's role in the tragedy, he continues to blame the Ukraine military and refuses to concede that the antiaircraft missile was one of his.
Lies and disinformation are exactly what you'd expect from an ex-KGB guy. What's surprising is the limp response on the European continent, where it's all about money and oil. Putin literally has much of the Western leadership over a barrel.
Russian investors now own such a large chunk of London that Great Britain is, despite Cameron's condemnation of the missile attack, unlikely to make any serious moves against the Putin government.
Meanwhile, across the English Channel, France is moving briskly on schedule to complete construction of two helicopter-bearing ships for the Russian military, and says the downing of Flight 17 will not delay (or make it reconsider) the delivery.
"The Russians have paid (for the ships)," said President Francois Hollande, which was basically a shrug. Halting arms sales to the Kremlin would result in the loss of jobs at French weapons factories and damage the national economy, officials there said.
Other countries fear that Russia would respond to sanctions by cutting their supplies of gas and oil, as is happening in Ukraine.
The mood of morose resignation is most stark in Amsterdam, even as the bodies of the Flight 17 victims are finally being sent home. In recent years the Dutch have watched their trade with Russia grow rapidly, and both countries have billions of dollars at play in the other.
Shell, the international energy giant, headquarters in the Netherlands and, according to the New York Times, is one of the biggest foreign stakeholders in the natural gas fields of Siberia.
Penalties for trading with Russia could hurt not only Shell but many Dutch citizens whose pensions are heavy with the company's stock. Because of its enormous influence upon the Dutch government, no official denunciation of Russia is expected there.
Back in the United States, polls in the aftermath of the airline tragedy show most Americans strongly disapprove of Obama's handling of foreign crises. Yet an even larger majority opposes increased U.S. involvement in Ukraine, Iraq or anywhere else.
What people in this country seem to want most from the president is more emotion and tougher talk. While everybody's rightly infuriated that 298 souls were lost because Putin gave missiles to a bunch of goons, nobody sane believes war is the answer.
Twisting the economic screws would definitely grab the Kremlin's attention if our major allies agreed to sanctions, but right now the United States stands essentially alone. Obama could crack down more, but just wait until the blowback hits U.S. firms heavily invested in Russia.
So, in the absence of an easy answer, we fulminate: Putin is a thug. Putin is a coward. Putin is whatever.
And, after all is said, he's still there.
Carl Hiaasen is a columnist for the Miami Herald. Readers may write to him at: 1 Herald Plaza, Miami, Fla., 33132.
AFP Photo/Maxim Shipenkov
Want more political news and analysis? Sign up for our daily email newsletter!