European Stock Markets Drop On Easing Syria Concerns
@AFP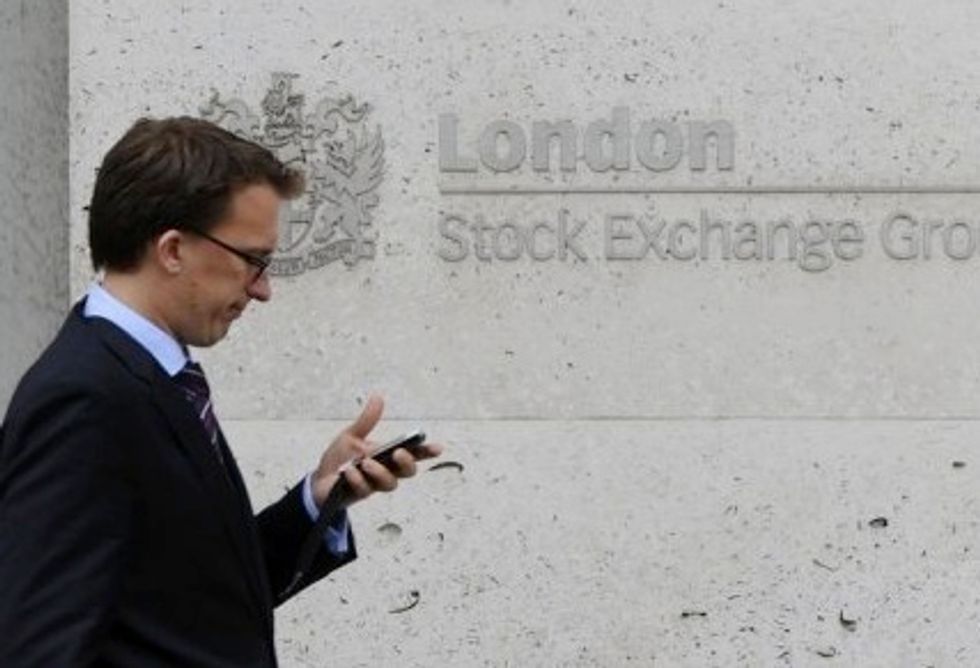 LONDON (AFP) – Europe's main stock markets fell on Friday as investors digested easing concerns about an imminent Western strike on Syria, after lawmakers voted against Britain's involvement.
London's FTSE 100 dipped 0.59 percent to stand at 6,445.16 points in late morning deals in the British capital.
Frankfurt's DAX 30 reversed 0.66 percent to 8,140.90 points and the CAC 40 in Paris shed 0.65 percent to 3,960.42. Madrid's IBEX 35 lost 0.81 percent in value.
In foreign exchange activity, the European single currency firmed to $1.3247 from $1.3241 late on Thursday. The dollar slipped to 98.12 yen from 98.32 yen.
Sterling firmed to 85.51 pence for a euro, but slipped against the dollar to $1.5494.
"Markets do not like wars; the reaction was pretty clear in the past couple of days," said Gekko Markets trader Anita Paluch.
"Now the strike on Syria is not imminent … there is a little bit of relief."
U.S. plans to build an international coalition for a "limited" strike on Syria suffered a blow when British lawmakers voted late on Thursday against the use of force in a blow to Prime Minister David Cameron.
The White House signalled however that President Barack Obama would take unilateral action if necessary.
And French President Francois Hollande said a military strike on Syria could come by Wednesday, adding that Britain's surprise rejection of armed intervention would not affect his government's stand.
"Markets this morning are met with the news that parliament has defeated two votes on military action in Syria," added Spreadex trader David White.
"Fear-linked instruments such as gold and dollars have been sold lightly, indicating that participants are taking news flow as it comes.
"If the market is to be believed, the financial implications of this crisis are at least not thought to be more severe than could be reasonably expected."
The mining and energy sector took a hit, as gold and oil prices shed recent gains.
World oil prices pulled back from recent peaks as fears eased of a military strike against Syria over its alleged use of chemical weapons.

And gold prices slid to $1,396.82 per ounce, having soared on Wednesday to $1,433.83 — the highest level since May 14 — as investors flocked to the safe-haven metal amid heightened worries over Syria.
"The surprise defeat for David Cameron on Syrian military intervention has seen oil and gold prices retreat," noted Rebecca O'Keeffe, head of investment at online stockbroker Interactive Investor.
"While this result does make it very difficult for the U.S. and make military action less likely, it doesn't remove the threat altogether and investors remain tentative."
In reaction to lower oil prices, shares in French oil group Total dropped 1.32 percent to 41.95 euros in Paris.
In London, British energy giant BP slid 1.10 percent to 445.95 pence and Anglo Dutch Shell saw its 'A' share price dip 1.06 percent to 2,094 pence.
Gold producers also took a modest hit from falling prices for the precious metal.
"With news that the U.K. will not attack Syria, commodity prices fell sharply and recent strong gold and silver shares traded sharply lower," added Ronnie Chopra, head of strategy at brokerage Tradenext.
On the upside in Paris, shares in L'Oreal surged by 3.8 percent on news that the group, the world's top cosmetics company, may be looking to buy back Swiss food giant Nestle's holding.
The stock surge to 127.00 euros in morning deals on the Paris stock exchange.
In Asian stock market trading on Friday, shares mostly rose after upbeat U.S. economic growth data and easing Syria tensions.
Hong Kong closed up 0.12 percent, Sydney added 0.84 percent and Seoul was 0.99 percent higher, while Tokyo fell 0.53 percent and Shanghai ended flat.
Wall Street provided a positive lead after the Commerce Department said the U.S. economy grew at an annual rate of 2.5 percent in the April-June quarter, much better than the original estimate of 1.7 percent.
It said stronger consumer spending and exports underpinned the pickup from the first quarter's sluggish 1.1 percent pace, while exports were stronger and imports slower than originally estimated.
The Dow rose 0.11 percent, the S&P 500 added 0.20 percent and the Nasdaq increased 0.75 percent.
Photo Credit: AFP/Facundo Arrizabalaga