European Stocks Tread Water On Mixed U.S. Data
@AFP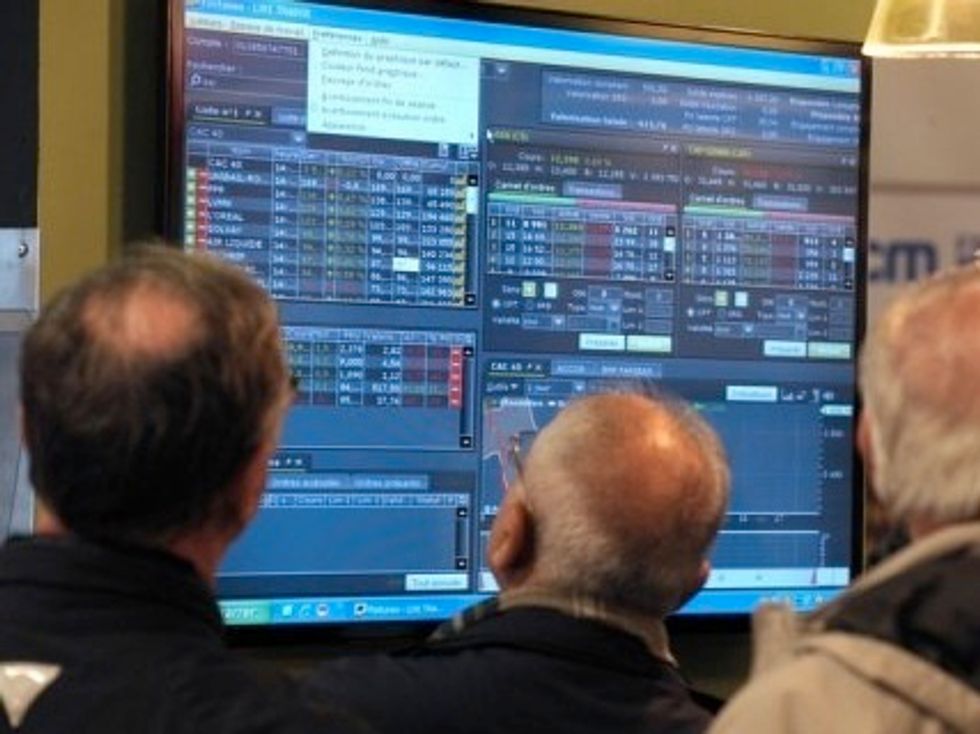 LONDON (AFP) – Europe's leading stock markets closed broadly flat on Friday as traders pored over key U.S. economic data for clues on when the Federal Reserve will start scaling back its huge stimulus programme.
At the close, London's benchmark FTSE 100 index fell 0.08 percent at 6,583.8 points.
Frankfurt's DAX 30 firmed 0.18 percent to 8,509.42 points and the CAC 40 in Paris gained 0.19 percent to 4,114.5 points.
"In focus are the retail sales numbers and consumer sentiment from the U.S.," said Gekko Markets trader Anita Paluch.
"The reason why retail sales are so closely watched is they account for around 70 percent of the U.S. economy. They will be a key aspect when it comes to the Fed deciding whether to curb on its purchasing programme."
In a mixed report, U.S. retail sales edged higher in August at a weaker-than-expected pace of 0.2 percent, but the July figure was revised higher to 0.4 percent from an initial estimate of 0.2 percent.
The figures were the last significant piece of economic data ahead of the Federal Reserve's two-day monetary policy meeting that starts Tuesday.
The Fed is widely expected to announce a pull-back in its massive monetary stimulus programme on Wednesday.
In foreign exchange trade Friday, the European single currency fell to $1.3277 from $1.3299 late in New York overnight. The dollar dipped to 99.38 yen from 99.47 yen.
The price of gold slipped to $1,318.50 an ounce on the London Bullion Market, from $1,328 Thursday.
In London deals, shares in miner Anglo American were down 3.21 percent at 1,568.50 pence, due to a slump in metal prices.
Kabel Deutschland meanwhile jumped 5.53 percent to 91.96 euros after the German cable operator announced late Thursday that its shareholders had given the go-ahead for a 7.7-billion-euro ($10-billion) takeover by Vodafone.
The offer by the British mobile phone giant is worth 87 euros per Kabel share.
Shares in Vodafone, which is flush with cash after recently selling its stake in a U.S. joint venture to partners Verizon for $130 billion, were 0.90 percent higher at 212.00 pence.
Elsewhere, Aer Lingus slumped 5.99 percent to 1.49 euros after the Irish airline issued a shock profit warning, mirroring a recent announcement from rival Ryanair.
Aer Lingus cut its forecast for annual 2013 net profit to about 60 million euros as hot weather in Ireland and Britain hit demand for holidays abroad, it said in a statement.
That compared with the group's previous guidance for about 69.1 million euros.
Asian stock markets mostly closed lower on Friday as attention turned to next week's US Federal Reserve meeting.
Wall Street mostly rose Friday, with the Dow Jones Industrial Average climbing 0.42 percent to 15,364.98 points in midday trade.
The broader S&P 500 index rose 0.24 percent to 1,687.39, and the tech-rich NASDAQ composite edged up 0.04 percent to 3,176.64 points.
Photo Credit: AFP/Eric Piermont