Eurozone Ends Recession As Economy Grows 0.3 Percent
@AFP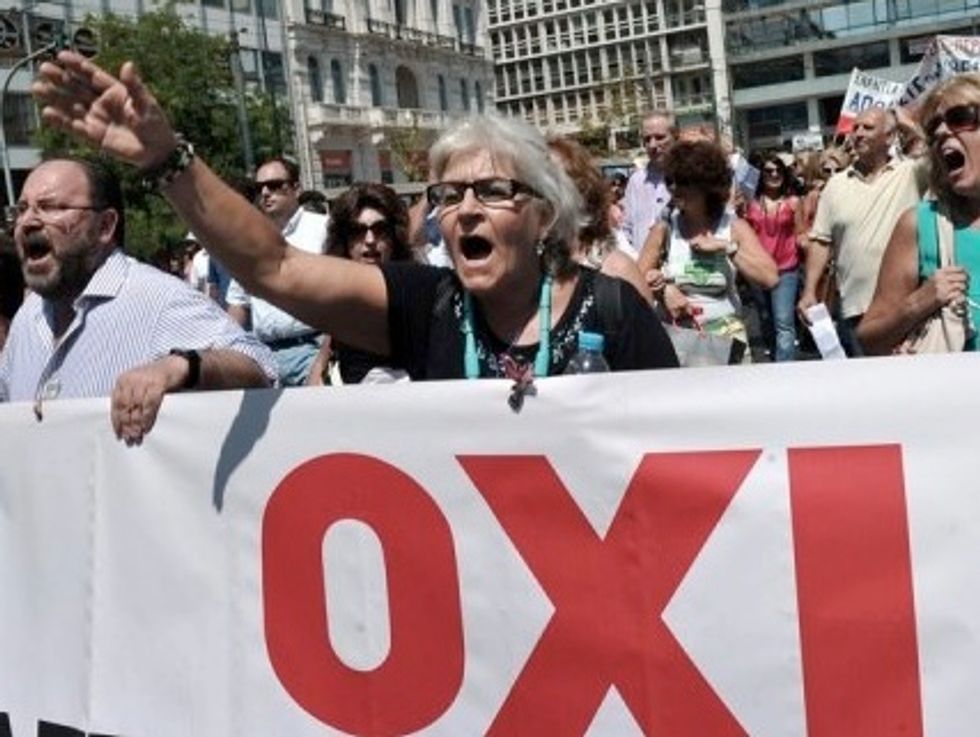 BRUSSELS (AFP) – New data on Wednesday confirmed that the eurozone escaped an 18-month recession in the second quarter but the outlook is difficult and the bloc still lags well behind in global terms.
Analysts welcomed the figures, which reinforce other survey findings, but were also cautious as the debt crisis continues to sap the economy and unemployment runs at record highs.
The eurozone appears "on course for further modest growth in the third quarter but recovery looks like being a gradual process that will be vulnerable to any shocks," said Howard Archer of IHS Global Insight.
The economy of the 17-nation eurozone, home to about 340 million people, grew 0.3 percent in the three months to June, the Eurostat statistics agency said in a second estimate.
That compared with a contraction of 0.2 percent in the first quarter, originally given as a negative 0.3 percent.
In the full 27-member EU, the economy expanded 0.4 percent in the second quarter, better than the initial 0.3 percent reading and after shrinking 0.1 percent in the first.
Compared with output in the second quarter 2012, the eurozone shrank 0.5 percent while the EU was flat.
During the same period, the US economy grew 0.6 percent compared with the first quarter and by 1.6 percent compared with a year earlier.
Meanwhile a closely-watched business survey showed the key services sector in the eurozone returned to growth in August as overall business activity hit a 26-month high.
The Composite Purchasing Managers' Index compiled by Markit Economics rose to 51.5 points in August from 50.5 in July but it was down from the 51.7 points flagged in the first flash estimate.
The data also showed that growth in the powerhouse Germany economy was not enough to stop employment levels falling while second-ranked France slipped back faster than in July.
At 50.7 in August, up from 49.8 in July, Markit said its separate PMI for the services sector — which accounts for the bulk of economic activity — showed growth for the first time in 19 months.
Manufacturing activity had already crossed the 50-points boom-or-bust line in July.
"The eurozone recovery is looking increasingly broad-based, with more sectors and more countries emerging from recession," said Chris Williamson, Chief Economist at Markit.
"The hope for the eurozone is that currently rising confidence will encourage businesses to lift their employment and investment plans, and will also encourage consumers to spend more," Archer said.
At the same time, the upside will likely "remain limited for some considerable time … by serious headwinds," he said, citing tight fiscal and credit conditions, ongoing bank reforms and high jobless rates.
Christian Schulz of Berenberg Bank was more optimistic, noting improvements in some of the weaker eurozone countries, especially Spain as it presses ahead with structural reforms to put its economy back on track.
Spain now benefits from strong export growth, which is helping confidence spread, while "unemployment should continue to fall, easing fiscal pressures," Schulz said.
In contrast, "Italy and France are falling behind, although their economic and fiscal problems were smaller than Spain's. Further reforms will be inevitable in both countries," he said.
Separately, eurozone retail sales in July edged up 0.1 percent by volume after a fall of 0.7 percent in June.
Compared with a July 2012, retail sales were down 1.3 percent, reflecting how the economic slump is keeping consumer demand, the key driver for growth, under pressure.
Photo Credit: AFP/Louisa Gouliamaki