Even After Trump's Curiel Remarks, Merrick Garland Probably Won't Receive A Senate Vote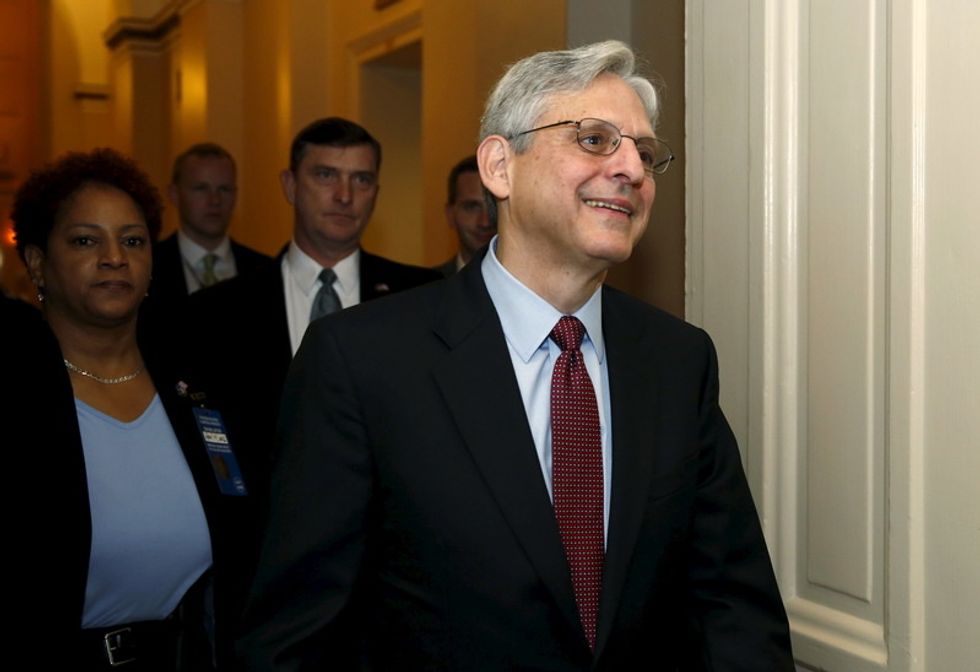 More than two months have passed since President Obama nominated Judge Merrick Garland to take the vacant seat of the late Justice Antonin Scalia and become the nation's 113th Supreme Court justice. Garland is a moderate who has been praised by politicians in both parties and whose work on the D.C. Court of Appeals has displayed little discernible ideological bent.
The Senate's refusal to vote on Garland's confirmation isn't surprising – Senate Majority Leader Mitch McConell announced that the Senate would not consider any Obama nominees the very same day Justice Scalia died, once again confirming the 114th Congress's main objective: obstruction.
What may come as a surprise is that, even after Donald Trump became the Republican nominee, Senate Republicans still refuse to consider Garland over whomever the unpredictable Trump may pick.
To calm Republican concerns that he isn't really a conservative, Trump released a list of his possible Supreme Court nominees last month. The list is tailor-made for establishment conservatives, including anti-abortion judges like Raymond W. Gruender, who was involved in enforcing a South Dakota law requiring doctors to tell women that abortions "terminate the life of a whole, separate, unique living human being," and William H. Pryor Jr., who has publicly denounced Roe v. Wade, calling it a "a constitutional right to murder an unborn child."
Gruender and Pryor may have sounded like candy to a child to Senate Republicans, but what about Trump's claims that Judge Gonzalo Curiel shouldn't preside over the Trump University lawsuits against him because he's "Mexican"? Or his claims that it would be "wild" if he came back to face Curiel as president? The Economist said of those comments, "If Mr Trump wins the White House, he will have a bully pulpit at his disposal from which he could unravel basic principles of American democracy."
Senate Judiciary Chairman Chuck Grassley said Trump's remarks should not raise concerns over his ability to nominate a Supreme Court justice. Actually, he believes that "you don't have any more trouble with what Trump said than when Sotomayor was found saying in speeches that, quote, 'A wise Latina woman with the richness of her experience would more often than not reach a better conclusion than a white male.'"
After Grassley's refusal to disavow Trump's racist remarks, Senator Harry Reid lambasted him during his opening floor remarks last Tuesday. "Instead of rising above bipartisanship and condemning Trump's racist attack on a highly qualified judge — by the way, who was born in Indiana — Grassley kisses Trump's ring and toes the party line," the Senate minority leader said before reading an excerpt from the Roll Call report in which Grassley stated that Trump "must respect the judiciary" because he has "seen statistics that he's won over 400 cases, only lost 30."
"How about that? I find it curious that the chairman doesn't have time to read Merrick Garland's questionnaire or give him a hearing but has time to study Donald Trump's success rate in the courtroom," Reid commented after reading the excerpt.
Grassley responded by saying that he wouldn't have said what Trump said about Judge Curiel and disagreed with his assessment, but based on his "Q&As with Iowans last week, they are more concerned about the jobs report that came out on Friday and about how we can get more Americans back to work with decent paying jobs."
Other members of the Senates Judiciary Committee also refuse to consider Garland's candidacy despite their negative views, and even fear, of Trump. Senator Lindsey Graham, who has become one of the GOP's few remaining opponents to Trump, met with Garland but still refuses to support a vote on his nomination. Graham accused Trump of "playing the race card" and called his attacks on Judge Curiel "the most un-American thing from a politician since Joe McCarthy." Still, he would rather Trump, who he has said he won't vote for, choose the next Supreme Court justice over even considering the moderate Garland, who he has called "a very capable, honest judge."
Senator Mike Lee has said that Trump scares him "to death," and is not ready to endorse him. Still, he stands with his party's strategy and refuses to support a vote on Garland.
Senator Jeff Flake has stated that Trump's comments about Curiel ethnicity may provoke a challenge to trump's candidacy at the convention. "The whole thing that we Republicans say we're against, this identity politics, to say that if you're a certain gender or you're a certain race that you have to vote that way," Flake said. "He's just trying to confirm that stereotype that's completely wrong. It's offensive, it really is." Senator David Purdue said he was "troubled" by Trump's remarks. Still, they will not vote on Garland.
The Republican argument for refusing to vote to fill Scalia's seat has been that the American people should have a say on his replacement, ignoring that the American people voted for President Obama to make that choice in 2008 and 2012. The Senate's refusal to vote on Garland's confirmation is unprecedented. A scholarly article by law professors Robin Kar and Jason Mazzone found that there have been 103 instances in which a president nominated and appointed a new justice prior to the election of the next president. The study did not find a single exception to this practice in American History.
President Reagan, for example, nominated Anthony Kennedy when he was approaching his final year in office, and the Senate unanimously approved Kennedy in February 1988 – less than a year before the end of Reagan's second term. This is the first time in American history that a president has been denied even the opportunity to fill a vacant seat on the Supreme Court.
The Supreme Court has had eight justices – a number Ruth Bader Ginsburg called "not a good number" — for almost four months now. A March CNN/ORC poll found that two-thirds of Americans want the Senate to hold confirmation hearings on Garland's candidacy.
Photo: U.S. Supreme Court nominee Judge Merrick Garland walks after a breakfast with Senate Judiciary Committee Chair Senator Chuck Grassley (R-IA) on Capitol Hill Washington, April 12, 2016. REUTERS/Yuri Gripas