Even 'Moderate' Republicans Are Bent On Sabotage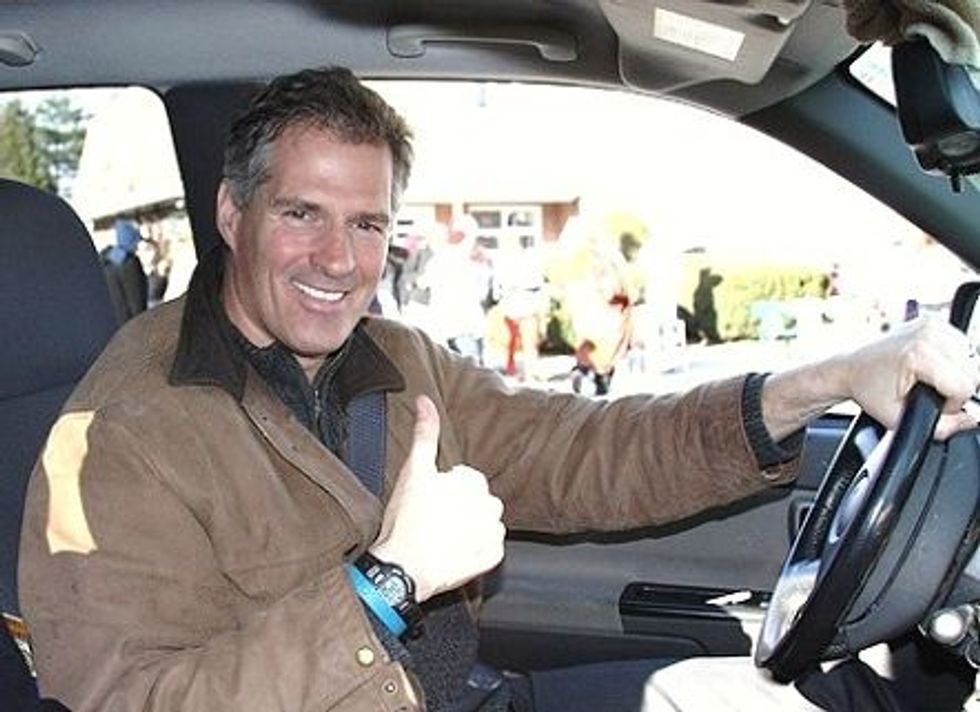 Scott Brown is a Veep character who thinks he's on House of Cards.
After becoming the first Republican elected in the Tea Party wave of 2010, his greatest accomplishment as a U.S. senator was helping banks rewrite Wall Street reform so it might protect "two financial institutions in Massachusetts from the Volcker Rule's restrictions," according to former U.S. Treasury Secretary Timothy Geithner's new book, Stress Test.
Which two financial institutions? Brown couldn't remember. He had to ask his aide.
Since being ousted from the Senate by Elizabeth Warren (D-MA), Brown has spent his time lobbying for financial giants, guest-hosting on Fox News and pretending to run for president. At the peak of the backlash over HealthCare.gov earlier this year, he decided he had a chance to get back into the upper house of Congress by taking on incumbent senator Jeanne Shaheen (D-NH).
The entire rationale for the Brown campaign? Obamacare is a disaster, even though as a state senator Brown voted for Romneycare and advocates states pursuing similar solutions, which would be exactly like Obamacare.
Unsurprisingly, Brown can't seem to decide if Medicaid expansion — the popular part of the law, which was recently approved in New Hampshire — should stay or go as part of "full repeal" of the Affordable Care Act.
The Washington Post's Greg Sargent describes Brown's gyrations on the campaign trial — saying current expansion beneficiaries should be "grandfathered" just to have his spokesperson walk back that comment later — as "epic buffoonery."
Brown comes off as likable enough to make his clumsy approach to life-and-death issues seem slapstick. But there's real venom in his ambition.
The Huffington Post's Sabrina Siddiqui and Ryan Grim reported that Brown used his lobbying skills this week to destroy one of the few bipartisan pieces of legislation that would help the environment this decade:
New Hampshire Senate candidate Scott Brown called Senate Republican leadership to urge them to stop a bipartisan energy efficiency bill, so as not to give Sen. Jeanne Shaheen (NH), the bill's Democratic sponsor and his Democratic opponent, something to run on.
LOL.
You could understand why Brown wouldn't want his opponent to have something to run on. That wouldn't be a fair fight.
What would this uncontroversial piece of legislation have done?

Grist's Ben Adler explains:
The Energy Efficiency Improvement Act, which passed the Republican-controlled [House] by an overwhelming margin, would, among other things, increase energy-efficiency requirements for federal buildings and create a voluntary certification system for private buildings.
Scott Brown doesn't even need to be in the Senate to prove that the myth of a moderate Republican who is willing to put aside party politics to govern is a hoax, even if he is pro-choice and once supported an assault-weapon ban.
Senate Minority Leader Mitch McConnell (R-KY) figured out in 2009 that scrubbing all legislation of "bipartisan" branding was the GOP's surest way back into power, explains New York magazine's Jonathan Chait. This shrewd hacking of the legislative process would be enough to suggest that Republicans are willing to sabotage progress for their own political gain.
But another anecdote from Geithner's Stress Test reveals how far "moderate" senator Mark Kirk (R-IL) went to try to undermine the administration's handling of the economy when he was a congressman. The Associated Press reports:
Geithner describes an incident on his first trip to China as secretary in 2009 when an embassy official called to tell him that Kirk, a Republican, held an "unusual meeting" with Chinese officials where he advised them not to buy U.S. Treasury securities or other U.S. government debt as spending was driving the country toward default and "that the Fed was creating hyperinflation."

"I couldn't believe it. Not only were those fears delusional, but he was undermining American interests on foreign soil," Geithner writes in the 500-some page book. "I called him on his way out of China to explain that there was this noble tradition in politics that you don't criticize the United States while you're abroad — and you definitely shouldn't say we're going to default on our debts. But partisan politics no longer seemed to stop at the water's edge."
In 2009, America's economy constantly teetered on the brink of collapse worse than the one that led to the Great Depression. A half-million jobs a month were being lost as millions of homes were foreclosed upon. The fundamental problem in the economy was that lending had become paralyzed. If China had taken Kirk's advice, the damage to the American economy would have been irreparable.
And Kirk still defends that meeting, despite the fact that the hyperinflation he predicted never occurred and the deficit will soon be at pre-crisis levels. The future senator wasn't making a cold political calculation the way Brown does. He was asserting an ideology that he still embraces despite reality trying to explain otherwise.
The massive failure of fiscally conservative principles as practiced by the Republican Party in the 21st century has in no way changed how Republicans see the world. They're still promoting deregulation and tax breaks for the rich, even if they now just call it "simplifying the tax code." And even though we now know for sure that Obamacare will save lives because Romneycare did, they're still demanding repeal without any real plan to replace it.
While there may be some differences between Republicans in just how much regulation they feel should be imposed on same-sex marriage and reproductive rights, the party believes its main goal is to undermine its opponents, no matter what the cost to the American people.
Photo: Beckwith-Zink (Diane) Flickr