Democrats More Popular As GOP Gets Whiter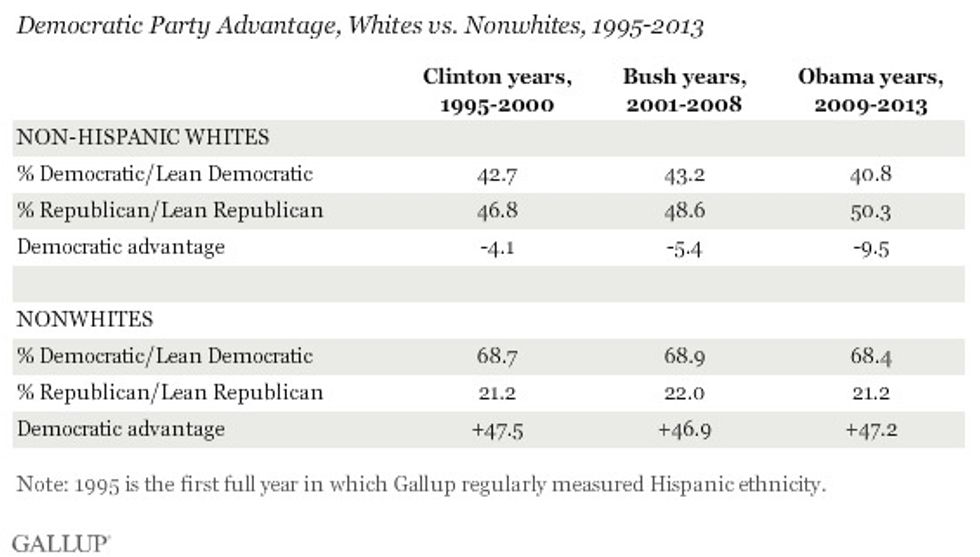 A year after the Republican National Committee released its GOP "autopsy," the Growth and Opportunity Project (which encouraged the party to appeal more to minorities), data released by Gallup shows that the party is still getting whiter.
Using yearly aggregates of its own poll data since 1995, Gallup finds that over the past five years, party partisanship has increasingly reflected racial polarization, with more whites leaning to the right and a majority of minority voters – defined as blacks, Hispanics, Asians, and "all other races combined" — continuing to lean left.
Though party preferences have long reflected racial divides – Gallup's trend lines, for example, show elevated racial polarization immediately after the September 11, 2001 terrorist attacks – this most recent trend is the first time Gallup reports a "61-point racial and ethnic gap in party preferences," the largest gap measured in the past 20 years. Gallup also notes that prior to 2008, the racial gap reached only as high as 55 percentage points – in 1997 and again in 2000 – but since 2008, racial gaps have reached that level or higher every year.
Minority voters' party alignment remains a consistent trend. Between 1995 and 2013, 69 percent of minority voters, on average, have either aligned with the Democratic Party or reported leaning left; only 21 percent, on average, aligned with the Republican Party or reported leaning right.
While the Democratic Party boasts majority support from non-white voters, the GOP has moved in the other direction. On average, 49 percent of whites have aligned with the Republican Party or leaned right in the past 18 years, unlike the majority of minority voters who report the same about their relationship to the Democratic Party. Additionally, 42 percent of white voters, on average, align with the Democratic Party or lean left.
Under President Barack Obama, a larger percentage of white voters – 50.3 percent – align with the GOP or lean right, the largest number to do so since 1995, when Bill Clinton was in office.
There could be various explanations for white voters' shift to the right in recent years — Gallup does not have evidence that the president's race could be a reason, but does not rule out the possibility, either — but understanding why minority voters continue to stick to the left is a bit easier. Minority voters, on average, face a wider range of social and economic problems on which Democrats often focus.
Unlike the solid Democratic base, the Republican base of white voters is not overwhelmingly aligned with the Republican Party. Thus, even as the GOP enjoys a 10-point advantage among white voters, the Democratic Party remains the more popular party, nationally.
As Gallup concludes, the GOP would need to secure a stronger advantage among white voters or appeal to a greater percentage of minority voters in order to meet the amount of support shared by Democrats.
Chart via Gallup