Everest Guides Abandon Climbing Season After Deadly Avalanche
@AFP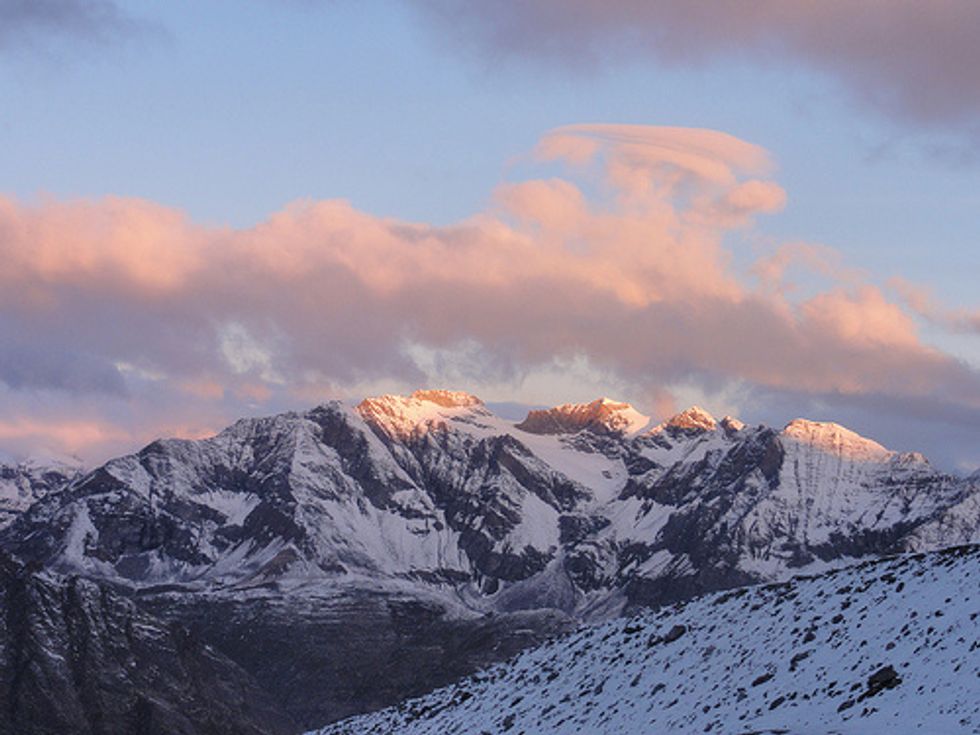 Kathmandu (AFP) – Nepalese guides on Mount Everest said Tuesday they would abandon this year's climbing season to honor 16 colleagues killed in an avalanche last week, throwing hundreds of mountaineers' plans into chaos.
Scores of foreign climbers have been waiting in base camp after paying tens of thousands of dollars to scale the world's highest peak.
The sherpas perform essential tasks on the 8,848-meter (29,029-foot) mountain, carrying equipment and food as well as repairing ladders and fixing ropes to reduce risks for clients.
"We had a long meeting this afternoon and we decided to stop our climbing this year to honor our fallen brothers. All sherpas are united in this," guide Tulsi Gurung told AFP from base camp.
"Some guides have already left and others will take about a week to pack up everything and go," said Gurung, whose brother is among those missing after an avalanche last Friday killed 13 sherpas and left three missing and presumed dead.
Another guide, Pasang Sherpa, added: "Sixteen people have died on this mountain on the first day of our climb. How can we step on it now?"
The guides had threatened to cancel all climbing on Mount Everest and issued an ultimatum to the government, demanding higher compensation, an agreement to revise insurance payments and a welfare fund by next Monday.
"They have decided that compensation is not the only issue, they feel like they have to close down Everest this year as a memorial to those who died," said Ed Marzec, a US climber who spoke to AFP from base camp.
The decision to abandon the season appeared to preempt the outcome of talks underway in Kathmandu.
The government has issued permits to 734 people, including 400 guides, for 32 expeditions this season to climb Everest.
The government has agreed to set up a relief fund for injured guides — using up to five percent of fees paid by climbers — and increase life insurance payments by 50 percent.
However, the amounts fell short of the guides' demands.
Sherpas had asked for 30 percent of climbers' fees to be earmarked for the fund and called for life insurance payments, now $10,000, to be doubled.
Sherpas at base camp told AFP they had not received a response from the government.
Amid mounting tensions, high-profile New Zealand mountaineer Russell Brice, owner of top expedition company Himex, and Phil Crampton, British owner of Altitude Junkies, arrived in Kathmandu late Tuesday from Everest base camp in a bid to resolve the crisis.
"This has gone on too long with no action from the government of Nepal," Brice told AFP shortly after landing in the capital.
"We have million of dollars coming from overseas. We are concerned for the sherpas, for the safety of our clients and for climbing," Brice said.
A manager at Kathmandu-based expedition service, Asian Trekking, said he hoped the sherpas would change their mind.
"Climbers are obviously very worried, the situation is very tense, but I suspect this is only a bargaining tool used by the sherpas," Sanjaya Baral told AFP.
Brice said the sherpas' move to call off their participation in the climbing season was fuelled by growing anger over the government's failure to meet their demands.
"There was tension this afternoon that suggested that everyone (climbers and sherpas) must leave," Brice said.
His views were echoed by U.S. climber Ed Marzec, who said the atmosphere at base camp was souring fast — with some climbers putting pressure on sherpas so they would stay on and help them summit.
Relations between local guides and Western mountaineers hit a low last year when a brawl broke out between three European climbers and a group of sherpas.
Sherpas earn between $3,000 to $6,000 a season, but their insurance cover is almost always inadequate when accidents happen.
More than 300 people, most of them local guides, have died on the peak since the first ascent by Edmund Hillary and Tenzing Norgay in 1953.
NomadicEntrepreneur via Flickr