Everything You Need To Know About A Possible Liz Cheney Senate Run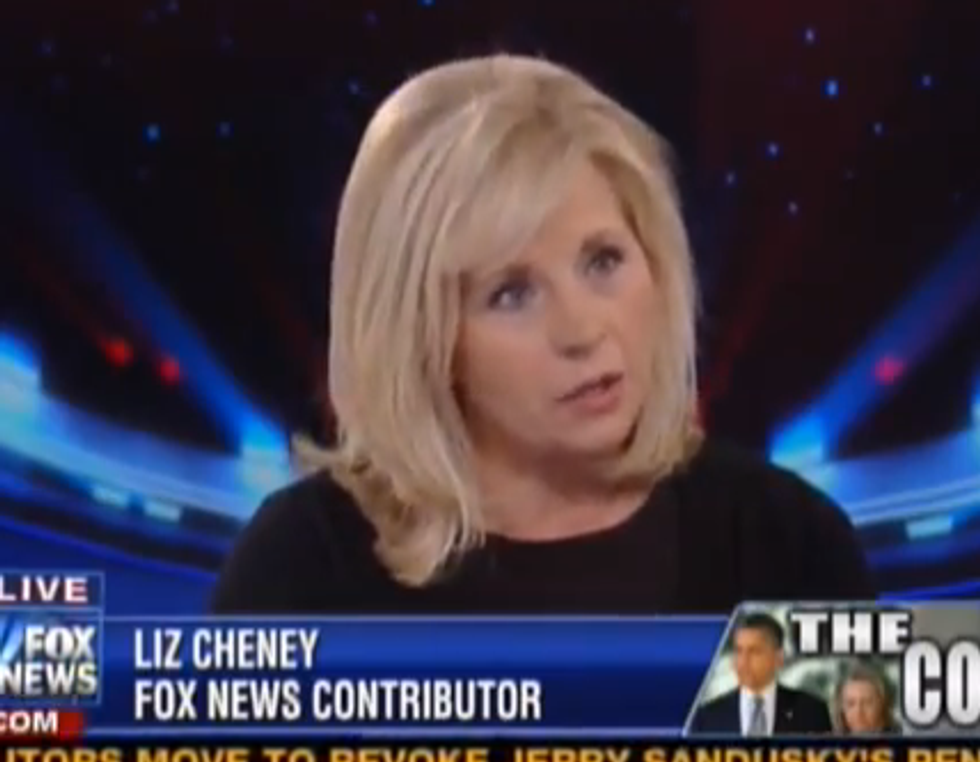 You may remember Liz Cheney, the daughter of former vice president Dick Cheney and former State Department official. Since her dad left office, she's spent most of her time defending his legacy and blasting President Obama's policies, often as a Fox News contributor.
In today's Republican Party, this apparently qualifies her to run for the U.S. Senate in Wyoming — not Virginia, where she spends much of her time. According to The New York Times, Cheney is considering taking on Senator Mike Enzi (R-WY), even if that means facing the 69-year-old incumbent in a primary.
State Republicans fear this race could spell "the destruction of the Republican Party of Wyoming if she decides to run and he runs, too," said former senator Alan K. Simpson. "It's a disaster — a divisive, ugly situation — and all it does is open the door for the Democrats for 20 years."
But opening doors for Democrats has become a tradition for the Cheney family.
Former speechwriter for President Obama and creator of NBC's 1600 Penn, Jon Lovett, used Twitter to give a quick introductory course on Liz Cheney that nicely sums up who she is in exactly 10 tweets.
Check it out:
Liz Cheney, who has to be one of the most vicious and cynical political animals around, may run for Senate. http://t.co/ZDhqknzjce

— Jon Lovett (@jonlovett) July 7, 2013
Here's a good one. RT @Liz_Cheney: Too bad Pres. Obama isn't as dedicated to disarming al Qaeda as he is to disarming law-abiding Americans.

— Jon Lovett (@jonlovett) July 7, 2013
Quite a charge. RT @Liz_Cheney: Once again, Obama Administration offers to give up elements of US missile defense. Whose side are they on?

— Jon Lovett (@jonlovett) July 7, 2013
And of course. RT @Liz_Cheney: Obama's "climate change" policy=using phony science to kill real jobs. A war on coal, on jobs, on families.

— Jon Lovett (@jonlovett) July 7, 2013
The problem with Liz Cheney isn't that her name is Cheney. Who gives a shit. The problem is she is a mean-spirited, cynical politician.

— Jon Lovett (@jonlovett) July 7, 2013
[fish swims by Osama bin Laden] RT @Liz_Cheney: Too bad Obama isn't as dedicated to disarming al Qaeda as he is law-abiding Americans.

— Jon Lovett (@jonlovett) July 7, 2013
And then there was this debacle. http://t.co/bRkQBIrc7j

— Jon Lovett (@jonlovett) July 7, 2013
Oh and @Liz_Cheney also helped lead the fight against the "Ground Zero Mosque." Remember that excellent debate that wasn't horrifying?

— Jon Lovett (@jonlovett) July 7, 2013
I'm done. Point is, Liz Cheney isn't just "pugnacious" as the Times says. She represents and exacerbates what's wrong with the right today.

— Jon Lovett (@jonlovett) July 7, 2013