Ex-Chicago Official Held In Pakistan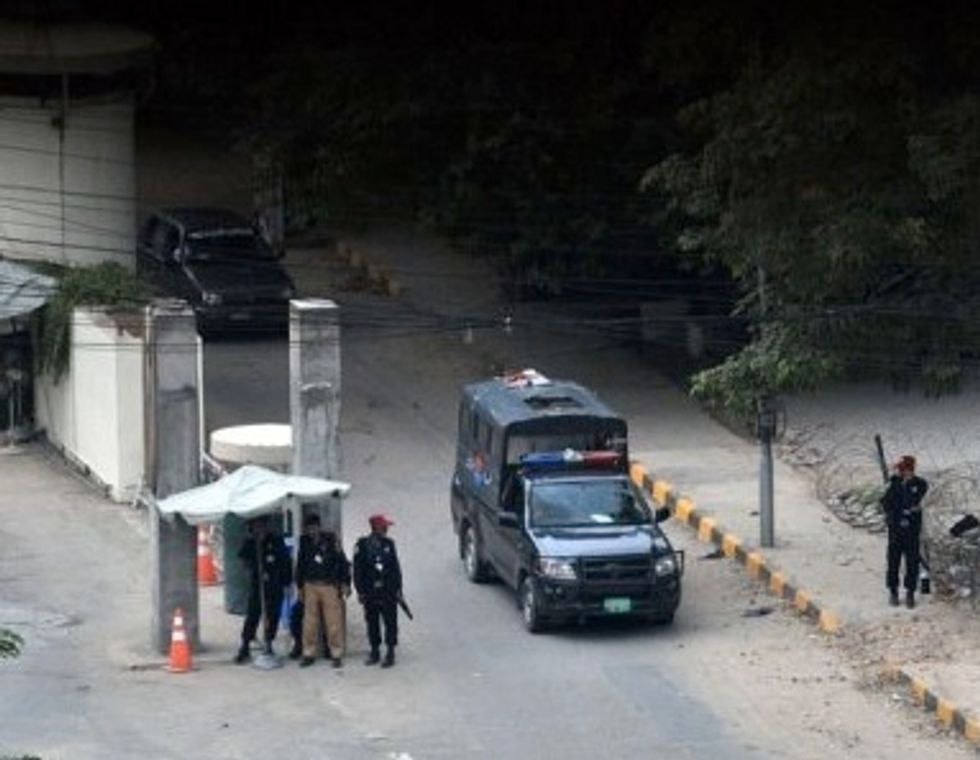 By John Byrne and Aoun Sahi, Chicago Tribune
CHICAGO — Former Chicago Comptroller Amer Ahmad has been taken into custody in Pakistan, where he apparently fled ahead of his sentencing in a federal fraud case in Ohio.
Ahmad was arrested at an airport in Lahore when he was trying to enter the country using a forged Mexican passport and a forged Pakistani visa, said Usman Anwar, director of Pakistan's Federal Investigation Agency in Punjab province.
"Our officers at the airport found that his passport and visa were forged," Anwar said. "We also recovered his original American passport, which he tried to hide. Then we searched his history on Google and found that he was guilty of fraud in U.S. and wanted (by the) FBI.
"We have arrested him under (a) passport and visa fraud case, which carries a punishment of seven years of imprisonment in Pakistan."
Ahmad's apprehension comes about a week after his wife filed a request for an order of protection in Cook County in which she alleged he was seeking a fake passport to go to Pakistan.
Samar Ahmad said her husband called April 23 and told her to get him a fake birth certificate from Pakistan so he could get a passport. When she refused, Samar Ahmad said her husband "became irate and threatened that if I didn't do this he intimated that he would ruin or hurt me," according to the court document.
Samar Ahmad also said in the written request that she was "very concerned" her husband "will kidnap our children and take them to Pakistan."
"He believes that (he) is not guilty (and) deserves a life with the children and repeatedly gets very angry if I say anything, abusive and slapped me when we had gotten into an argument and he became irrationally angry," the request for an order of protection reads.
"He threatened to take my daughter and he told her that she would never see me or her siblings ever again and that they were going to see Allah," the document reads.
The U.S. Marshals Service announced last week they were looking for Ahmad on an arrest warrant for violating terms of bail in the case, in which he pleaded guilty to participating in a kickback scheme while deputy state treasurer in Ohio before being hired by Chicago Mayor Rahm Emanuel as comptroller in 2011.
Ahmad pleaded guilty in December to bribery and conspiracy to commit bribery, money laundering and wire fraud, months after he abruptly stepped down from his top job in the Emanuel administration. Ahmad was indicted weeks after he resigned.
Federal prosecutors in Ohio alleged while he was deputy state treasurer there, Ahmad gave state investment work to a former high school classmate in exchange for having $400,000 funneled to a landscaping company in which Ahmad was a part owner. An additional $123,000 was funneled through a friend and business associate of Ahmad's, prosecutors said.
Asked about his former aide's arrest Wednesday, Emanuel said he has been too busy with other issues to spend much time thinking about it.
"I've got to be honest, sorry about this, but let me give you this sense of reaction: I was thinking about plastic bags before Amer. I was thinking about petcoke regulations before Amer. I was thinking about how proud we all are of the Whitney Young basketball team, of their accomplishments on the court and in the classroom," Emanuel said. "That all came before that, so, gives you some sense of perspective on it."
After Ahmad was indicted, Emanuel brought in an outside law firm and an accounting business to audit his work for the city. A report issued by those firms last year said there was no indication Ahmad committed any wrongdoing at Chicago's City Hall. Ahmad's attorney declined to comment on reports of Ahmad's apprehension.
afp.com / Arif Ali