EXCERPT: <em>Seven Deadly Sins: My Pursuit Of Lance Armstrong</em>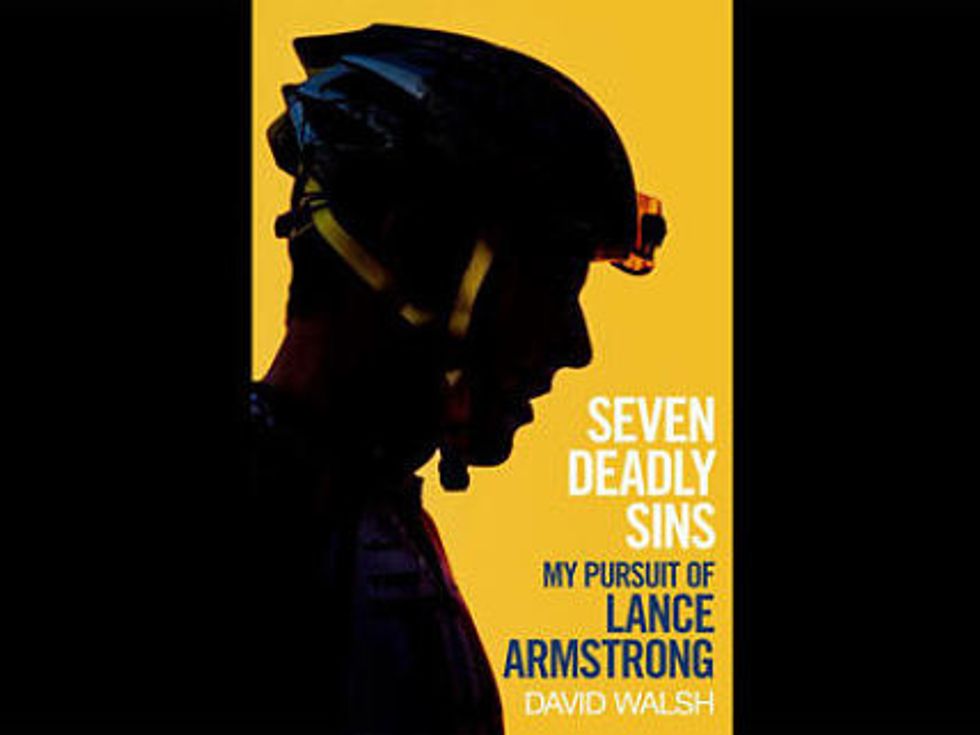 The following is excerpted from David Walsh's new book, Seven Deadly Sins: My Pursuit of Lance Armstrong
. You can purchase ithere.
Professional cycling has always exercised an omertà, and it has played a significant role in the endurance of a drug culture. But more than a code of silence is at work here, and it is not coincidental that the Sicilian word has become so associated with the peloton, because when a rider breaks the code, he can expect a mafia-like response.
After his individual time trial at Metz earlier in the day, Christophe Bassons watched television coverage of the leaders in his hotel room. They travelled at a speed he couldn't believe, for the race against the clock had once been his own speciality. He was especially interested in Armstrong's performance, because their physiological profiles weren't that different: same height, same weight, Armstrong's VO2 Max was 83 to Bassons' 85. Regarded as a key barometer of athletic potential, the VO2 Max is the maximum capacity of an individual's body to transport and use oxygen. Yet when Antoine Vayer did the maths afterwards, he told Bassons that he would have finished six kilometres behind Armstrong if they'd started at the same time.
On the night of Sestriere, Bassons and his teammates watched highlights of the American riding away from his rivals on the mountain and they were stunned by the ease with which he outdistanced them. They didn't believe it. Bassons continued to tell every journalist who crossed his path that the doping culture had not gone away.
His refusal to observe the code of silence was a challenge to the leaders in the peloton, especially the rider in the yellow jersey. Armstrong was more than happy to deal with the upstart.
On the morning after his win at Sestriere, the yellow jersey decided the following day's race should be sedate until the approach to the first climb. The patron has the right to do this and normally such decrees are strictly observed. But Bassons thought, "What the hell, I'm the black sheep anyway," and he launched his breakaway in defiance of the informal truce.
With Bassons gone, Armstrong gave the nod to his U.S. Postal [Service] teammates and they immediately pursued. It didn't take long for them to recapture the breakaway and as they joined him, Armstrong put his hand on Bassons' shoulder, indicating he had something important to say, as a mafia boss might when deciding to personally deliver the punishment.
"What are you doing?" asked Armstrong.
"I'm making the race. I attack."
"You know what you're saying to the journalists, it's not good for cycling."
"I'm simply saying what I think. I have said there is still doping."
"If that's what you're here for, it would be better if you returned home and found some other kind of work."
"I am not going to leave when I haven't changed anything. If I've things to say, I will say them."
"Ah, fuck you."
By this point Bassons' own team had turned against him, believing they were being victimized by the peloton for his speaking out of turn. They told him he had to stop, he said he wouldn't, but the pressure was beginning to tell. Two days after the dressing-down, he left the team hotel in Saint-Galmier and abandoned the race.
So that morning we left Saint-Galmier and the news that Bassons had abandoned was delivered on Radio Tour. The previous evening he'd cracked and, despite his fiancée Pascale and his friend Antoine pleading with him to remain, he couldn't cope with the hostility coming from his fellow professionals. In the car I railed against the treatment he'd been subjected to, especially by Armstrong. Charles and Rupert agreed. John remained silent.
Somewhere along the way to Saint-Flour, we passed under a banner draped high across the road: FOR A CLEAN TOUR, YOU MUST HAVE BASSONS. Seeing that was the high point of my day.
Before his bullying of Bassons, I considered Armstrong nothing more than a likely, almost certain cheater, one of a great number of professional cyclists still hooked up to the old doping drip. His treatment of Bassons revealed a nasty, almost sociopathic side to his nature.
On the morning after Bassons left, there were various reports that quoted his fellow professionals. Sympathy for the departed one was virtually non-existent. "He wasn't injured, so why did he go home?" said one, and the general view was that he had behaved unprofessionally. It was an important moment for the Tour. The new patron had sent out a message: Anyone who broke the law of silence would be dealt with.
"Would a clean rider, one committed to sport without drugs, have treated Bassons as Armstrong has treated him?" I asked in another car debate.
"I don't believe so," said Charles, in that measured way of his.
We could hear the gentle flow of air up John's nose.
Purchase Seven Deadly Sins: My Pursuit Of Lance Armstrong here