LEAKED: The REAL Republican National Convention Schedule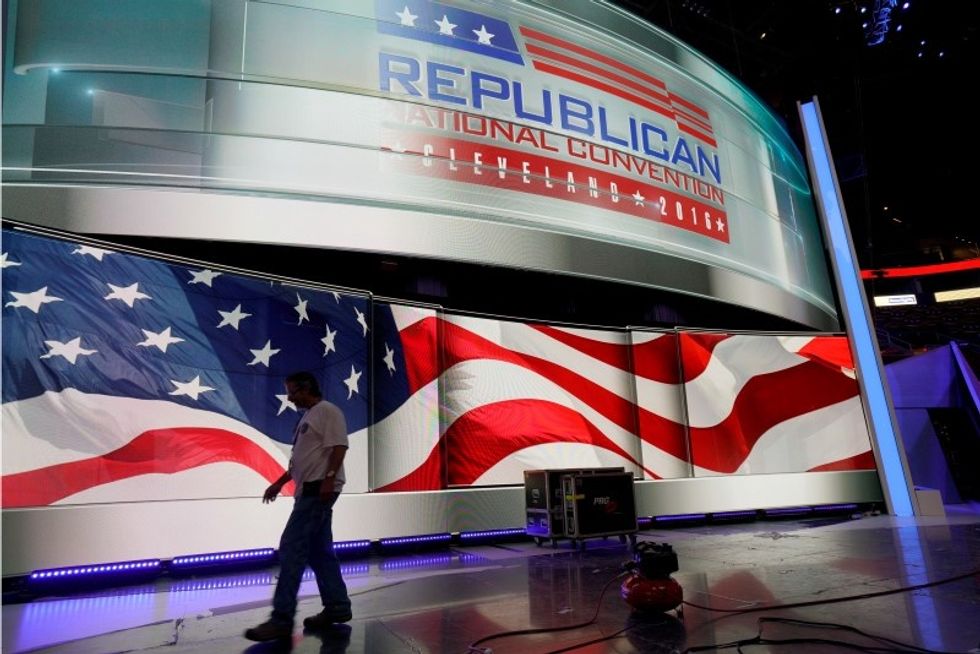 Lots of rumors have been going around about the Republican National Convention, which begins on June 18. The National Memo has obtained an exclusive list of the planned highlights.
Monday

5pm: Donald Trump sits down in a pleather armchair on stage and remains there the entire night, smiling toothlessly as the parade of well-wishers gives their condolences to the Republican Party.
6:30pm: Former campaign manager Corey Lewandowski gazes with emotion at current campaign manager Paul Manafort. Then he will trudge back to the CNN booth, hanging his head forlornly.
7pm: A Monday-night swimsuit competition held among all pledged delegates. The winner will be crowned "Miss Convention."
Tuesday
6:30pm: UFC president Dana White presents a bloody cage match on the convention floor. The winner will extract a molar from the unconscious loser and present it to Donald Trump as a gift in honor of his future victory.
7:30: Reince Priebus appears, looks extremely uncomfortable, and mumbles a few words.
9pm: Chris Christie faints and is woken up by the sound of his career crashing down around him.
Wednesday
4pm: A simultaneous convention organized by Jeb Bush begins in the nearby city of Akron, Ohio, taking place in a T.G.I. Friday's and featuring both bottomless Buffalo wings and bottomless Romney tears.
6pm: Some guy named Andy Wist takes the stage.
8pm: The year's TrumPence Campaign Flag unfurls, but will be censored by the FCC.
Thursday
5pm: Two-dozen Donald Trump body doubles deploy, meant to distract protesters from the real Donald Trump. All the body doubles will speak in Trump's patter, and they will do a tremendous job, really fantastic.
6pm: A confused Tim Tebow is dumped unceremoniously from a burlap sack onto the convention stage, days after telling fans that he would not be speaking at the convention. Unable to see anything due to the bright lights focused on the podium, he will think that he is dead. But he is not dead. No. This is what his life is now.
6:30pm: The few hours during which no speakers have been scheduled will be filled with Season 3 of The Apprentice.
11pm: The disembodied voice of Clint Eastwood, who was not allowed to appear in person this year, echoes over the loudspeakers. He sounds rugged and American, but it is unclear what he is talking about. As the crowd gazes upward, balloons fall down. Thousands, millions of balloons. It is a balloon avalanche, and it buries half the crowd. The only visible part left of Senate Majority Leader Mitch McConnell is a lone hand, reaching out above the patriotic latex.
Photo: A worker walks across the stage of the Republican National Convention at the Quicken Loans Arena in Cleveland July 13, 2016.  REUTERS/Rick Wilking