Exclusive: Trump's Republican Support Holds Strong Post-Debate — Reuters/Ipsos Poll
@reuters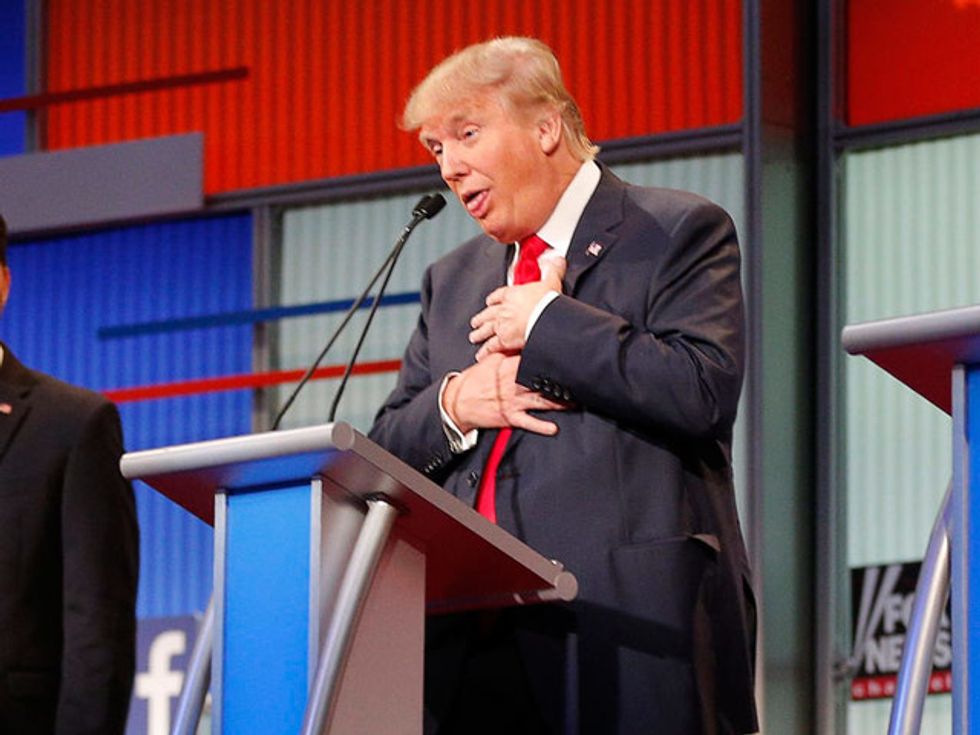 By Andy Sullivan
WASHINGTON (Reuters) — Republican support for real estate mogul Donald Trump held firm after a televised presidential debate last week in which he feuded with rivals and moderators, according to a Reuters/Ipsos poll released on Monday.
Trump led the party's 17-strong 2016 presidential field with the backing of 24 percent of Republican voters, the same level of support he earned before Thursday's debate.
His closest rival, former Florida Governor Jeb Bush, trails at 12 percent, down from 17 percent before the debate. No other candidate earned more than 8 percent in the online poll, which was conducted between the end of the debate on Thursday and Sunday.
The reality television star has been under intense criticism for his caustic comments about Fox News anchor Megyn Kelly during and after the debate, and was disinvited from a gathering of conservative activists in Georgia over the weekend after he said Kelly, who helped moderate the debate, had "blood coming out of her wherever."
Trump has been a focus of controversy since he entered the race for the Republican nomination in the November 2016 election in June.
His harsh comments about Mexican immigrants have drawn widespread condemnation and prompted some business partners to sever ties, while his feud with Arizona Senator John McCain, the party's 2008 presidential nominee, has angered many Republican party officials.
But the ongoing drama has done little so far to dent Trump's appeal among less affluent, conservative-leaning voters who say his outspoken style is needed to shake up an overly cautious political system and say his vast personal wealth would help him resist corrupting influences.
The online poll of 278 self-identified Republicans has a credibility interval of 6.7 percentage points.
(Reporting by Andy Sullivan; Editing by James Dalgleish)
Republican 2016 U.S. presidential candidate and businessman Donald Trump reacts near the end of the debate in Cleveland, Ohio, August 6, 2015. (REUTERS/Brian Snyder)