Executive Action On Immigration Could Imperil Spending Bill, Cornyn Warns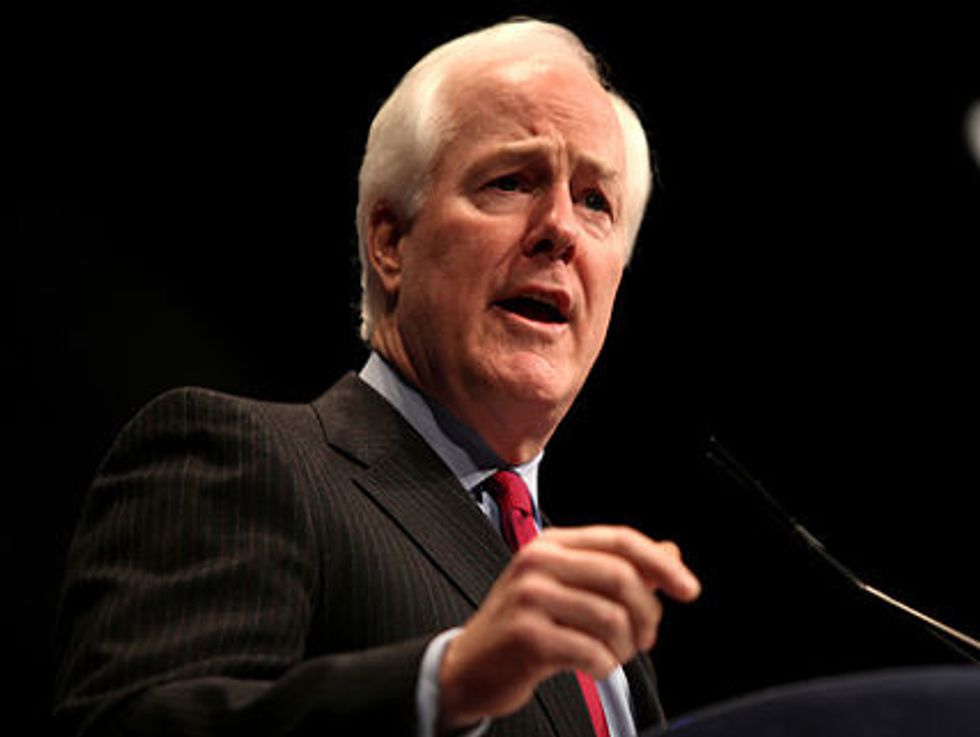 By Niels Lesniewski and Humberto Sanchez, CQ Roll Call (MCT)
WASHINGTON — The No. 2 Senate Republican said Wednesday that President Barack Obama's plans to take executive action on immigration could endanger bipartisan efforts to craft an omnibus spending bill in the lame-duck session.
"Part of what's I think creating the difficulty is the president's threatened Obama amnesty, and one of the ways that that could be addressed would be through the spending," said Sen. John Cornyn (R-TX). "The president seems hell-bent to do this, which I think is a terrible mistake, but it's his to make."
Senate Minority Leader Mitch McConnell of Kentucky, who is poised to become the next majority leader, again cautioned Obama about the effect of making the widely expected moves on immigration.
"There's a lot both parties can accomplish together over the next couple years. I hope that happens. I'm optimistic. But working together requires trust," McConnell said on the floor. "I think President Obama has a duty to help build the trust we all need to move forward together, not to double down on old ways of doing business."
"That's why I think moving forward with the unilateral action on immigration he's planned would be a big mistake," McConnell said.
Sen. Jeff Sessions (R-AL), the ranking member of the Budget Committee, is leading the charge for using the upcoming government funding bill to block funding for the executive actions.
"Congress should not fund any activity that it thinks is not worthy of funding. Congress appropriates the money. That's a clear constitutional power. If Congress disapproves of the president providing ID cards, and all of that, for people who have been in the country illegally then it should not appropriate money to fund it," Sessions said.
Sessions was noncommittal when asked about filibustering an omnibus spending package without such a rider.
"I don't know how we will play that out, but I think it should be pursued and the votes this year may be problematic because of the Democratic majority, but who knows in the future," Sessions said. "The president wants to create a massive system to provide millions of people, apparently, lawful status, lawful ID cards, take law enforcement officers from their duties to enforce the law and have (them) process this legal status, which Congress has explicitly rejected."
Sessions said he would prefer a short-term continuing resolution to keep the government funded, rather than an omnibus for all of fiscal 2015. Such a move would frustrate appropriators on both sides of the aisle, who want to get the decks cleared in order to have time for a robust appropriations process for fiscal 2016 when Republicans control the agenda on both sides of the Capitol.
Entering a GOP lunch, Cornyn said there wasn't yet a consensus on what to do.
But speaking with reporters earlier in the day, Cornyn said the president appeared to have made up his mind.
"On Friday we met at the White House … and person after person, starting with the speaker, said it would be a terrible way to start. What should be an opportunity for us to get the country back on track again and get the economy moving again on a bipartisan basis, for the president to poison the well at the very outset would be unimaginable," Cornyn said. "He was pretty defiant. He's decided to postpone it once before and my hope is that cooler and calmer heads will prevail on him again."
Photo: Gage Skidmore via Flickr