What To Expect From the U.N. Climate Summit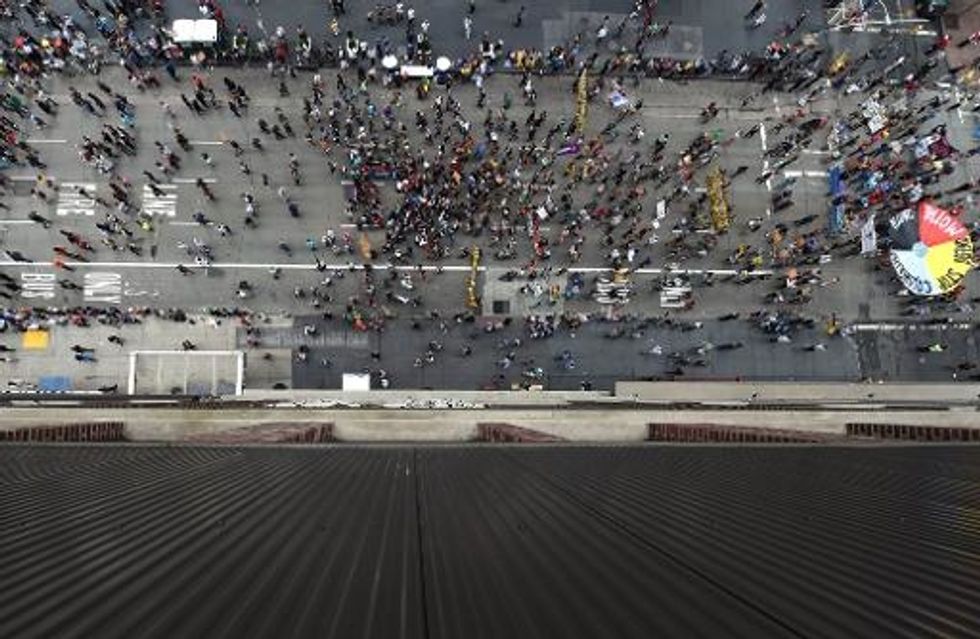 On Sunday, hundreds of thousands of people marched to demand action on the pressing global issue of climate change. Now, it's up to the United Nations to heed their call.
The 2014 United Nations Climate Change Summit in New York has gathered leaders from all sectors of society to bring new climate initiatives and ideas to the international community, in preparation for the 2015 United Nations Climate Change Conference to be held in Paris. The objective for the 2015 conference is a binding, universal agreement on climate change from all nations.
But that doesn't mean that no progress can be made right now. Here are five areas in which the 2014 summit could achieve tangible results:
Cities
The Mayors Compact will group city government officials together to focus specifically on and provide reports about city emission reduction targets and strategies. Mayors from Los Angeles, Houston, and Philadelphia have already pledged their allegiance to such an initiative. As cities are responsible for about 70 percent of global greenhouse gas emissions, the Mayors Compact will allow officials to target an especially significant area of concern.
Forests
Forests and the natural CO2 absorption they offer are crucial in the fight against increasing greenhouse gases. As deforestation has plagued our woodlands, CO2 levels have increased exponentially.
The New York Declaration on Forests will promote the restoration of forests, and it is hoped that many other countries, companies, and other societal organizations present at the UN Climate Summit will sign on. The declaration will be open for signing at the Summit and up until the 2015 Framework Convention on Climate Change.
Resilience
Climate change is increasing the frequency and magnitude of natural disasters such as drought, typhoon, sea-level rise, or wildfire. These hazards can destroy homes, businesses, state institutions, and financial systems. The UN Climate Summit will strive to enhance our world's capacity to be resilient to climate change and the natural disasters associated with it.
The Integrating Disaster Risk and Resilience into the Financial System initiative would combine major financial, regulatory, accounting, and scientific institutions into an alliance to recognize and evaluate the costs of disaster risk and build investments into their portfolios to account for those risks. The alliance would also integrate incentives into resilience-building programs.
Finances
The Summit will attempt to bring policymakers and companies into a realistic discussion about pricing carbon. Taxing carbon could help direct the global financial flow away from fossil fuels and advance the growing global market for energy efficiency and clean energy.
Transportation
The International Union of Railways (UIC) Low-Carbon Sustainable Rail Transport Challenge targets the CO2 emissions from trains. It sets a goal of a 75 percent reduction in CO2 emissions from the rail sector by 2050, along with doubling the rail sector's share of passenger transportation. Partnerships between transportation authorities will be necessary to achieve this goal.
Interested in more environmental and political news? Sign up for our daily email newsletter!