Experts Ridicule Corsi's Criminal Complaint' Against Mueller
@FAWFULFAN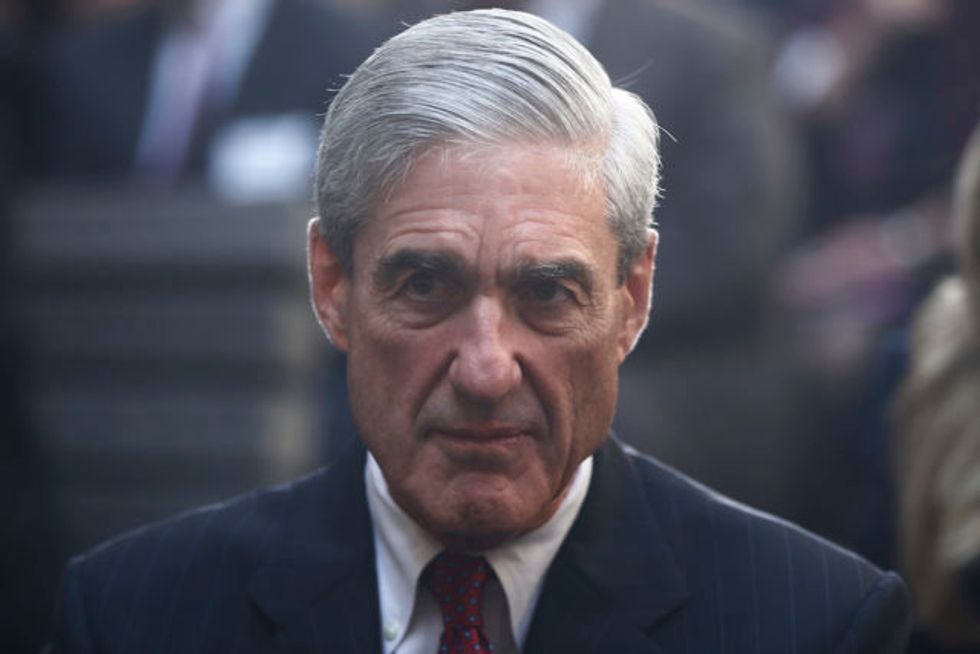 Reprinted with permission from AlterNet.
Special counsel Robert Mueller is closing in on Jerome Corsi, a noted Birther conspiracy theorist and associate of GOP strategist Roger Stone, who is accused of serving as a link between President Donald Trump's campaign and Russia-linked vigilante intelligence group WikiLeaks.
Mueller offered Corsi a plea bargain of one count of perjury, but Corsi rejected it. Instead, he has another plan to get out of trouble: get Mueller prosecuted instead.
With the assistance of Larry Klayman, a far-right antigovernment attorney who once tried to organize a 2013 protest on the National Mall to make President Barack Obama "come out with [his] hands up," Corsi claimed to have "filed" a 78-page "criminal complaint" against Mueller with the Attorney General Matthew Whitaker, several Justice Department officials including the Inspector General, and the disciplinary counsel for the District of Columbia Bar. The complaint alleges Mueller unethically pressured Corsi to say he lied when in fact he hadn't, and that Mueller's prosecution may amount to criminal false statements, extortion, or a violation of the Racketeer Influenced and Corrupt Organizations (RICO) Act.
Needless to say, this is not how anything works. A private citizen cannot "file a criminal complaint," U.S. attorneys do that. Corsi's "filing" is essentially just for show, to try to garner sympathy with the public.
Legal experts were quick to ridicule Corsi's manifesto.
Former assistant U.S. Attorney Mimi Rocah called the complaint "patently ridiculous" and said that "this is somebody who doesn't like the fact that he's being caught in his lies." And former prosecutor and MSNBC legal analyst Daniel Goldman said it "abuses the role of the inspector general" and "seems to be more of a public relations stunt than a meritorious concern."
Additionally, Corsi was soon being roundly mocked on social media:
So I just read the Jerome Corsi "criminal complaint" and I haven't stopped laughing for five straight minutes.

I sure do hope he didn't actually pay Larry Klayman for that work product.

— Bradley P. Moss (@BradMossEsq) December 3, 2018
Oh cmon. This Corsi "complaint" isn't so bad.

It takes him 17 whole pages to get around to the RICO claim.

— emptywheel (@emptywheel) December 3, 2018
I too have written a CRIMINAL COMPLAINT.

I will be filing it with The Hague, the Super Attorney General, and the deities of several religions.

It is VERY BIG as you can see from my use of ALL CAPS.

— The Hoarse Whisperer (@HoarseWisperer) December 3, 2018
In a subsequent filing, Corsi filed a criminal complaint against a cloud, claiming the gaseous entity mocked him with its shape. Corsi seeks an injunction against all formations of water vapor anywhere within Earth's atmosphere.

— Frank Tuttle (@Frank_Tuttle) December 3, 2018
NO THE CORSI COMPLAINT IS NOT ON PACER

IT'S NOT ON PACER BECAUSE IT'S NOT A CASE

IT'S AN ANGRY LETTER TO THE GOVERNMENT

THOSE AREN'T PUT ON PACER

NEITHER ARE THREATS

WHY DO I HAVE TO SAY THIS

— ScottFreeHat (@Popehat) December 3, 2018
Matthew Chapman is a video game designer, science fiction author, and political reporter from Austin, TX. Follow him on Twitter @fawfulfan.