Extremist Sheriffs Double Down On Embrace Of Big Lie As Midterm Approaches
@DavidNeiwert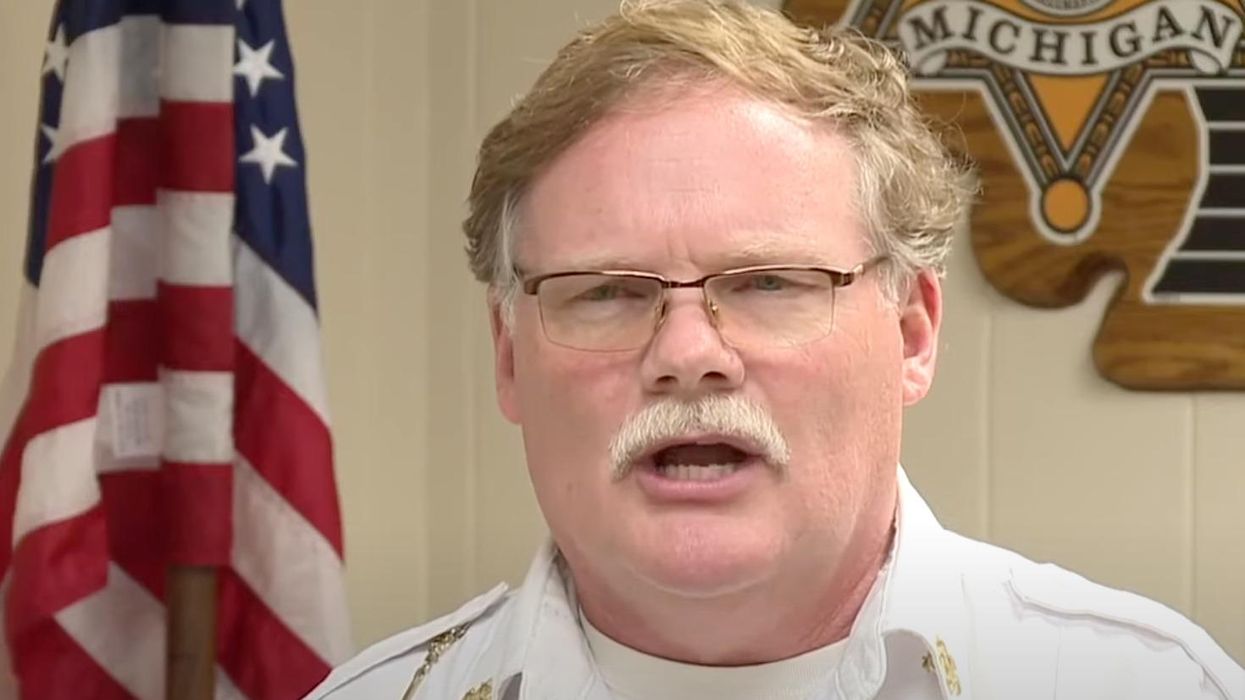 Youtube Screenshot
It's a testament to the cult power of Donald Trump's Big Lie that an elected lawman who himself now faces investigation for tampering with voting machines will not only refuse to apologize, but proceed to double down. Another law enforcement official subscribing to the same authoritarian conspiracy theories is meanwhile threatening everyone within his fiefdom with repercussions if they don't submit to his similar "investigations," and setting the stage for his nakedly partisan deputies to patrol at polling places.
These cases, both involving the so-called "constitutional sheriffs" movement's open embrace of Trump's election denialism, reflect the challenge that awaits much of the country—particularly the rural areas where these sheriffs rule—when we head to the polls in November. Their well-financed campaign, coordinated with leading Trumpists, to overturn election results and seize voting machines they suspect of skewing the vote could wreak havoc with election results around the country if it continues to gain steam.
At a Las Vegas gathering organized by Mack and True the Vote in July, Leaf called the county prosecutor's refusal to hand out the search warrants "ridiculous," adding: "We think we have enough for search warrants and everything else," Leaf said during the conference, which also featured speeches from Trump loyalists like Lindell. "We're gonna keep moving forward, folks. We're not done with this."
Leaf harkened to the "constitutionalist" claim that county sheriffs are the supreme law of the land, saying: "What that does, it gives you the power—and I don't know if you're gonna appreciate me saying this—if we can't get anywhere, we're looking at doing grand juries, at the common law."
One of True the Vote's partners in the "election integrity" campaign is another "constitutional sheriffs" organization called Protect America Now, run by Sheriff Mark Lamb of Arizona's Pinal County. Lamb was a featured speaker at a Trump rally in Prescott in July, where he revved the crowd up with promises that the nation's sheriffs would intervene on their behalf in future elections.
"We're gonna make sure that we have election integrity this year," Lamb declared. "Sheriffs are going to enforce the law. This is about the rule of law. It is against the law to violate elections laws—and that's a novel idea, we're going to hold you accountable for that. We will not let happen what happened in 2020."
Lamb has plenty of local critics in Pinal County. At recent meeting of the county's Board of Supervisors, he was accused by longtime residents of indulging in baseless fearmongering over election results.
Roberto Reveles, a longtime Arizona civil rights activist, told commissioners that Lamb was engaging in naked partisan threats: "I recently was subjected to the intimidation referred to by a previous speaker. Sheriff Mark Lamb walked up to me and pointed at me … and said, 'You and your fellow Democrats are destroying our country.'"
Lamb defended himself shortly afterwards during an appearance on Newsmax. "Last week in the board meeting I had probably 8 to 10 Democrats show up and absolutely blast me because I believe in the 'Big Lie,'" Lamb said.
"It clearly shows that these folks don't care about election integrity," he continued. "They're happy that their guy is in power, and right now they should care more than ever because this guy in office, Joe Biden and his administration, is absolutely destroying America and freedom and they're turning this into a country that we just don't recognize."
Local Democrats like Ralph Atchue, formerly a candidate for Arizona Senate, state that Lamb and his deputies will begin patrolling polling places. "I hear from everybody that the line is being crossed," Atchue told Jessica Pishko of Bolts. "Completely blurred."
Far-right election denialists in Seattle's King County placed signs during the July primary at ballot drop boxes warning people that their actions were being recorded on camera. Ironically, the King County Sheriff's Office is now investigating those actions at the behest of the county's elections office.
"The specter of law enforcement at the polls is already enough to discourage people from going to the polls," observes Devin Burghart of the Institute for Research and Education on Human Rights. "Moreover, the threat of surveillance of polling places and drop boxes proposed by groups like True the Vote is meant to intimidate voters, particularly people of color, and deter them from casting ballots."
Reprinted with permission from Daily Kos.