Facebook's Green Roof Mirrors Company's Workplace Culture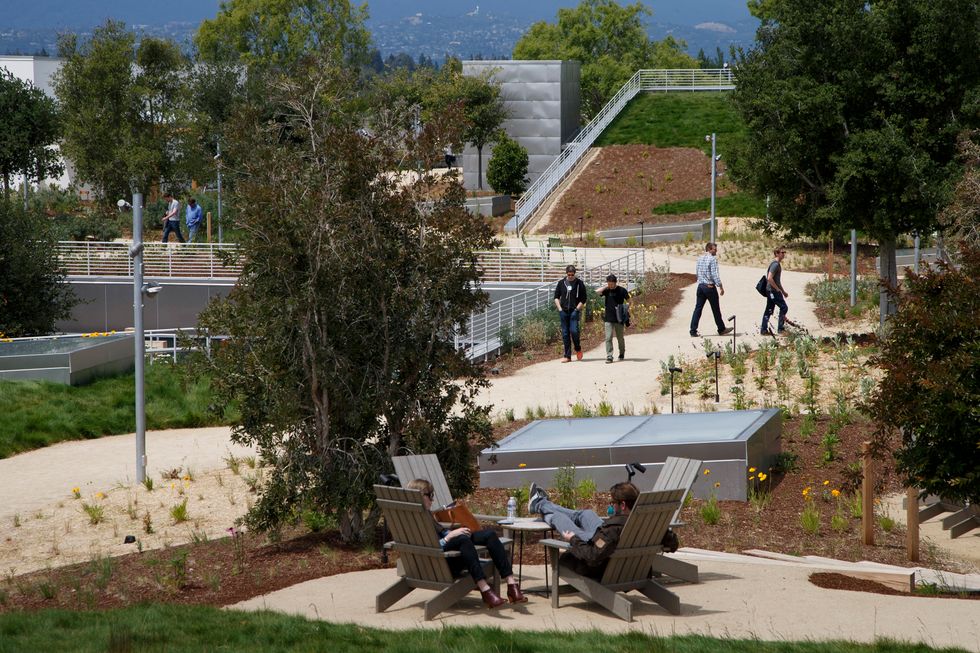 By Queenie Wong, San Jose Mercury News (TNS)
MENLO PARK, Calif. — Facebook employees looking for a break from sitting hunched over a computer don't need to venture far from the company's new office space.
They just need to walk upstairs — to the roof.
A nine-acre green roof sits atop the tech firm's new Frank Gehry-designed building across from its main headquarters, filled with a plethora of native trees and flowers, lawn furniture, white boards, viewing decks, and a half-mile walking trail overlooking the city's marshlands. It's more like a park than the top of an office and big enough to accommodate a large number of the 2,800 employees who are expected to eventually fill up the newly opened building, even on a warm summer's day.
Walking meetings are a tradition for the social networking company and a common sight on Silicon Valley tech campuses, including LinkedIn, Apple, and Oracle, where a simple conversation could spark the next big idea. Facebook CEO Mark Zuckerberg, the late Apple founder Steve Jobs and other tech titans are known for holding meetings on foot. Aside from the health benefits, a 2014 study by Stanford University researchers found that walking also boosts creative thinking.
But this green rooftop above the three-level Facebook building takes open space to new heights — literally.
"Work has become more mobile and fluid so you can actually step away from your desk and have a small conversation with people," said Chris Guillard, a founding partner of CMG Landscape Architecture, which helped design Facebook's green roof.
And that's exactly what Facebook employees did on a recent windy Friday morning during an exclusive tour of the green roof for the San Jose Mercury News. With a blue sky above and a bird's eye view out to the horizon, they walked and talked. Some sat with their laptops to work on the viewing deck while a few scribbled notes on a dry-erase board and others relaxed on the grass.
"It was more about creating an environment that our employees would thrive in than anything else," said Lauren Swezey, Facebook's sustainability and community outreach manager.
Across the rooftop's expanse are 23 unique spaces named after natural wonders throughout the world, including the Argentina mountain range Aconcagua and Oregon's Three Sisters.
"Someone can say, 'Hey, meet me at Pinnacles,' so you can see that's number 18," said Swezey, pointing to the numbered location on a map of the green roof.
Facebook's new building and green roof contrasts with its main headquarters across the street, which includes an urban street inspired by downtown Palo Alto with a Philz coffee, street art and more for employees to gather.
"One is much more about the interface between the buildings and the space and people running into each other. The garden is more of a refuge in a lot of ways," Guillard said.
Eventually, the roof will also include eating areas, including a sandwich shop called Fromage, staffed by the company's chefs and culinary team. Since the new building, which spans more than 430,000 square feet, took up most of the available land's space, creating an open area on the roof made sense. The highest point of the building is slightly more than 72 feet, according to Facebook.
Gehry, a world-famous architect, is known for his eclectic titanium-clad buildings such as the Guggenheim Museum in Bilbao, Spain, the Walt Disney Concert Hall in Los Angeles and the Jay Pritzker Pavilion at Millennium Park in Chicago — considered one of the world's largest green roofs at 24.5 acres because it sits above a train yard and parking garages.
Helping to foster Facebook's work culture isn't the only benefit that the green roof brings. The roof absorbs heat and rainfall, helping the company cut down on energy use and runoff. In these drought-plagued times, many of the plants atop the roof can survive in dry weather, Facebook said.
Located along the Pacific Flyway, the roof will also provide a place for birds to land during their migrations, and Facebook has partnered with nearby Audubon societies to help study what birds take refuge on the roof. They are also using the space to hold events with the community, city officials and employees.
Swezey said that other tech firms such as Samsung have looked at incorporating green roofs in the design of their buildings to make the spaces more eco-friendly. But Facebook's new space is different in that it isn't just a basic garden.
"It's taking it beyond the traditional green roof, which is often just grass and succulents and not made to be used. This is really an area that is made to be used," Swezey said.
Photo: Dai Sugano via Bay Area News Group/TNS