Facing Down The North Korean Threat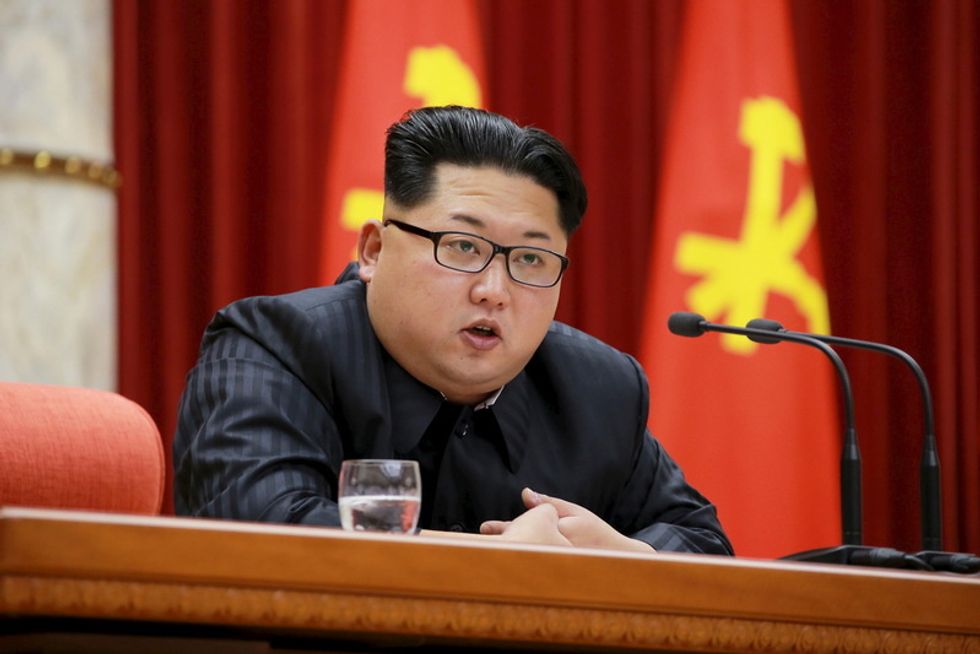 Reprinted with permission from Creators.
Imagine this situation: The United States faces a hostile and possibly deranged dictator ruling an Asian communist state tightly closed off from the outside world. He has developed nuclear weapons and is on the way to building missiles capable of carrying those devices across the Pacific Ocean and vaporizing American cities. What can we do?
I'm reminded of the story about the pastor who was asked whether he believed in full-immersion baptism. "Believe in it?" he exclaimed. "I've seen it done!" We know how to deal with the threat posed by North Korea because we've encountered it before.
In the 1960s, when Chinese tyrant Mao Zedong was striving to build nuclear weapons, he inspired great anxiety in the United States. Presidents John F. Kennedy and Lyndon Johnson considered launching an attack to prevent it, before deciding not to. When China advanced to building ICBMs, Johnson deployed an anti-ballistic missile system to intercept them in flight. A few years later, however, it was dismantled.
And guess what. The Chinese never carried out an attack. Launching their nukes against us would have guaranteed their destruction. They soon figured out, if they didn't know before, that the sole value of these weapons was to deter adversaries. Nobody in the U.S. worries much about Chinese missiles anymore.
Some people, possibly including members of Donald Trump's administration, think we can't count on being able to deter North Korean ruler Kim Jong Un, because he is callow, unpredictable and bellicose. But Mao seemed even more reckless. "I'm not afraid of nuclear war," he said in 1957. "China has a population of 600 million; even if half of them are killed, there are still 300 million people left."
Trump said flatly that Kim would not be allowed to develop a nuclear missile that could hit the U.S. "It won't happen!" he tweeted. But the president has found out that it's easier to make that vow than to keep it. The other day, North Korea carried out a successful test of a rocket that apparently could reach Alaska. It's just a matter of time before it equips such missiles with nuclear warheads.
This prospect creates a frightening dilemma. If we were to stand aside, one of the world's most vicious regimes would have the most destructive weapons, which it might use to coerce or intimidate the U.S., as well as our allies Japan and South Korea. Or Kim might wake up one day and decide to incinerate Anchorage.
But our options for heading off the looming threat fall into two categories: the futile and the disastrous. We've had no luck negotiating with Pyongyang to get it to give up its nuclear arsenal. Likewise with persuading or pressuring Beijing to make its ally capitulate.
That leaves some sort of military attack, which probably wouldn't wipe out North Korea's entire nuclear stockpile but would ensure that it would attack South Korea and our bases there, killing thousands of people at a minimum. If the Pyongyang regime resorted to chemical, biological or nuclear retaliation, the casualty count would be far higher.
We would win the ensuing war, but then we'd have to occupy an alien land harboring many aggrieved natives with military experience determined to drive us out. It would be like Iraq, but with loose nukes.
Speaking of Iraq, the same argument for pre-emptive war was made about Saddam Hussein, whom we deposed in 2003. President George W. Bush insisted, "America must not ignore the threat gathering against us. Facing clear evidence of peril, we cannot wait for the final proof, the smoking gun that could come in the form of a mushroom cloud."
In fact, we had already proved that we could deter Saddam from using weapons of mass destruction. We attacked his forces to evict them from Kuwait in 1991, and he chose to go down in defeat with his chemical weapons on the shelf rather than invite complete ruin by using them. Kim likewise shows no interest in suicide but fully appreciates the deterrent value of having a long-range nuclear arsenal.
Looking back, it's clear we suffered far greater harm from acting to pre-empt Saddam than we would have by standing back and trusting in our overwhelming capacity to punish him if he ever used his worst weapons. North Korea affords us an opportunity to learn from that colossal mistake. Or we could repeat it.
Steve Chapman blogs at http://www.chicagotribune.com/news/opinion/chapman. Follow him on Twitter @SteveChapman13 or at https://www.facebook.com/stevechapman13. To find out more about Steve Chapman and read features by other Creators Syndicate writers and cartoonists, visit the Creators Syndicate website at www.creators.com.