The Trump Dossier: This "Fake News" Is Real Enough To Investigate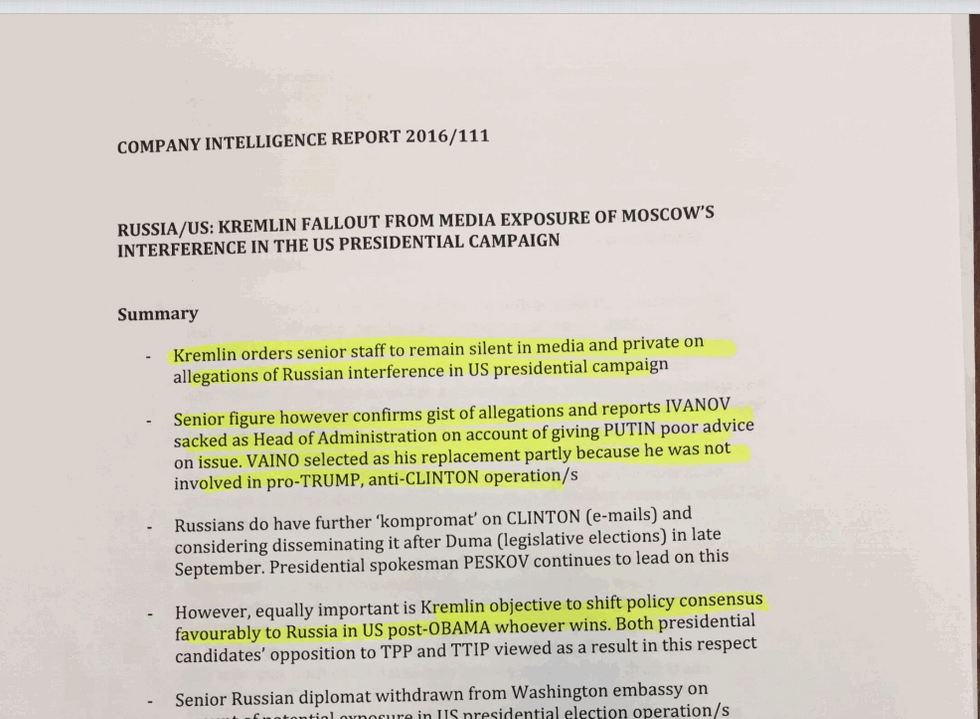 When Donald Trump denounced the latest hints of his collusion with the Kremlin as "FAKE NEWS!" on Twitter, it was hard not to wonder what he meant, exactly. Having barraged us all for years with fake news about a wide variety of important matters such as Barack Obama's true birthplace, the charitable work of the Clinton Foundation, the assassination of John F. Kennedy, and the dangers of childhood vaccination, does Trump mean we should believe the Russians conspired to help him win the 2016 election? Or does he mean that unlike all of his favorite fake news stories, we shouldn't believe this one?
 Whatever Trump may mean when he complains about fake news, the story of Russian interference on his behalf in the 2016 election is undeniably real. So the president-elect himself finally admitted when, at his press conference, he acknowledged the accuracy of U.S. intelligence assessments of the Kremlin's culpability in hacking the Democrats. Following a private conversation with James Clapper, the director of national intelligence, he finally stopped trying to deny and obfuscate those nefarious thefts of information by his Russian supporters.
The critical question that remains is how far the Russians went in promoting Trump's election — and whether Trump and his campaign are implicated in that conspiracy.
Only a series of fully empowered probes by law enforcement and Congressional authorities can uncover the truth, but already there are many investigative trails to follow. Consider this week's stunning news reports of a 35-page dossier compiled by a former British intelligence officer about Trump, his campaign, and the Russians, which provoked his enraged "fake news" tweet.  Mesmerized by the dossier's references to alleged videotape of a Trump encounter in Russia with prostitutes hired to perform a perverse urination ritual, many journalists dismissed the entire document as mere gossip.
Such dismissals revealed nothing except the ignorance of those who uttered them, none of whom appears to understand the nature and purpose of what spooks call "humint," or human intelligence (as distinguished from surveillance and other data). The Trump dossier is an intelligence file, not a prosecution memo; its purpose is not to prove a case but to point a direction. And as subsequent coverage in the Guardian and Financial Times indicated, its author Christopher Steele is no mere purveyor of gossip. He is a highly respected and experienced former official of MI6, the British foreign intelligence service, where he oversaw the agency's work in Russia and Eastern Europe for decades. Nobody who knows anything about Steele doubts his reach into the top ranks of Moscow's political and business sectors.
 Indeed, much of what Steele's dossier reports about alleged contacts between the Trump camp and the Kremlin (as well as its various cutouts) matches what US and other intelligence agencies learned last year from their own Russian sources. That was among the reasons why the director of national intelligence and the directors of the CIA, FBI, and NSA believed the dossier worthy of briefing to both Trump and President Obama.
The details also match many troubling facts already known about Trump and his associates. It is clear, for instance, that former Trump campaign manager Paul Manafort has worked to advance the interests of the Putin regime for well over a decade, and not only in Ukraine. It is also clear that Manafort and his longtime business partner, Washington lobbyist Rick Davis, have cultivated business ties with major Russian oligarchs in Putin's orbit.
The most notorious of those oligarchs is Oleg Deripaska, a billionaire aluminum magnate of dubious repute who was barred from entering the United States. More than ten years ago, in 2006, Davis was preparing to launch the nascent presidential campaign of the leading Republican candidate — Senator John McCain. As The Nation and other news outlets later reported, Davis and Manafort introduced McCain to Deripaska on a yacht anchored in the port of Montenegro, where the oligarch hosted a "birthday party" for the Arizona senator. If Deripaska and Manafort were attempting to gain a White House foothold, their initiative evaporated when Obama defeated McCain two years later.
 But with that shady episode behind him, McCain probably understands better than most of his colleagues why the Steele dossier – which he personally delivered to the FBI director — demands much more than snarky repartee about "watersports." Not everything that Steele heard is likely to be true. But if even a fraction proves accurate, the Trump campaign's Moscow connection will become the biggest political scandal in American history.
IMAGE: A page from the Trump dossier reportedly compiled by former MI6 officer Christopher Steele