Falling Ice Shows New Yorkers A Dangerous Downside Of Warmer Weather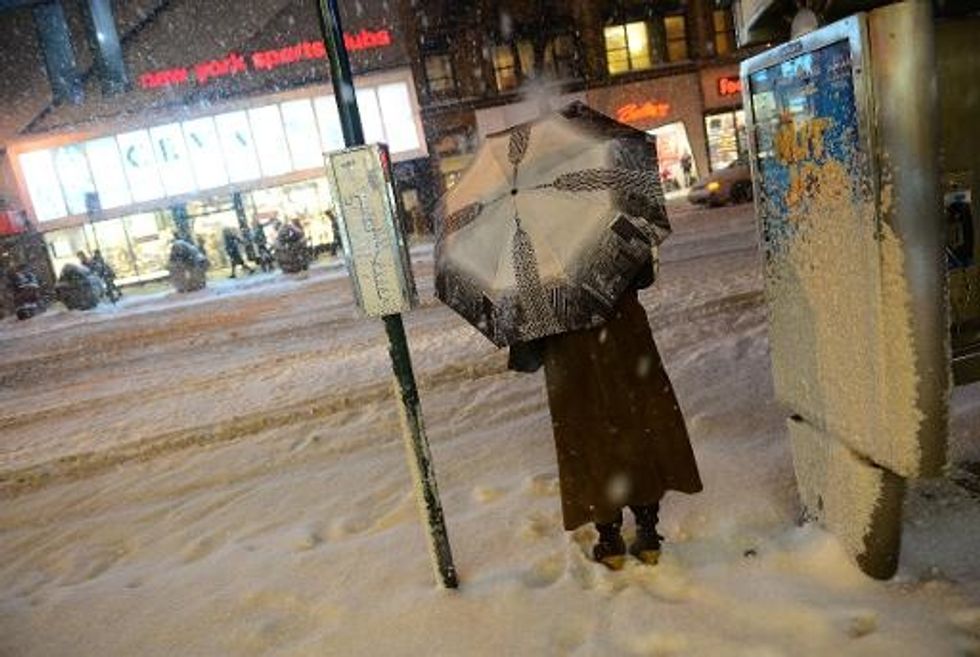 By Alana Semuels, Los Angeles Times
NEW YORK — East Coast residents sick of a long, snowy winter reveled in warmer temperatures that reached 45 degrees in some areas — until they realized the sky was falling.
Well, not the sky, precisely, but it may have seemed that way: Chunks of ice that had accumulated during weeks of freezing temperatures melted, thawed, and then crashed to the ground.
Streets around One World Trade Center were closed Wednesday because of falling ice from the tallest building in the Western Hemisphere, and New York's Department of Buildings reminded property owners to remove snow from roofs, overhangs and awnings.
Carly A. Heitlinger, 24, was sitting with her dog in her Upper East Side apartment when she heard a boom. Both Carly and her puppy, a toy poodle, jumped. It was the ice, falling from her roof onto her air conditioning unit.
"It's really, really loud," she said. "The ice is coming down in droves."
Intrepid New Yorkers must dodge more than ice as they navigate around the snow, slush and puddles left by the weeks of cold weather. Heitlinger, a blogger, likens traveling around New York these days to the Winter Olympics: There are puddles to leap, icy sidewalks to teeter upon, and snowbanks to climb. The falling ice, she says, is a good sign.
"I've never been so happy — it's like it's signaling spring," she said.
Commuters around the World Trade Center are probably not so happy. Images on Twitter showed traffic backed up for blocks because of the closed lanes.
"Traffic gridlock from falling ice," wrote Tim Fleischer, a reporter for WABC-TV, on Twitter. "DO NOT drive here."
Two weeks ago, an entrance to the PATH train station was closed because of falling ice from One World Trade Center, causing massive crowds as commuters funneled into another entrance.
Buildings that are tapered toward the top, like One World Trade Center, can become dangerous icy slopes in warm weather, said Jim Childress, a partner with Centerbrook Architects. Architects usually try to account for this when designing buildings, steering the ice melt to areas where pedestrians and cars don't go.
But that's harder to do in crowded cities, and sometimes, the accommodations don't work. The Wells Fargo Center, a building in Denver that looks like a mailbox, was curved at the top and often sent sheets of ice falling, Childress said, so the building owners had to begin heating the top to keep ice from collecting.
Falling ice becomes a problem "as soon as you get any sort of shape to a building," he said. The alternative? Flat, boxy buildings that are likely to have roof problems because there's nowhere for the snow and ice to go.
Architects can try to heat buildings so they won't collect ice, put up ledges to protect pedestrians, or run hot water over the ice. It's unclear whether the Port Authority of New York and New Jersey, which runs One World Trade Center, will do any of these things. Agency officials did not return any calls for comment.
AFP Photo/Emmanuel Dunand