Family Sees Video of Charlotte Police Shooting Black Man Dead
@reuters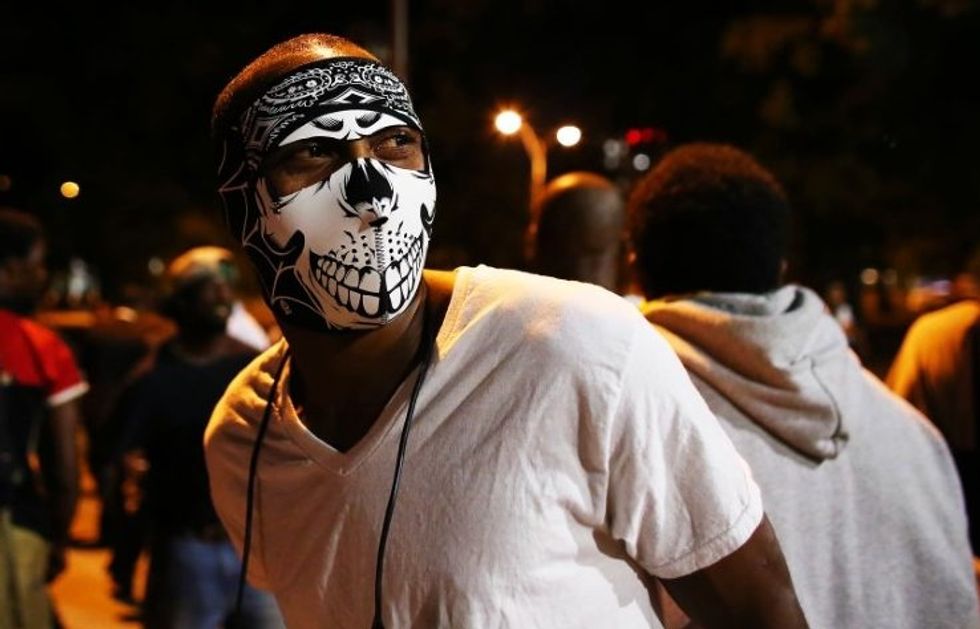 By Andy Sullivan and Greg Lacour
CHARLOTTE, N.C. (Reuters) – The family of the black man whose shooting death by police in Charlotte, North Carolina, triggered two nights of riots viewed video of the episode on Thursday, but a lawyer for the family of Keith Scott said it was unclear if Scott was holding a gun when killed.
Scott's family called on police to immediately release the two police videos that they saw, adding pressure on police to make them public. The call came as Charlotte braced for a possible third straight night of violence.
Scott, 43, was killed on Tuesday by a black police officer as part of a police search for another man. Police contend Scott was carrying a gun when he approached officers and ignored repeated orders to drop it. His family previously said he was holding a book, not a firearm.
His death is the latest to stir passions in the United States over the police use of deadly force against black men. The family's viewing of the video came on the same day that a police officer in Tulsa, Oklahoma, was charged with first-degree manslaughter in the fatal shooting of an unarmed black man whose car had broken down and blocked a road.
In Charlotte, Scott's family said it still had "more questions than answers" after watching two police body camera videos of the officer shooting him dead in the parking lot of an apartment complex.
"While police did give him several commands, he did not aggressively approach them or raise his hands at members of law enforcement at any time," Justin Bamberg, an attorney for the family, said in the statement.
"It is impossible to discern from the videos what, if anything, Mr. Scott is holding in his hands," the statement said, adding that Scott's hands were by his sides and he was slowly walking backward.
Charlotte-Mecklenburg Police Chief Kerr Putney has said the video supported the police account of what happened but does not definitively show Scott pointing a gun at officers.
PROTESTERS GATHER AGAIN
The rioting in Charlotte in response to Scott's death led North Carolina Governor Pat McCrory to declare a state of emergency and call in the National Guard.
Nine people were injured and 44 arrested in riots on Wednesday and Thursday morning. One man was critically wounded by a gunshot.
Protesters began gathering again on Thursday after nightfall, with some 200 people marching to chants of "release the video" and "Whose streets? Our streets."
Helicopters circled overhead and about 15 National Guard troops in camouflage stood around a Humvee outside the Omni Hotel, where much of the violence took place on Wednesday.
Many of the protesters dispute the official account of Scott's death, but Putney told reporters he would not release the video at this time, in part to protect the investigation.
The decision to withhold the video from the public was criticized by the National Association for the Advancement of Colored People and members of the clergy from the Charlotte area.
"There must be transparency and the videos must be released," the Rev. William Barber, who sits on the national board of the NAACP, told a news conference.
Charlotte's reluctance to release the video stands in contrast to Oklahoma, where officials on Monday released footage of the fatal shooting of Terence Crutcher by police after his vehicle broke down on a highway.
A long series of controversial fatal police shootings of black men across the United States has sparked more than two years of protests asserting racial bias and excessive force by police and giving rise to the Black Lives Matter movement.
Scott's killing was the 214th of a black person by U.S. police this year out of an overall total of 821, according to Mapping Police Violence, an anti-police violence group created out of the protest movement. There is no national-level government data on police shootings.
(Additional reporting by Colleen Jenkins in Winston-Salem, North Carolina, Jon Herskovitz in Austin, Texas, and Dan Freed and Laila Kearney in New York; Writing by Daniel Trotta; Editing by Toni Reinhold and Leslie Adler)
PHOTO: A masked protester walks in the streets downtown during another night of protests over the police shooting of Keith Scott in Charlotte, North Carolina, U.S. September 22, 2016.  REUTERS/Mike Blake