Far-Right Extremists And QAnon Cultists Are Training Police Officers
@DavidNeiwert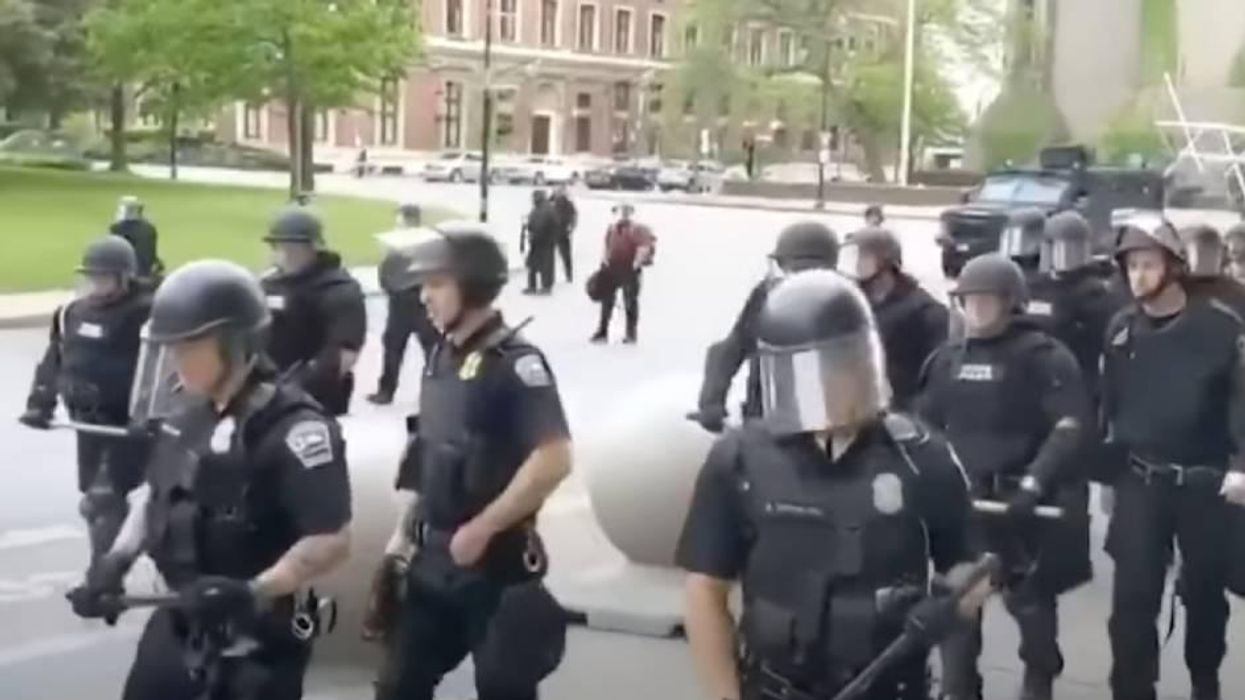 Youtube Screenshot
The saturation of the ranks of our police forces with far-right extremists is one of the harsh realities of American life that bubbled up during the police brutality protests of 2020 and was laid bare by the January 6 insurrection. The presence of these extremists not only is a serious security and enforcement threat—particularly when it comes to dealing with far-right violence—but has created a toxic breach between our communities and the people they hire to protect and serve them. Too often, as in Portland, the resulting police culture has bred a hostility to their communities that expresses itself in biased enforcement and a stubborn unaccountability.
Much of this originates in police training, which are the foundations of cop culture. And a recent Reuters investigative report has found that police training in America is riddled with extremists: Their survey of police training firms—35 in all—that provide training to American police authorities found five of them employ (and in some cases, are operated by) men whose politics are unmistakably of the far-right extremist variety. And these five people alone are responsible for training hundreds of American cops every year.
The most striking of these five extremist trainers is a former cop from Travis County, Texas, named Richard Whitehead, who moved to Post Falls, Idaho, several years ago and set up shop as a police trainer. He has, over the past four years, given 85 training sessions to at least 560 police officers and other public safety workers in 12 states. He also has advised officers to ignore COVID-19 health restrictions and claimed: "We are on the brink of a civil war."
Like most of these extremist trainers, Whitehead subscribes to the so-called "constitutional sheriff" model of law enforcement—he in fact ran for Kootenai County sheriff in 2020 as a "constitutional" officer, finishing third out of four candidates in the GOP primary—which claims that county sheriffs are the supreme law of the land, empowered to overrule and ignore state and federal laws, as well as to determine what is and is not "constitutional." None of its tenets have ever been upheld in a court of law.
Nonetheless, it's a powerful movement that has been spreading, particularly in rural America, for well over a decade, led by a far-right "constitutionalist" named Richard Mack and his outfit, the Constitutional Sheriffs and Peace Officers Association (CSPOA). A number of rural sheriffs have won election claiming to be "constitutional," and inevitably, their regimes have produced dysfunctional far-right fiefdoms and disrupted communities.
Just as important, these "constitutionalists" form much of the backbone of the far-right "Patriot" movement that formed the core of the attack on the Capitol on January 6, and continues to animate and organize the anti-democratic insurgency the right has undertaken in the ensuing year and a half. Despite wrapping themselves in red, white, and blue bunting and claiming fealty to the Constitution, they are part of a profoundly seditionist movement whose entire reason for being is to dismantle American democratic institutions.
Reprinted with permission from Daily Kos.