Fitness Fascists Hijack Workout Cultures To Push Far-Right Politics — And Street Violence
@DavidNeiwert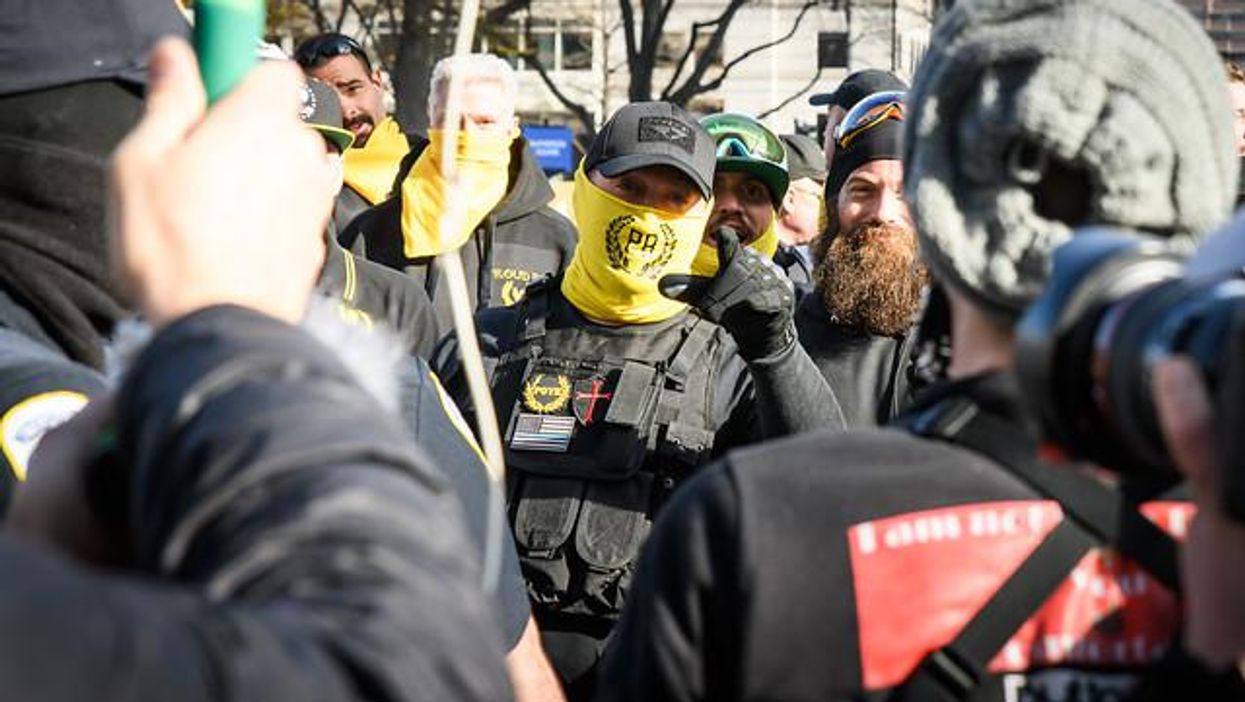 Proud Boys
Ethan Nordean embodies the far-right fascination with fitness: The now-imprisoned January 6 insurrectionist who first made himself a national figure by beating up antifascists in street brawls is also a fanatical weightlifter who made his living previously by selling vitamin supplements. He is like a lot of Proud Boys—who espouse the virtues of physical fitness and manly violence—that way.
It's a thread that runs through much of the rising tide of far-right extremism, not just in the U.S. but globally, as researcher Cynthia Miller-Idriss explored recently at MSNBC. It's not that being a fitness buff makes a person into a right-wing authoritarian—rather, it's that the structured mindset involved is an attractive and desirable trait among far-right ideologues and thus becomes a targeted recruitment ground, very much in the same way that they target people with military backgrounds.
"The intersection of extremism and fitness leans into a shared obsession with the male body, training, masculinity, testosterone, strength and competition," explains Miller-Idriss, who is the director of American University's Polarization and Extremism Research and Laboratory.
Researchers with the U.K.-based Hope Not Hate reported earlier this month that young men in Europe and the U.S. are being recruited and radicalized by a network of online "fascist fitness" chat groups on the encrypted chat platform Telegram. The network lures them in with health tips and strategies for achieving greater strength and improving their bodies, after which recruits are eventually invited to closed chat groups where extremist ideologies are the primary fare.
"Fascist fitness groups, which have been growing across Europe for several years, have helped turn what was once an individual project of self-improvement into something ideological," the organization's annual report says. "Some of those involved in the fascist fitness scene seem to have positive experiences that focus their energy on doing something that is not directly harmful to others.
"However, these groups also mix extreme fascist ideology with self-improvement and camaraderie which can bring people in to the movement, to radicalize and associate positive change in their lives with fascism. Worryingly, others view it as preparation for violence towards minorities, antifascists and race war."
It notes that similar fitness groups have arisen within the context of COVID denialist and anti-vaccination/anti-lockdown movements. These groups are ideologically distinct from the violence-prone neofascist fitness groups, but they share many of the same beliefs in far-right conspiracy theories and disinformation.
Miller-Idriss observes that an obsession with fitness and health has historically been woven into fascist politics; both Hitler and Mussolini extolled their virtues and considered strict attention to both a requirement for their respective movements. More recently, right-wing extremists have launched mixed martial arts (MMA) and boxing gyms in both Europe and North America, where they mix training in hand-to-hand combat and street-brawling situations with white nationalist ideological indoctrination.
European intelligence authorities in particular have taken note of the trend as a number of reports from different nations have described the ascent of combat sports and MMA in providing a platform for far-right radicalization and organizing street violence. Governments have introduced intervention and prevention programs with the cooperation of national sports associations and local gyms in places such as Germany, Poland, and the U.K.
Miller-Idriss notes that the U.S. is comparatively far behind in this trend, but will be catching up in the months and years ahead as the idea spreads. She notes that the white nationalist Rise Above Movement (RAM), which originated in California, started out as a local "fight club" before it graduated to leading street riots, including violent participation in the August 2017 "Unite the Right" riots in Charlottesville, Virginia. One of RAM's founders, the fugitive Robert Rundo, is now trying to organize a global network of MMA "Active Clubs" in both Europe and the U.S. from his European hideouts.
"The danger of these groups lies, firstly, in their emphasis on transforming activists into soldiers that might be motivated to commit acts of violence. And, secondly, in the community they create, where members start to associate sometimes real, positive change in their lives with fascism," said Hope Not Hate's annual report.
Senior researcher Patrik Hermansson told The Guardian: "These fitness groups frame individual self-improvement as a part of a wider political struggle, creating fresh motivation and a sense of purpose for people who believe that physical confrontation and violence are legitimate and necessary. They have become a space for far-right activists to mobilise."
Hermansson carefully observed the radicalization process in these spaces: how members were lured in with health tips and then hit later along with the ideological component:
The language in these "fascist fitness" chat groups is often indistinguishable with that on any other fitness blog or Instagram post: increase your protein intake, avoid bread, work out regularly, and sleep properly. The tone is encouraging and accepting when members post images of their half-naked bodies, and ask for advice on both how to lose weight and gain muscle. Some look like avid gym-goers; others have just started and want to lose weight …
However, the photos of bare torsos are usually anonymized with stickers of Hitler's face over each poster's face, and between the fitness and weight loss advice is sandwiched the fascist propaganda. Both texts and promotion of far-right groups such as Patriotic Alternative (PA) are common. In other messages, more sinister reasons for the self-improvement projects reveal themselves. One admin of a group posted a picture of himself in a gym mirror with the message: "training to stop a bus loaded with Soros paid protesters."
There were users such as "Dan," who lost 45 pounds after joining one of the larger "fitness fascist" Telegram groups in July 2021 and became such an enthusiastic white nationalist—posting almost daily—that he was shortly promoted to group administrator. "Associating positive change in one's life with a violent and hateful ideology is obviously dangerous," said Hermansson.
One of these group admins posted a selfie in a gym mirror, accompanied by text saying he was "training to stop a bus loaded with [philanthropist George] Soros paid protesters." Another participant described his ethos: "Defend your race, defend your land, achieve immortality."
In a phone interview Wednesday, Miller-Idriss told Daily Kos that the underlying dynamic of strict discipline that is fundamental to so many fitness programs is both what draws right-wing extremists to recruit there as well as what makes some people vulnerable to that recruitment.
"What we do often find in the lab here is that there's a whole bunch of different vulnerabilities to the fringe ideologies, and one of those tends to be people who are attracted to and need extremely structured frameworks for their lives," she said. Moreover, becoming fit also produces the natural effect of making people feel more powerful, and these movements become both a way for them to channel those feelings and enhance their personal sense of meaning in life.
"That's where they are sometimes the most effective," she said. "I've always made the argument that the emotional interest in these groups comes first and then the ideology later. Young people join these groups because they're mad and they want to provoke adults and because they want to find a sense of belonging—that push and pull of rebellion and solidarity. They all have that longing, the need to be part of something bigger than themselves.
"Fitness kind of taps into both those sets of emotions. You can feel angry and rebellious and strong, that feeling of being a warrior. That language of being a warrior, a soldier, is core to a lot of the ideological rebellion, but it also has the sense of belonging, maybe more than any other cultural component of these ideologies."
In some regards, the reason the right has had so much success recruiting young people to their cause is that these concrete real-life improvements contribute meaning to their lives in tangible ways that often are not present in more liberal ideologies.
"These things are full of meaning and purpose, and they're also full of structure," Idriss-Miller said. "It's not 'anything goes,' which can leave people feeling like they don't know what to do or how to move forward. In these places, there's a very clear path forward and there's a right way and a wrong way. And I think to a lot of people, especially young men, that can be very seductive—especially when, with the fitness component, it's something making you feel better and stronger and more confident, possibly more attractive."
Ethan Nordean was someone in search of a purpose when he found the Proud Boys in May 2017. He had joined the U.S. Navy out of high school with hopes of becoming a SEAL, but wound up washing out of basic training, and largely reduced to helping run his family's chowder-house business in Des Moines, Washington. He avidly lifted weights, worked at a local gym, and sold vitamin supplements in a partnership with a Renton police officer.
Nordean's Bangarang Elite Supplements sold the supplements for $40 per tub through a PayPal link on a "Team Bangarang" Facebook page. After he joined the Proud Boys, someone touted the supplements in a comment: "I take this pre-workout supplement before knocking out commies," he wrote.
Nordean liked to post pictures of himself working out at his 'Smart Gym.'
Nordean also set up a company called "Smart Gym Fitness for the Mind and Body" that sold itself as providing a "holistic overall health solution." Nordean appears to have set up a facility while simultaneously dispensing spiritual wisdom: "Faith is a source of strength building," the site's text reads under a photo of Nordean praying. "Owning it with a bible, daily prayer and some leadership principles as part of a routine trains one's processing directives toward healthier decisions and actually drives motivation."
His hyper-disciplined approach to life created an authoritarian mindset that was a perfect fit for the Proud Boys. And Nordean's radicalization arc tracks with the larger trend emerging over the past decade in which people have displaced religion in their lives with personal fitness as a more immediate and concrete source of meaning, replacing their churches with their gyms.
The significant factor both share is that they provide a sense of community, a place where people can congregate to actively socialize. As Zav Romanoff put it in The Atlantic:
As more Americans have moved away from organized religion (a 2015 Pew Center study found that 23 percent of the adult population identified as "religiously unaffiliated," up from 16 percent in 2007) they have also moved toward new forms of community building, as well as new ways to seek mental clarity and spiritual experiences. The gym is a popular avenue for this kind of searching, in part because it mimics the form of traditional religious services.
Increasingly, gyms are becoming cult-like and authoritarian. Some gym chains such as CrossFit have become notable for this; unsurprisingly, CrossFit recently went through serious upheaval amid revelations that the company's founder and CEO regularly indulged in both racist and misogynist behavior.
Hope Not Hate observes that this trend seems to have intensified during the COVID-19 pandemic with the (temporary) replacement of gym facilities with at-home workout businesses. The online aspect of these gathering places seems to have made them even more vulnerable to attracting far-right elements and becoming hospitable platforms for radicalizing fellow fitness partners:
Positioning physical fitness as part of a wider political struggle adds significance to an otherwise quite lonely activity, allowing groups like WSAC to form and grow around this shared identity and activity. This might be part of the reason why such groups have appeared and have risen in popularity during the pandemic. Disconnected physically, many have looked to online communities for connection, and when it comes to the far right, also ways to engage and push forward the aims of the movement under the constraints of social distancing restrictions. Physical exercise and self-improvement more generally can help satisfy the urge to do something practical, that goes beyond simply talking online, for the movement's activists (while also being relatively low risk).
It's not that being a fitness fanatic identifies you as a far-right extremist, of course. Rather, the point is that fascist political movements have always been syncretic—that is, they incorporate activities, ideas, and behaviors fully within the cultural and political mainstream and then claim them as their own, which both legitimizes their toxic ideology and hijacks and distorts those mainstream elements. Confronting the rise of neofascist and other far-right extremist ideologies involves being able to identify those extremists when they attempt to insinuate themselves within the mainstream.
As Miller-Idriss says:
Fitness of course is a staple and a hobby for many people, for whom it is enjoyable and rewarding for brain health and overall well-being. Physical fitness channels dopamine, adrenalin and serotonin in ways that literally feel good. Intertwining those feelings with hateful and dehumanizing ideas, while promoting the concept that physical warriors are needed to create the strength and dominance to defend one's people from a perceived enemy, makes for a dangerous and powerful cocktail of radicalization.
For those of us working to find better pathways to reach at-risk youth, understanding the ways that far-right groups recruit and socialize youth—in ways that go well beyond rhetoric and ideas—is crucial. It's critical that leaders, including parents, physical trainers, gym owners, coaches and others in the fitness world understand how online grooming and recruitment can intersect with spaces that we generally think of as promoting health and well-being
Reprinted with permission from Daily Kos