Fashionable Bashing: 'New York' Columnist Knows Little But Talks Big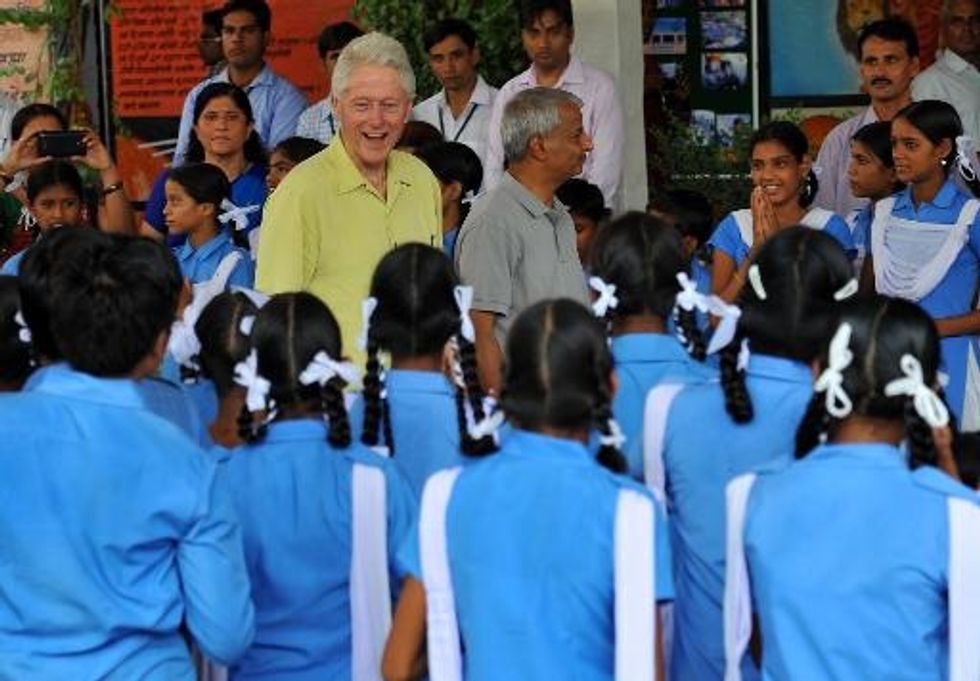 Jonathan Chait of New York magazine has done no small damage to his own reputation as a liberal intellectual over the past year or so, but apparently feels he can rehabilitate himself by attacking the reputation of the Clintons — always a fashionable media pastime, especially during an election cycle.
So today, Chait describes the Clinton post-presidency as "disastrous."
Certainly the work of the former president hasn't been "disastrous" for the millions of people across the world aided by the work of the Bill, Hillary and Chelsea Clinton Foundation, including vast numbers whose lives have been saved over the past dozen years or so thanks to the Clinton HIV/AIDS Initiative (which Chait doesn't deem worth mentioning). Nor has the Clinton post-presidency proved disastrous for President Barack Obama, a former adversary whom the Clintons have served very well indeed.
Nevertheless, parroting a series of recent accusations against the Clintons, Chait condemns the couple as "disorganized and greedy." Much of what he repeats in his column is so easily debunked, however, that what he reveals is not their lack of character but his own weak journalism.
"The New York Times has a report about the State Department's decision to approve the sale of uranium mines to a Russian company that donated $2.35 million to the Clinton Global Initiative," intones Chait. But that is such an inaccurate, misleading way to characterize what happened as to indicate that the columnist may need remedial reading instruction.
Tendentious and biased as it was, even the Times report noted that the decision to approve the Russian uranium sale was made not by the State Department alone, but by the Committee on Foreign Investment in the United States (CFIUS) — a powerful interagency committee chaired by the Treasury Department that includes the Pentagon, the National Security Council, the Energy Department, and a host of other cabinet-level government agencies.
Nowhere did the Times prove or even suggest that the State Department drove the Russian uranium decision, because that isn't how CFIUS works. And nowhere did the Times report show that Hillary Clinton personally influenced the decision. Indeed, the record indicates that she played no role whatsoever. Knowledgeable observers of CFIUS believe that its operations are dominated by Treasury and Defense, not State.
To learn what really happened, though, Chait would have needed to read carefully, then maybe ask an intelligent question or two — but he couldn't be bothered.
Chait complains that President Clinton received speaking fees from some of the same organizations that have donated to his foundation, linking to an article in the Washington Post. He fails to explain why he thinks that is a conflict of interest. To the contrary, it should be obvious that anyone who admires the foundation's work might wish to hear the former president speak about that and other topics. (The overlap is actually smaller than might be expected, anyway: only 67 of the 420 groups that paid him a speaking fee over the past decade are also foundation donors).
He points out that the Clinton Foundation is re-filing and auditing some of its tax returns because of errors that have been discovered. Many other corporations, non-profits, and individuals have made errors on their taxes, as he surely knows. Nobody has accused the Clintons or their foundation of attempting to cheat the government; the foundation is tax-exempt, of course, and the Clintons personally have disclosed more of their tax returns over the past three decades than any political family in American history.
Continuing to build his case, Chait quotes another New York Times article, reported by Nicholas Confessore and Amy Chozick in August 2013, which claimed among other things that [the Clinton Foundation] "ran multimillion-dollar deficits for several years, despite vast amounts of money flowing in."
But the New York columnist apparently never bothered to consult President Clinton's response, which schooled the Times reporters on the basics of non-profit financing and tax reporting:  "The reporting requirements on our tax forms, called 990s, can be misleading as to what is actually going on," the former president explained. "In 2005 and 2006 as a result of multi-year commitments, the Foundation reported a surplus of $102,8000,000, though we collected nowhere near that. In later years, as the money came in to cover our budgets, we were required to report the spending but not the cash inflow."
The Times reporters – and Chait – could have tested their assumptions by asking a few simple questions. They might have learned that President Clinton maintained a cash reserve fund in the foundation that sustained its life-saving programs during the worst of the recession, when donations shrank. Not so "disorganized," as it turns out.
Finally, Chait lifts a lengthy passage from a New Yorker article by Ryan Lizza, arguing that Bill Clinton favored Hillary's appointment as Secretary of State to somehow benefit himself and his foundation. It suggests that foreign leaders attended the Clinton Global Initiative's annual New York meeting — and foreign donors gave to the foundation — because of her position in government.
To bolster this notion, Lizza quoted an anonymous source: "'Bill Clinton's been able to continue to be the Bill Clinton we know, in large part because of his relationship with the White House and because his wife is the Secretary of State,'" the Clinton associate said. "'It worked out very well for him. That may be a very cynical way to look at it, but that's a fact. A lot of the stuff he's doing internationally is aided by his level of access.'"
That is simply nonsense, as anyone having even the barest familiarity with the facts could attest. The Clinton Global Initiative began in 2005, four years before anyone imagined Hillary Clinton would ever be named Secretary of State, with a stellar roster of present and former foreign heads of state and other leaders that included British prime minister Tony Blair and Secretary of State Condoleezza Rice.
The Washington Postdescribed that first meeting as Clinton's own "mini-General Assembly of presidents, prime ministers, kings and other pooh-bahs." And the foundation has benefited from the support of foreign governments, principally U.S. allies like Norway, Ireland, the United Kingdom, and Canada, as well as individual foreign donors, since no later than 2002. He could have looked that up quite easily, too.
For someone who knows very little, Chait is very opinionated (and loud). His ignorance was amplified by excited links in Politico and the Drudge Report – which may be what he really wanted in the first place.