Fast Food Lobbyists Fight State And City Regulation
@AlterNet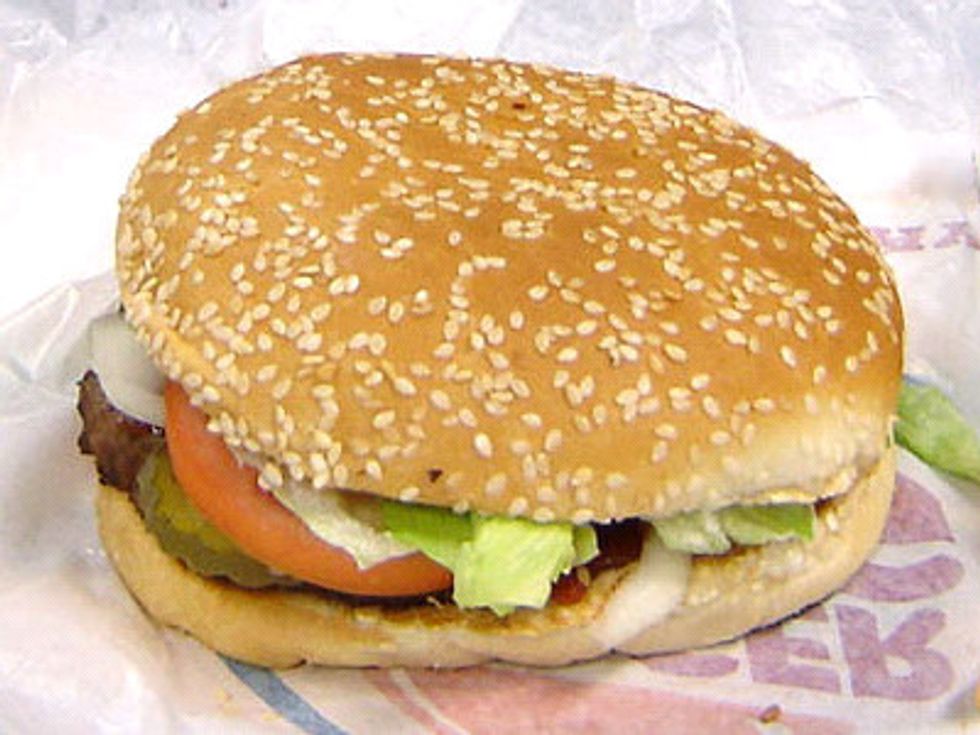 Reprinted with permission from Alternet.
This article first appeared in Forbes Magazine 
When the city council of Santa Fe, New Mexico, placed a measure on the local ballot to tax sugary drinks earlier this year, the soda industry responded quickly, pouring $1.3 million into the anti-tax campaign. To cover their bases, industry lobbyists also pursued a back-up plan: they backed a bill in the state legislature to strip local governments of the power to levy such taxes.
In the end, the state language was added to another bill that sailed through the New Mexico House before dying in a Senate committee, shortly before Santa Fe voters defeated the local soda tax. But as a growing number of cities consider and increasingly pass soda taxes and other measures designed to combat obesity and promote healthy eating, the food industry has turned to a strategy used extensively by the tobacco and gun lobbies.
 The strategy, known as preemption, uses state laws to take away the right of cities to enact various kinds of regulations, reserving that power to the state. The tobacco industry used preemption to block or weaken local ordinances that ban smoking in public spaces. The firearms industry used it to beat back local efforts to control gun sales.
Now, lobbyists for numerous industries, including soda makers and fast-food chains, are pushing state laws that block municipal governments from adopting local controls. Aiding the effort is the American Legislative Exchange Council (ALEC), a group backed by corporations and conservative foundations, which brings together state lawmakers and industry lobbyists to draft and disseminate model legislation.
At least nine states have passed nutrition-related preemption laws, according to Grassroots Change, a nonprofit group that monitors state preemption efforts. Others have adopted measures that keep cities from requiring employers to provide paid sick leave or nullifying laws that protect gay or transgender people from discrimination.
The federal government can also preempt state and local law. In recent years, Congress has passed several bills with preemption provisions, including a revision of the key 40-year-old federal act regulating chemicals, a law requiring restaurants to display nutrition information, and another relating to disclosure of the use of genetically modified organisms (GMOs) in food products. These laws also limit states and cities from regulating the same products, though each does so in different ways.
In 2011, the National Academy of Medicine urged in a report that federal and state legislators avoid wording preemptive laws "in a way that hinders public health action." But a growing number of state legislatures are ignoring that plea.
A 2011 Arizona law bars local governments from regulating restaurant giveaways of toys and prizes like those given to children eating McDonalds Happy Meals or at the Chuck E. Cheese pizza chain.
Alabama, Florida, Georgia and Utah ban regulations requiring restaurants to publicly display nutritional information.
Mississippi and Ohio bar both these types of regulations and Wisconsin prohibits cities from restricting food or drink sales based on size, caloric content or nutritional value.
In New Mexico, the soda tax preemption language was added at the last minute to a 300-page substitute bill addressing a variety of tax issues, said William Fulginiti, executive director of the New Mexico Municipal League, an association representing cities, which opposed the preemption as an infringement on the rights of local communities.
"It was done quickly. I don't think they were even aware of what was in the bill," Fulginiti said of House members who passed the substitute tax measure. Fulginiti said the original bill had been supported by The Coca-Cola Co. and that a Coke lobbyist had visited him to push for the bill.
Sarah Maestas Barnes, the New Mexico legislator who introduced the original preemption measure, received a $1,000 campaign contribution last year from Admiral Beverage Corp., which manufactures and distributes Pepsi and other drinks. Barnes didn't return several phone calls and emails seeking comment.
One of the most sweeping laws, passed last year in Kansas, includes a preemption for almost every industry. It prevents cities from banning restaurant toy giveaways, keeps them from requiring display of nutrition information and blocks them from restricting the "growing or raising of livestock or grain, vegetables, fruits or other crops."
The same Kansas bill also bars cities from setting their own minimum wage rules, requiring developers to pay prevailing wage in construction projects, or mandating that employers provide sick leave. And for good measure, it also bars residential rent control.
Kevin Walker, a lobbyist for the American Heart Association, thought the bill was a bad idea and would intrude on efforts to promote healthier eating in a state that had the seventh highest obesity rate in the country. Other public health groups including the American Cancer Society, KC Healthy Kids and Oral Health of Kansas also opposed the bill.
The Chamber of Commerce, Kansas Beverage Association and Kansas Corn Growers Association supported it, as did Americans for Prosperity, a conservative, free-market advocacy group. Deputy director Rodger Woods argued that, without the bill, the state's 700 local and county governments could all pass different rules, leading to a "balkanized series of different food-sales requirements."
 In fact, no city in Kansas had passed or even proposed a soda tax, nutrition-labeling regulation or ban on Happy Meals, according to Walker. "Nobody was talking about it," he said. "Legislation to preempt these activities looked like a solution in search of a problem."
As proponents shopped the bill around, they cast it as "the anti-Bloomberg bill," the enemy of nanny-state advocates like former New York Mayor Michael Bloomberg, said Walker. To rural Kansas Republicans, he said, Bloomberg was the perfect villain, "a big city mayor, Big Brother telling you what you can do and buy."
Bloomberg, of course, had famously gotten his city to ban smoking in restaurants, eliminate the use of trans fats, require restaurants to post calorie counts and limit the size of sodas, a policy later overturned in court.
Walker suspected the bill might be the work of ALEC, a business-backed group with a roster of corporate members and some 2,000 state legislators. He knew it was being pushed by ALEC member Gene Suellentrop, a state lawmaker who owns a chain of pizza restaurants, as well as Senate President Susan Wagle and then-House Speaker Ray Merrick, both members of ALEC's board of directors.
Sure enough, ALEC's website included model legislation dubbed the "Food and Nutrition Act," with many provisions nearly identical to the Kansas legislation. The group, whose members include corporations and some 2,000 state legislators, holds annual retreats that bring together lawmakers and industry lobbyists. In a brochure, ALEC boasted that its model bills are introduced about 1,000 times in every legislative cycle and pass 17 percent of the time.
The Coca-Cola Co., PepsiCo and Kraft Foods were all members of ALEC until 2011. (They quit under pressure in the aftermath of the Trayvon Martin killing as civil rights group targeted ALEC for its support of "stand-your-ground" laws like one in Florida.)
The American Beverage Association, the trade association for the soda industry also has been an ALEC member, according to the Center for Media and Democracy, a corporate watchdog group that has done extensive research on ALEC. (The Center's executive director, Lisa Graves, is a member of the board of directors of US Right to Know.) Among ALEC's funders are foundations endowed by Charles and David Koch, Peter Coors and other right-wing industrialists.
Michael Taylor, a lobbyist for Wyandotte County, which includes Kansas City, said he found the Kansas bill to be so overreaching that he "went on a rant" at a legislative hearing. He told the lawmakers that his county doesn't require nutrition labeling and has no plan to do so.
"So why are we dealing with this bill?" he asked. "It's because it comes from the American Legislative Exchange Council, an organization that often seeks solutions to problems which don't exist, at least in Kansas."
Taylor noted that the concept of local control "is a mainstay of the Kansas constitution" and a purported principle of ALEC. Yet, he said, "ALEC model policies are about monolithic, top-down, centralized, big brother laws which attempt to impose the views of its big money corporate members on every county, city and citizen in America. That's hardly small government, limited government, or local control."
Despite the opposition from Taylor and public health groups, the Kansas bill passed overwhelmingly and became effective July 1, 2016.
State preemption as a concerted strategy "was essentially invented by the tobacco industry in the mid 1980s," says Mark Pertschuk, an attorney and public health advocate who directs Grassroots Change. In the 80s, he said, activists were winning passage of no-public-smoking ordinances in a growing number of cities, including in Florida.
But in 1985, the tobacco industry was able to water down a proposed statewide "Clean Indoor Air Act" in Florida and insert preemption language that kept local governments from passing stricter measures. Local public health groups thought they had won a victory and invited Stanton Glantz, a famed tobacco researcher at the University of California San Francisco, to attend the signing ceremony for the new law.
Glantz read the text of the new law on the airplane and realized his Florida allies had been fooled. "They got snookered," he said. "They didn't understand that a bad piece of legislation was worse than nothing."
After their success in Florida, the tobacco industry pursued a "50-state strategy," Pertschuk said, trying to get similar preemption laws passed in statehouses around the country. By the end of the 1990s, more than 20 states had passed them, he said.
This effort was outlined by Philip Morris executive Tina Walls, who called statewide preemption "the solution" at a 1994 internal strategy meeting. "By introducing preemptive statewide legislation we can shift the battle away from the community level back to the state legislature, where we are on stronger ground," she said.
 The National Rifle Association began pushing for statewide preemption laws after a couple of North Carolina cities, Durham and Chapel Hill, passed local gun-control measures. In 1995, the state legislature passed a bill declaring  "that the entire field of regulation of firearms is preempted from regulation by local governments." Today, 45 states have laws that partly or completely keep cities from enacting gun controls, according to the Law Center to Prevent Gun Violence. A dozen states still have laws preempting local control over smoking in public places, according to Grassroots Change.
 Preemption at the federal level is also a potent weapon against state and local regulation. Last year, Congress reformed the Toxic Substances Control Act for the first time since it was passed 40 years ago. While the new law gives the Environmental Protection Agency jurisdiction over thousands of chemicals originally exempted from its review, it also largely prevents state and local governments from passing their own new controls.
In the area of nutrition, public health advocates have been pushing for years to require restaurant chains to provide calorie counts and other nutrition information on their menus. A few cities, including New York, Seattle and San Francisco, passed local regulations. Public health groups also sought national legislation. Their efforts finally succeeded when menu-labeling requirements were built into the Affordable Care Act, which passed and became law in March 2010. What followed next was delay and confusion.
The Food and Drug Administration was tasked with gathering public input and developing rules implementing the law. That process took several years as industry groups sought to weaken the rules and delay implementation. Finally, the rules were set to go into effect on May 5, seven years after the law had passed. Instead, on May 4 — the day before the rules were to take effect — the FDA published a notice that it was delaying the rule and inviting a new round of public comments.
The delay creates more confusion about what cities can and cannot do. New York has decided to go ahead and implement its own local regulations that closely match the federal law. Seattle, one of the first cities in the country to require chain restaurants to post information about the nutritional content of meals, is now in limbo.
Hilary Karasz, a spokesperson for the King County Health Department, said the county, which includes Seattle, stopped enforcing the local rules several years ago after the national law was passed. Now, she says, "we are waiting to see how it all settles out."
On June 7, the Center for Science in the Public Interest and the National Consumers League, two Washington-based nonprofit groups, announced they were suing the FDA in federal court for again delaying enforcement of the seven-year-old restaurant menu labeling law.
Dr. William Paul, the health director for metropolitan Nashville, has been trying to address this issue for years. In 2008, Nashville, like most cities, was contending with exploding rates of obesity and diabetes from people consuming too much fat, sugar and calories and getting too little exercise. He proposed a regulation that would make Nashville the first city in the south to require chain restaurants to display calorie counts on their menus so patrons would know what they were getting.
"We wanted to make it easier for people to eat healthier," Paul said. "Menu labeling was one strategy to let families make choices for themselves about what they were going to eat."
The board held public hearings, conducted polls that showed strong support for the measure, and passed the measure 4-1. But before it had even passed, legislation was introduced in the state legislature stripping local health boards of the authority to pass such a measure. Two months later, the measure passed and Nashville's menu-labeling regulation was dead.
The debate did at least provoke conversation and raise some awareness about the important of people thinking about what they eat and drink, says Paul. But it also taught him another lesson.
"Industry has a lot of power and they're willing to use it," he said. "And they don't always have the health and safety of consumers as their main driver."
This article was made possible by the readers and supporters of AlterNet.