FBI Clears Hillary Clinton (Again) In Latest Email Review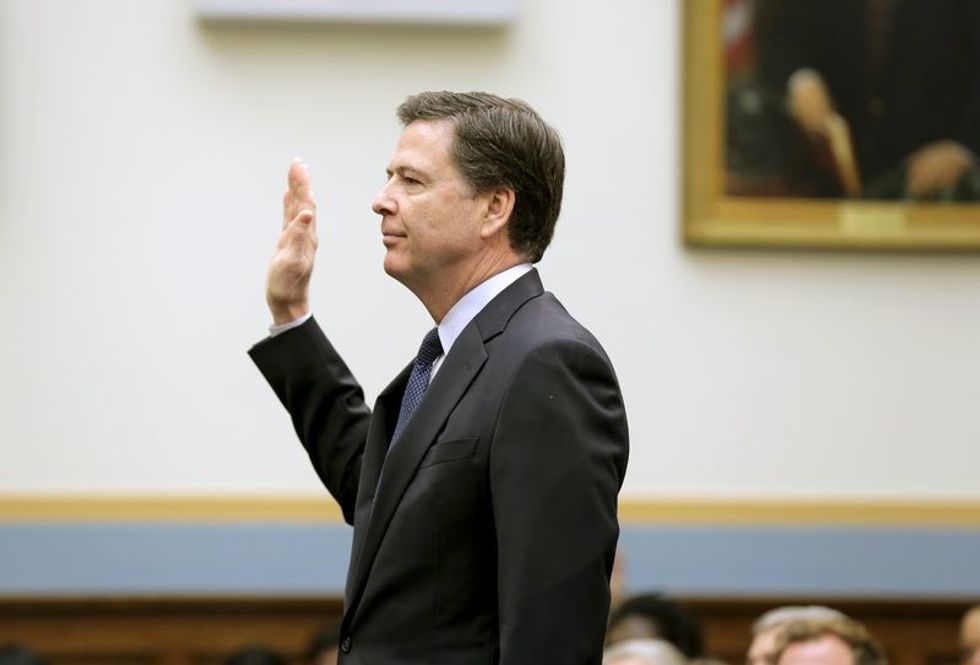 By Alana Wise and John Whitesides
WASHINGTON (Reuters) – The FBI said on Sunday it still believed no charges were warranted against Democrat Hillary Clinton after finishing its review of newly discovered emails related to her private server, lifting a cloud over her presidential campaign two days before the U.S. election.
FBI Director James Comey made the announcement in a letter to Congress on Sunday, saying the agency had not changed its conclusions from July that no criminal charges were warranted against Clinton for her use of a private email server for government work.
"The FBI investigative team has been working around the clock to process and review a large volume of emails from a device obtained in connection with an unrelated criminal investigation," Comey said in the letter.
"During that process, we reviewed all of the communications that were to or from Hillary Clinton while she was secretary of state."
A law enforcement source told Reuters the conclusion closes for now the FBI probe of the former secretary of state's email practices.
Comey had informed Congress of the newly discovered emails more than a week ago, throwing the race for the White House into turmoil and eroding Clinton's lead over Republican candidate Donald Trump in the final stretch before Tuesday's vote.
"I am very grateful to the professionals at the FBI for doing an extraordinary amount of high-quality work in a short period of time," Comey said.
Clinton communications director Jennifer Palmieri told reporters aboard Clinton's campaign plan that, "We are glad the matter is resolved."
Federal investigators got a warrant a week ago to examine the emails to see if they were related to the probe into Clinton's private server.
The latest emails were discovered as part of a separate probe of former Democratic U.S. Representative Anthony Weiner, the estranged husband of Clinton aide Huma Abedin. Weiner is the target of an FBI investigation into illicit text messages he is alleged to have sent to a 15-year-old girl in North Carolina.
News of the renewed probe hurt Clinton's poll numbers, with Trump cutting into her once formidable lead amid renewed worries about her trustworthiness. Trump had highlighted the issue as proof for his argument that Clinton is corrupt.
But at a rally in Minneapolis after news of the FBI conclusion broke, Trump delivered his standard lines about Clinton without mentioning the latest news.
"Hillary Clinton will be under investigation for a long long time," he said, before his comments were overtaken by a chant of "Lock her up!"
(Additional reporting by Amanda Becker and Howard Schneider; Editing by Caren Bohan, Bill Trott and Paul Simao)
IMAGE: FBI Director James Comey is sworn in during a House Judiciary hearing on "The Encryption Tightrope: Balancing Americans' Security and Privacy" on Capitol Hill in Washington March 1, 2016. REUTERS/Joshua Roberts