FBI Director Admits 'Limited Scope' Of Kavanaugh Probe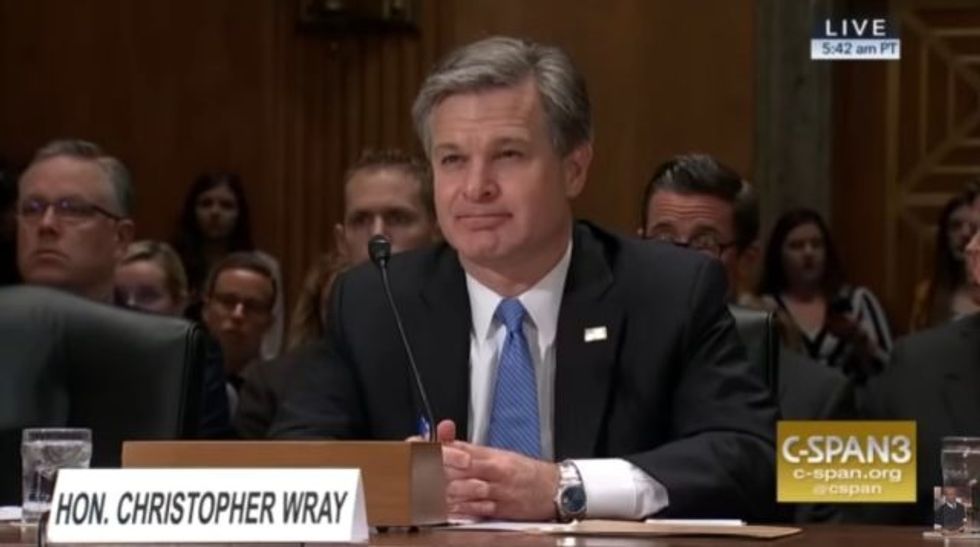 Reprinted with permission from AlterNet.
Testifying before the Senate on Wednesday, FBI Director Chris Wray confirmed what has already been widely reported — that the White House imposed direct limits on the bureau's background investigation of Brett Kavanaugh as he faced sexual assault allegations ahead of his appointment to the Supreme Court.
Questioned by Sen. Kamala Harris (D-CA) about the investigation, Wray said the investigation was "limited in scope" under the directions received from the White House.
He added that this was "consistent with the standard process for such investigations going back quite a long way."
He would not answer whether the FBI was directed to examine whether Kavanaugh lied under oath to the Senate, which many observers accused him of.
During the investigation itself, the White House consistently downplayed its role in circumscribing the investigation to avoid the appearance that it was designed to reach a preordained conclusion. For the sake of the court's integrity, many argued that the FBI needed to be given a wide latitude to pursue many of the avenues of misconduct alleged against the then-nominee.
White House Press Secretary Sarah Sanders had said, "We're going to allow the Senate to make the determination of the scope," distancing the president from the process of directing the probe. And President Donald Trump himself had denied the reported limits on the probe, tweeting, "NBC News incorrectly reported (as usual) that I was limiting the FBI investigation of Judge Kavanaugh, and witnesses, only to certain people. Actually, I want them to interview whoever they deem appropriate, at their discretion."
Watch Wray's testimony below:
Cody Fenwick is a reporter and editor. Follow him on Twitter @codytfenwick.