#EndorseThis: Testimony of FBI Director Leaves Colbert "Mildly Nauseous"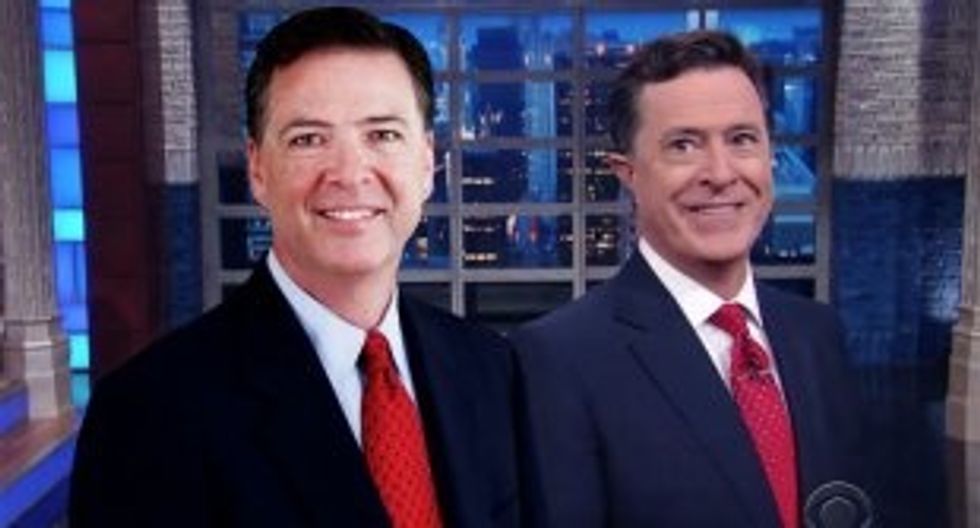 Stephen Colbert is back — actually, he never left, much to the dismay of assorted wingnuts offended by his epic burn of the president — and he doesn't regret a word of his insulting challenge to Trump. After declaring that it was a fair fight ("He has the launch codes, I have the jokes") he moves briskly on to James Comey's appearances on Capitol Hill, where the FBI director tried vainly to explain his actions last October.
According to Comey, faced with the reopening of the bureau's investigation of Hillary Clinton's emails, he could either "speak or conceal." To speak would be "really bad," but to conceal would be "catastrophic."
Several times during his testimony Comey exclaimed, "Lordy!" as if to beg sympathy for his plight.
"It makes me mildly nauseous to think we might have had some impact on the election," the FBI director said, to which Colbert rejoins, "Mildly nauseous? Maybe it's morning sickness. After all, you did screw the entire country."
But Comey insists he has no regrets, although "I've asked myself that a million times because, Lordy, this has been painful."
Yes, it has. Lordy.
Colbert then moves on to the always amusing Sean Spicer — who ditched his press briefing on the budget yesterday without saying a word — and suddenly bursts out laughing.
You'll see why.