FBI Director: No Evidence Of Illegal Spying On 2016 Trump Campaign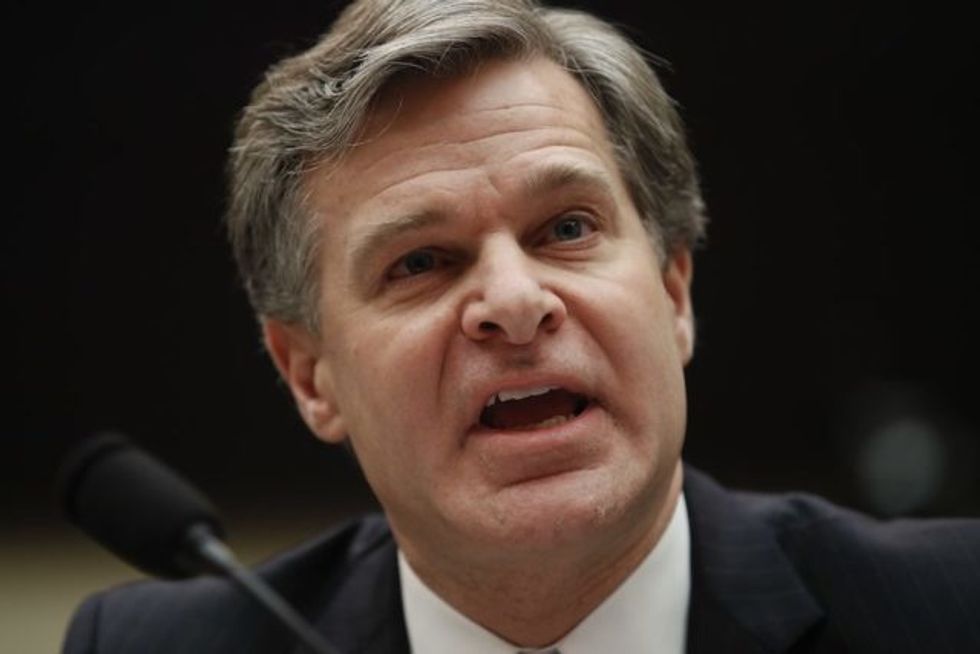 On Tuesday morning, FBI Director Christopher Wray put to rest the wild conspiracy theories touted by Trump and his hand-picked attorney general, William Barr, about whether Trump's 2016 campaign was illegally spied on by U.S. law enforcement.
During a congressional hearing and under questioning from Sen. Jeanne Shaheen (D-NH), Wray admitted that he had no evidence whatsoever that the FBI conducted any illegal spying on any campaigns in 2016.
"Do you have any evidence that any illegal surveillance into the campaigns or individuals associated with the campaigns by the FBI occurred?" Shaheen asked.
A nervous Wray took a deep breath before answering.
"I don't think I personally have any evidence of that sort," Wray finally said.
Wray's answer flatly contradicts the talking points routinely spouted by Trump and Barr, who falsely accused the FBI of spying on Trump's campaign.
"I think spying did occur," Barr told Shaheen during an April 10 hearing, echoing the baseless accusations of Trump and other Republicans.
Trump has gone so far as to say the Mueller investigation into Russian interference in the 2016 campaign was "an attempted coup" against him.
"It was started illegally, everything about it was crooked," Trump said to reporters in early April. He then attacked the women and men working for the FBI and U.S. intelligence agencies.
"There were dirty cops, these were bad people … this was an attempted coup — this was an attempted takedown of the president," he said.
In reality, the FBI obtained warrants and used legal surveillance techniques to investigate the numerous contacts Trump's campaign had with Russia. The whole investigation started because George Papadopoulos, a high-ranking Trump campaign aide, got drunk and made suspicious comments to a diplomat of an allied country. Papadopoulos later lied to the FBI, was arrested, and served time in prison.
Barr has gone so far as to open an investigation into whether Trump's baseless conspiracy theory is true. Maybe Barr should just turn on the television and watch the head of the FBI admit — under oath — that Trump's claims are absolutely false.
Published with permission of The American Independent. 
IMAGE: FBI director Christopher Wray.