FBI Opens Probe After Police Shooting Of Black U.S. Teen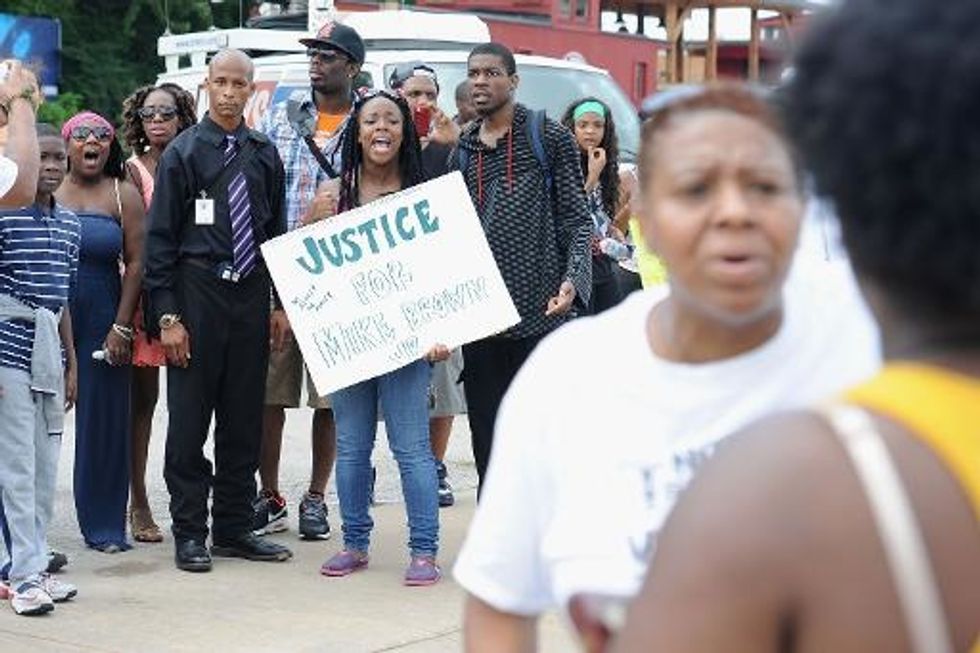 By Robert MacPherson
Washington (AFP) — The FBI opened a civil rights investigation on Monday after the police shooting of an unarmed black teenager led to rioting in a Missouri suburb and stirred racial tensions.
The family of Michael Brown demanded "justice for our son" as witnesses and police gave conflicting versions of how the 18-year-old was shot in broad daylight on Saturday, two days before he was to start college.
"We think it will be very clear, when all of this is over, what really happened and how this child was executed," Brown's lawyer Benjamin Crump told reporters as the teenager's grieving mother broke down in tears.
Looters targeted more than a dozen businesses in the St. Louis suburb of Ferguson overnight Sunday after a vigil on the sidewalk where Brown died erupted into clashes with police armed with tear gas and clubs.
Thirty-two people were arrested, police said, as Mayor James Knowles — whose town of 21,000 has a majority Africa-American population, but an overwhelmingly white police force — appealed for calm.
Protesters returned to downtown Ferguson on Monday, as did riot-equipped police, but no incidents were reported, as Attorney General Eric Holder in Washington said Brown's death "deserves a fulsome review."
The FBI investigation is to run concurrently with another being undertaken by St. Louis County police, FBI spokeswoman Cheryl Mimura told AFP.
"There is no timeframe for how long the inquiry will take. The FBI will dedicate the necessary resources to investigate this matter as efficiently and thoroughly as possible," she said.
Social media exploded Monday with accusations that Brown had been "murdered" as well as condemnation of the overnight violence.
Brown's death stirred comparisons to the February 2012 fatal shooting of unarmed teenager Trayvon Martin in Florida by pistol-toting neighborhood watch volunteer George Zimmerman, who claimed he acted in self-defense. He went on to be acquitted of murder, two years ago this week.
It also renewed a debate about race and law enforcement in the United States, a month after the death of an asthmatic African-American father of five who was subjected to a "choke hold" by New York police in full view of passers-by.
"Another senseless death of another person of color," said Crump, a Florida-based civil rights attorney who previously represented Martin's family, as he took up the Brown case.
Details of Brown's death differed.
A witness identified as Dorian Johnson told KMOV News 4 television in St. Louis that he had been walking with Brown when a police officer confronted them and drew his weapon.
The officer shot Brown, who "turned around and put his hands in the air," Johnson said. "He started to get down and the officer still approached with his weapon drawn and fired several more shots."
But St. Louis County Police Chief Jon Belmar told a news conference Sunday that Brown was killed after physically assaulting a police officer and struggling to get his weapon.
The St. Louis Post-Dispatch said the incident brought to light a lingering tension between Ferguson's mostly white local police force and its growing African-American community.
"The death of yet another African-American at the hands of those sworn to protect and serve the community where he lived is heartbreaking," said Cornell Williams Brooks of the NAACP civil rights organization.
Brown's mother, Lesley McSpadden, told KMOV TV on Sunday her first-born son had just graduated from high school.
"Do you know how hard it was for me to get him to stay in school and graduate? You know how many black men graduate? Not many," she said.
"Because you bring them down to this type of level, where they feel like they don't got nothing to live for anyway."
AFP Photo/Michael B. Thomas
Interested in national news? Sign up for our daily email newsletter!