FBI Probing Fake Documents Distributed To Damage Clinton Campaign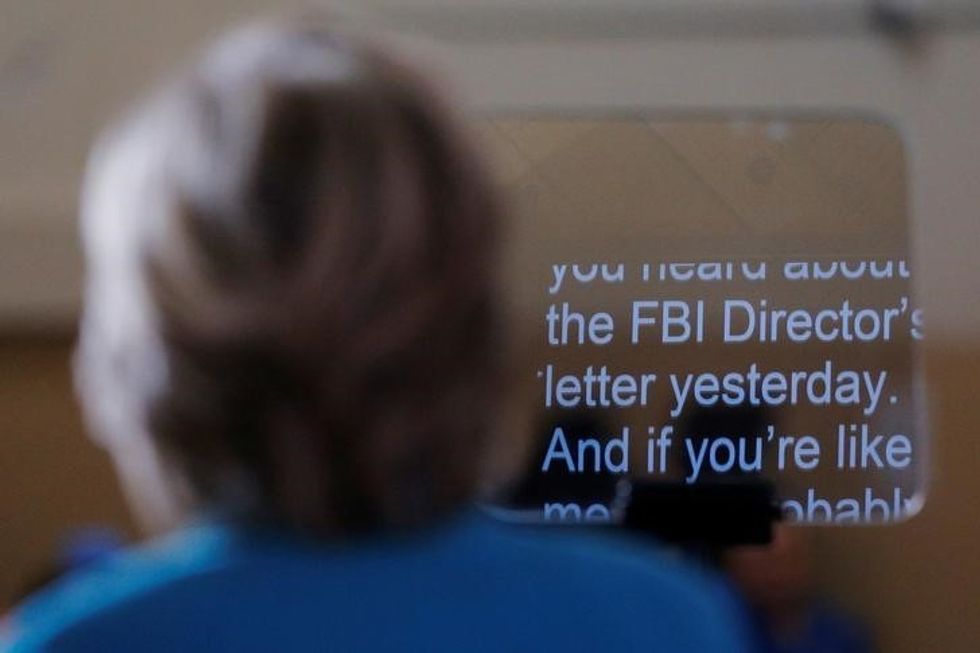 WASHINGTON (Reuters) – The FBI and U.S. intelligence agencies are examining faked documents aimed at discrediting the Hillary Clinton campaign as part of a broader investigation into what U.S. officials believe has been an attempt by Russia to disrupt the presidential election, people with knowledge of the matter said.
U.S. Senator Tom Carper, a Democrat on the Senate Homeland Security Committee, has referred one of the documents to the FBI for investigation on the grounds that his name and stationery were forged to appear authentic, some of the sources who had knowledge of that discussion said.
In the letter identified as fake, Carper is quoted as writing to Clinton, "We will not let you lose this election," a person who saw the document told Reuters.
The fake Carper letter, which was described to Reuters, is one of several documents presented to the Federal Bureau of Investigation and the U.S. Department of Justice for review in recent weeks, the sources said.
A spokeswoman for Carper declined to comment.
As part of an investigation into suspected Russian hacking, FBI investigators have also asked Democratic Party officials to provide copies of other suspected faked documents that have been circulating along with emails and other legitimate documents taken in the hack, people involved in those conversations said.
A spokesman for the FBI confirmed the agency was "in receipt of a complaint about an alleged fake letter" related to the election but declined further comment. Others with knowledge of the matter said the FBI was also examining other fake documents that recently surfaced.
U.S. intelligence officials have warned privately that a campaign they believe is backed by the Russian government to undermine the credibility of the U.S. presidential election could move beyond the hacking of Democratic Party email systems. That could include posting fictional evidence of voter fraud or other disinformation in the run-up to voting on Nov. 8, U.S. officials have said.
Russian officials deny any such effort.
In addition to the Carper letter, the FBI has also reviewed a seven-page electronic document that carries the logos of Democratic pollster Joel Benenson's firm, the Benenson Strategy Group, and the Clinton Foundation, a person with knowledge of the matter said.
The document, identified as a fake by the Clinton campaign, claims poll ratings had plunged for Clinton and called for "severe strategy changes for November" that could include "staged civil unrest" and "radiological attack" with dirty bombs to disrupt the vote.
Like the Carper letter, it was not immediately clear where the fraudulent document had originated or how it had begun to circulate.
On Oct. 20, Roger Stone, a former Trump aide and Republican operative, linked to a copy of the document on Twitter with the tag, "If this is real: OMG!!"
Benenson's firm had no immediate comment. Craig Minassian, a spokesman for the Clinton Foundation, said the document was "fake." He said he did not know if the FBI had examined it.
Stone did not respond to emails requesting comment.
A spokesman for the Clinton campaign, Glen Caplin, said the document was a fake and part of a "desperate stunt" to capitalize on the leak of Democratic emails by Wikileaks.
The developments highlight the unusually prominent role U.S. law enforcement and intelligence agencies have played in a contentious election and an ongoing debate about how public they can or should be about their inquiries.
FBI Director James Comey, a Republican appointed by President Obama, touched off an outcry from Democrats last week when he alerted Congress that agents had found other emails that could be linked to an inquiry into Clinton's use of a private email server when she was Secretary of State, effectively re-opening an investigation he had closed in July.
(Editing by Kevin Krolicki, John Walcott, Toni Reinhold)
IMAGE: U.S. Democratic presidential nominee Hillary Clinton speaks about the FBI inquiry into her emails during a campaign rally in Daytona Beach, Florida, U.S. October 29, 2016.  REUTERS/Brian Snyder