Fears Over Russian Troop Increase At Ukraine Border
@AFP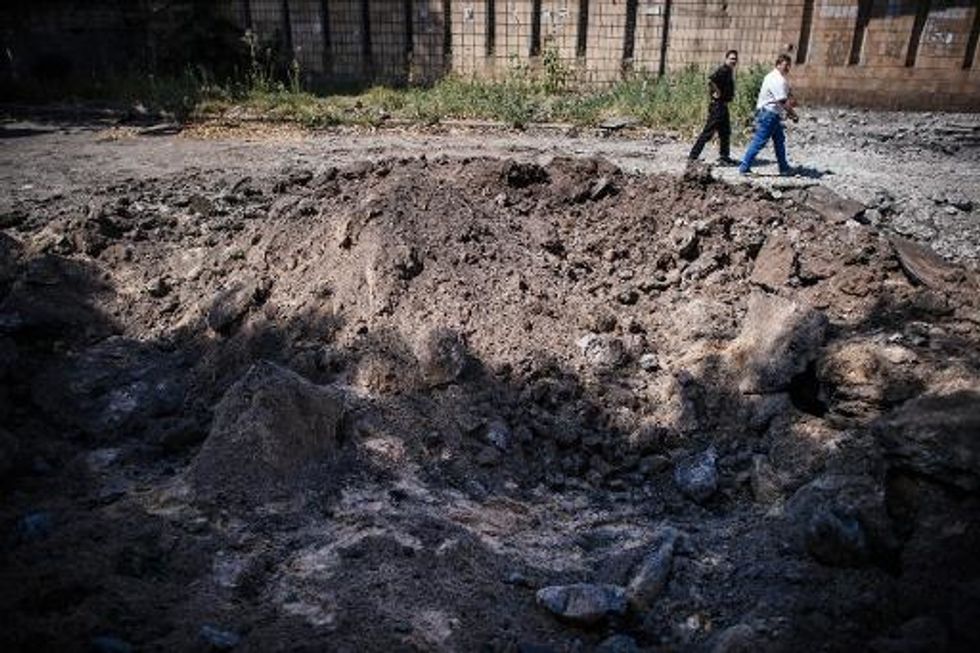 Donetsk (Ukraine) (AFP) – Fears that Russia was massing troops on Ukraine's border grew on Wednesday ahead of a visit by NATO's secretary general, as an air strike hit the main eastern city where Kiev troops are besieging rebels.
NATO and Poland both warned that Russia may be gearing up to invade its former Soviet neighbor, despite strong denials from Moscow.
The first air strike on rebel-held bastion Donetsk came as Ukrainian forces said they were preparing to liberate the city, although they also reported their highest death toll in weeks in the face of fierce rebel bombardments.
On Wednesday, NATO warned that Russia had increased the number of "combat-ready" troops on its border with Ukraine to 20,000 from 12,000 in mid-July.
"This is a dangerous situation," NATO spokeswoman Oana Lungescu said, warning that "Russia could use the pretext of a humanitarian or peacekeeping mission as an excuse to send troops into eastern Ukraine."
Poland's Prime Minister Donald Tusk said "the threat of a direct intervention (by Russia into Ukraine) is certainly greater than it was even a few days ago."
Moscow said those making the claims about their troop movements were "selling soap bubbles".
"Movements of such forces of thousands of troops and equipment are not possible in such a short time," said Russian defense ministry spokesman Igor Konashenikov.
Against this backdrop, Kiev said NATO chief Anders Fogh Rasmussen will visit on Thursday at the invitation of President Petro Poroshenko.
The visit is meant to discuss NATO-Ukraine partnership but Rasmussen has also ratcheted up the rhetoric lately, saying in an interview on Sunday that NATO would draw up new defence plans in the face of "Russia's aggression".
The West accuses Russia of supporting and instigating the insurgency in eastern Ukraine, sending tensions with Moscow soaring to their highest point since the Cold War.
The U.S. and European Union have slapped a range of tough sanctions on Moscow, with Switzerland, Japan and Canada following suit, potentially pushing Russia's fragile economy towards recession.
But Russian President Vladimir Putin struck back on Wednesday with import bans and restrictions on agricultural products from countries that have targeted Moscow.
Although Moscow has already halted some food imports from a number of European countries, it had previously denied these measures were linked to the conflict.
Russia generally imports a third of its food from abroad, according to state statistics. The list of products to be banned was being drawn up, a government spokeswoman said.
Meanwhile, fighting continued to rage on Wednesday in Ukraine's industrial east, where the main rebel-city of Donetsk was hit by its first air strike since Ukrainian forces heavily bombarded the airport in May.
Kiev denied it was behind the early morning strike, which caused damage but no casualties.
Ukraine's military has made major advances over the past month and says it has almost cut off Donetsk from the Russian border and second rebel bastion of Lugansk.
On Wednesday, a spokesman for the Ukrainian operation in the east told AFP that "the noose is tightening" around remaining rebel bastions and that government forces were preparing for their "liberation".
The military also reported that 18 soldiers had been killed and 54 injured in fighting over the past 24 hours, the highest daily toll in weeks.
Some 1,300 people have been killed since April, according to the UN.
Civilians have been hit hardest, with over 285,000 fleeing their homes over the past few months, according to the UN refugee agency (UNHCR), which warned of "a massive exodus" if fighting intensifies.
Local authorities in Lugansk said there was still no power, running water, phone connections or fuel on Wednesday, while food supplies were running low and rubbish disposal was becoming a growing concern.
At the UN in New York the previous day, Russia's representative deplored the "disastrous" humanitarian situation in east Ukraine and called for "immediate action" to help the population.
Kiev quickly dismissed the offer.
"The 'peacekeeping contingent' that has stood at the Ukrainian-Russian border for more than five months, is hardly peacekeeping. Its intervention will be considered a direct attack," a spokesman for Poroshenko said.
Tensions soared following the July 17 downing of Malaysian flight MH17. The US accuses the rebels of attacking the jet with a missile supplied by Russia.
International investigators have been combing the vast crash site for clues and body parts over the past week. They again had to break off their work early on Wednesday due to shooting in the area, Ukraine's government said.
Dutch police leading the mission appealed to the local population for further help in recovering remains and belongings of the 298 victims of the downed flight.
AFP Photo/Dimitar Dilkoff