Fed Cuts Stimulus, Says Weather Hurt Growth
@AFP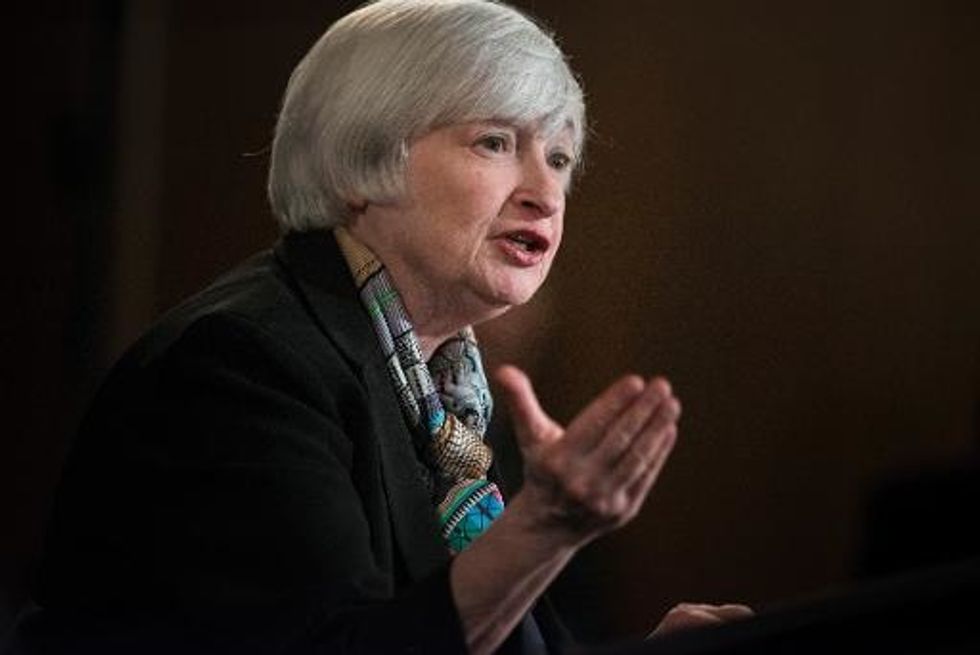 Washington (AFP) – The Federal Reserve cut back its stimulus program by another $10 billion Wednesday despite the recent U.S. economic slowdown, which it blamed "in part" on severe winter weather.
The Federal Open Market Committee reduced stimulus spending to $55 billion a month, saying the broader economy has "sufficient underlying strength" to support continued improvement in the labor market.
But new Fed Chair Janet Yellen said that the central bank still did not foresee raising its base fed funds interest rate until next year, as long as unemployment remains too high and inflation is well-controlled.
"We know we are not close to full employment," she said.
In a review of recent conditions and its monetary policy, the FOMC said growth had slowed during the winter months, and that the housing sector recovery remains slow.
Meanwhile it called indicators from the labor market "mixed" but said that they "on balance showed further improvement."
Despite the slower activity, the FOMC said that the cumulative progress in the economy and jobs market still justified another cutback to its bond purchase program, which it began tapering in December when it was $85 billion a month.
But in a significant shift to policy, the FOMC jettisoned the two specific numbers for unemployment and inflation that it set in December 2012 as thresholds for weighing a rate increase, saying the numerical thresholds no longer served policy communication.
The FOMC revised its forward guidance on rates to a more qualitative basis, Yellen said, "to better reflect conditions as they now stand, and are likely to evolve over coming quarters."
The change came after the official unemployment rate, 6.7 percent last month, had neared the official threshold of 6.5 percent even while the FOMC saw the economy as not yet ready for higher rates.
The Federal Reserve meanwhile cut back slightly its economic growth forecast for this year and next, but said the unemployment rate would fall faster than it forecast in December.
The Fed said the economy was expected to grow 2.8-3.0 percent in 2014 and 3.0-3.2 percent in 2015.
Those figures took 0.2 percentage points off the high end of the range for both years.
But the Fed also forecast that the unemployment rate would drop to 6.1-6.3 percent this year — compared with the previous 6.3-6.6 percent range estimate — and to 5.6-5.9 percent in 2015.
It left its view of inflation largely unchanged, saying it could be as high as 1.6 percent this year and 2.0 percent next.
AFP Photo/Brendan Smialowski