Fed Nominee Herman Cain's PAC Called GOP Senators 'Traitors'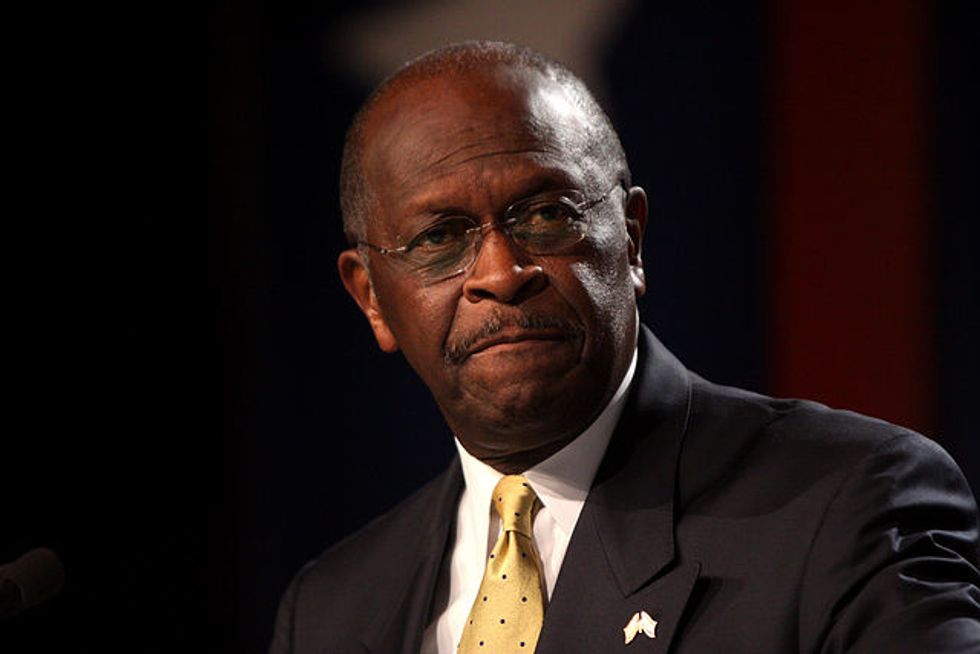 Reprinted with permission from Media Matters.
Herman Cain, who is reportedly President Donald Trump's nominee for a Federal Reserve Board seat that would require a Senate confirmation vote, founded a pro-Trump PAC with a right-wing birther that called 12 Republican senators "traitors" who can't be trusted "to defend President Trump."
Cain is a conservative commentator and former chair of the Federal Reserve Bank of Kansas City who previously ran for president but dropped out after several women reported him for sexual misconduct. He helped start America Fighting Back PAC last year to support Trump and his agenda. The organization's chairman is right-wing commentator and consultant Floyd Brown, a birther who produced the racist Willie Horton ad attacking Michael Dukakis in the 1988 presidential election and said Obama "hates Christianity" and "is a Muslim" (Obama is a Christian).
The PAC recently sent an email attempting to raise money from readers by attacking the 12 Republican senators who voted against President Trump's emergency border declaration. Those senators are: Lamar Alexander (TN), Roy Blunt (MO), Susan Collins (ME), Mike Lee (UT), Jerry Moran (KS), Lisa Murkowski (AK), Rand Paul (KY), Rob Portman (OH), Mitt Romney (UT), Marco Rubio (FL), Pat Toomey (PA), and Roger Wicker (MS).
Brown sent a March 28 email stating that "Herman Cain founded America Fighting Back PAC because he couldn't trust establishment Republicans to defend President Trump. It turns out he was RIGHT." The email added:
12 Senate Republicans tried to sabotage President Trump's national emergency to build the wall.

America Fighting Back PAC will NEVER forget that, so we're creating a RINO TARGET FUND that we will use to fire these 12 backstabbers IF they ever cross President Trump — and you — again.
The email links to a donation page stating: "Now that 12 RINO Senators stabbed President Trump in the back, we need your help. Please make a contribution to our RINO TARGET FUND right now — and we'll show these 12 traitors how much we've raised as a WARNING never to cross the American people again."