Fed Nominee Moore: Unemployment Insurance Is 'Paid Vacation'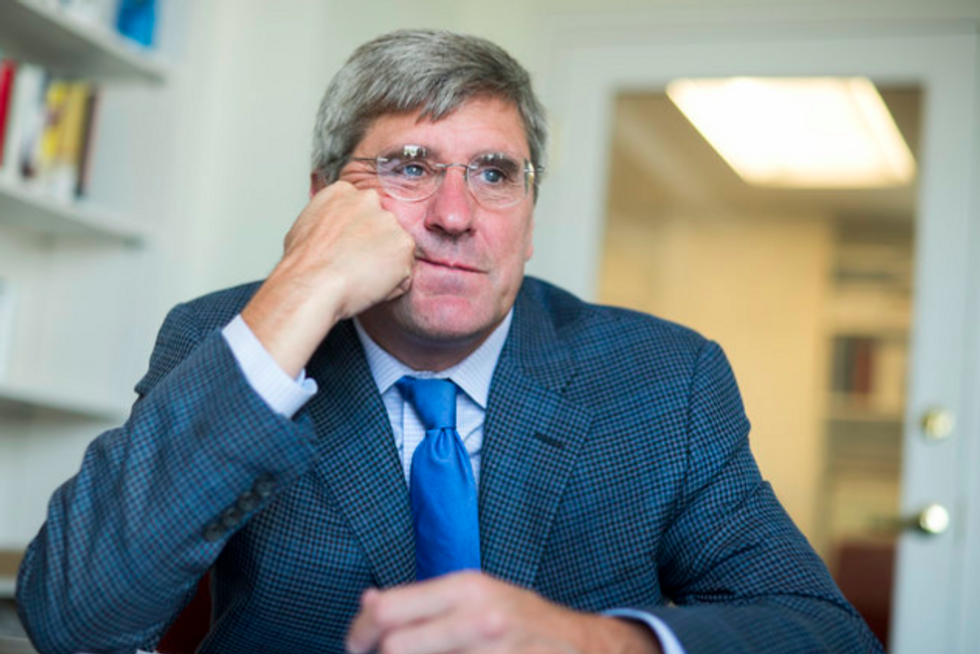 Trump on Friday announced that he nominated a conservative think tank fellow, who has criticized everything from paid sick leave to unemployment insurance, to a position on the Federal Reserve Board — a powerful position that has say over monetary policy in the United States.
The nominee, Stephen Moore, is a regular on Fox News, where he spouts crazy economic theories including that unemployment insurance amounts to "paid vacation" for job seekers.
"Extending unemployment benefits is actually bad for the economy," Moore, a Fox News contributor, said on air in 2014. "It encourages people to stay out of the work force, it's like a paid vacation for people and it's actually a tax on employers."
Anyone who's been unemployed knows that unemployment insurance is anything but "paid vacation." Benefits are never as much as the salary a laid off worker was making before their job was terminated. And that insurance allows laid off workers to afford basic necessities of living while they search for a new job — which is a full-time job in and of itself.
But that's not the only wild comment on economic policy Moore has made.
Also in 2014, Moore said giving full-time workers paid sick leave is "very dangerous."
"Somebody gets sick we feel bad about it, or if they get injured we feel bad about it. But the question is, should the burden of paying for that be on the backs of small businesses?" Moore said on a Fox News appearance.
God forbid people are able to stay home when they are ill.
Trump nominated Moore — a Trump supporter who worked on Trump's 2016 presidential campaign — to the position after seeing one of Moore's columns in the Wall Street Journal, according to Bloomberg News. Moore, like Trump, blamed the Federal Reserve for a slower economic growth rate than Trump predicted — a claim respected economists say is complete bunk.
"It is my pleasure to announce that @StephenMoore, a very respected Economist, will be nominated to serve on the Fed Board," Trump tweeted Friday afternoon. "I have known Steve for a long time – and have no doubt he will be an outstanding choice!"
Moore, however, is anything but a respected economist.
He's just another Fox News talking head who Trump decided to give a powerful position in government.
Published with permission of The American Independent.