Fed Raises Interest Rates, Citing Ongoing U.S. Recovery
@reuters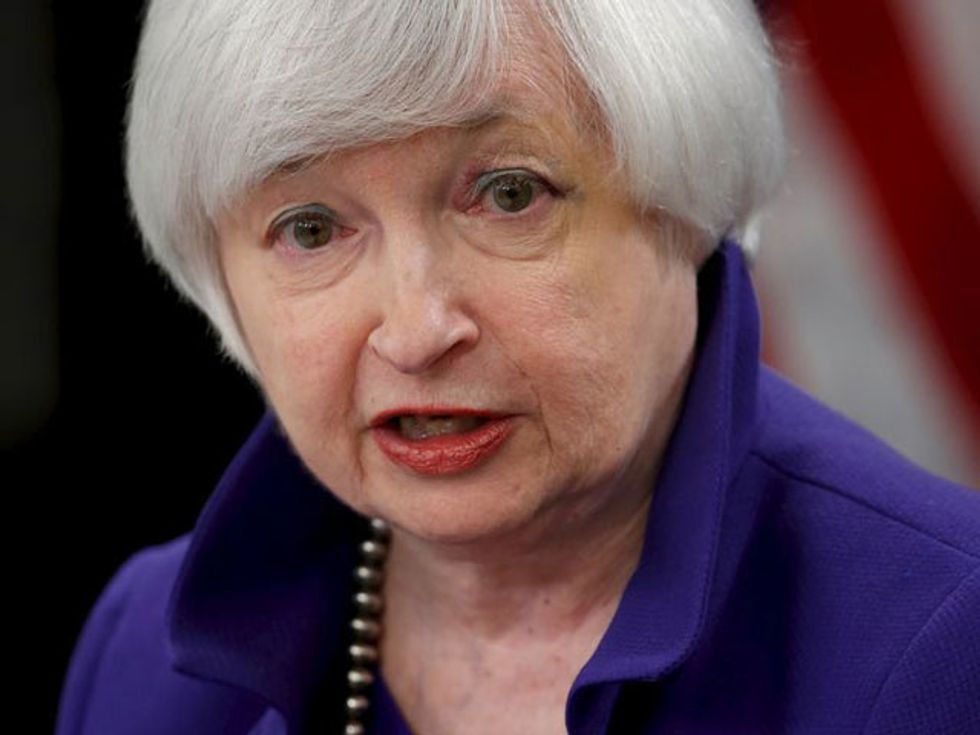 By Howard Schneider and Jason Lange
WASHINGTON (Reuters) — The Federal Reserve hiked interest rates for the first time in nearly a decade on Wednesday, signaling faith that the U.S. economy had largely overcome the wounds of the 2007-2009 financial crisis.
The U.S. central bank's policy-setting committee raised the range of its benchmark interest rate by a quarter of a percentage point to between 0.25 percent and 0.50 percent, ending a lengthy debate about whether the economy was strong enough to withstand higher borrowing costs.
"With the economy performing well and expected to continue to do so, the committee judges that a modest increase in the federal funds rate is appropriate," Fed Chair Janet Yellen said in a press conference after the rate decision was announced. "The economic recovery has clearly come a long way."
The Fed's policy statement noted the "considerable improvement" in the U.S. labor market, where the unemployment rate has fallen to 5 percent, and said policymakers are "reasonably confident" inflation will rise over the medium term to the Fed's 2 percent objective.
The central bank made clear the rate hike was a tentative beginning to a "gradual" tightening cycle, and that in deciding its next move it would put a premium on monitoring inflation, which remains mired below target.
"The process is likely to proceed gradually," Yellen said, a hint that further hikes will be slow in coming.
She added that policymakers were hoping for a slow rise in rates but one that will keep the Fed ahead of the curve as the economic recovery continues. "To keep the economy moving along the growth path it is on … we would like to avoid a situation where we have left so much (monetary) accommodation in place for so long we have to tighten abruptly."
New economic projections from Fed policymakers were largely unchanged from September, with unemployment anticipated to fall to 4.7 percent next year and economic growth hitting 2.4 percent.
The Fed statement and its promise of a gradual path represented a compromise between policymakers who have been ready to raise rates for months and those who feel the economy is still at risk from weak inflation and slow global growth.
"The Fed is going out of its way to assure markets that, by embarking on a 'gradual' path, this will not be your traditional interest rate cycle," said Mohamed El-Erian, chief economic advisor at Allianz.
Fed officials said they were confident the situation was ripe for them to make a historic turn in policy without much disruption to financial markets, which had expected the hike this week.
U.S. stocks rallied on the news, in part because the Fed made clear it would proceed slowly with further tightening. Yields on U.S. Treasuries rose, while the dollar was largely unchanged against a basket of currencies. Oil prices fell sharply before paring losses.
POLICY STILL ACCOMMODATIVE
Yellen on Wednesday said the Fed had no desire to curb consumers from spending or businesses from investing. She emphasized that interest rates remained low even after the rate hike, near levels economists regard as appropriate for a recession.
"Policy remains accommodative," Yellen said. "The U.S. economy has shown considerable strength. Domestic spending has continued to hold up."
Fed policymakers' median projected target interest rate for 2016 remained 1.375 percent, implying four quarter-point hikes next year. Based on short-term interest rate futures markets, traders expect the next rate hike in April.
A Dec. 9 Reuters poll showed economists forecasting the federal funds rate to be 1.0 percent to 1.25 percent by the end of 2016 and 2.25 percent by the end of 2017.
The rate hike sets off an immediate test of new financial tools designed by the New York Fed for just this occasion, as well as a likely reshuffling of global capital as the reality of rising U.S. rates sets in.
To edge the target rate from its current near-zero level to between 0.25 percent and 0.50 percent, the Fed said it would set the interest it pays banks on excess reserves at 0.50 percent, and would offer up to $2 trillion in reverse repurchase agreements, an aggressive figure that shows its resolve to pull rates higher.
The impact on business and household borrowing costs is unclear. One of the issues policymakers will watch closely in coming days is how long-term mortgage rates, consumer loans and other forms of credit react to the rate hike.
(Additional reporting by Lindsay Dunsmuir and David Chance in Washington, Ann Saphir in San Francisco and Jonathan Spicer and David Gaffen in New York; Editing by Paul Simao)
Photo: U.S. Federal Reserve Chairman Janet Yellen answers a reporter's question during a news conference in Washington December 16, 2015. REUTERS/Jonathan Ernst