Federal Appeals Panel To Hear Six Gay Marriage Cases From Four States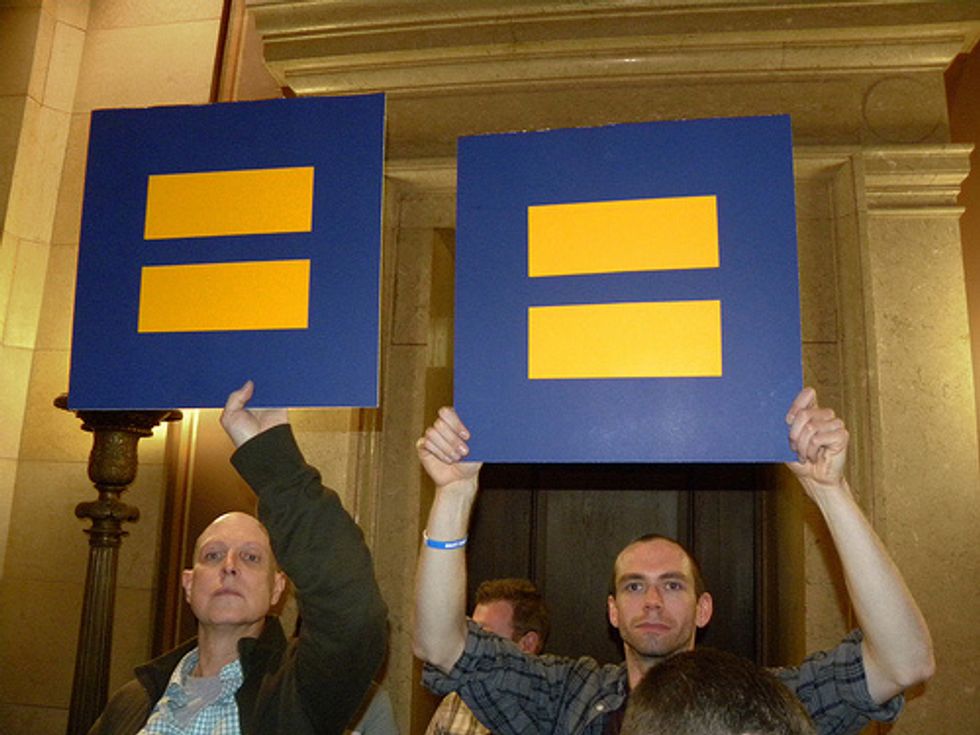 By Maya Srikrishnan, Los Angeles Times
A federal appeals court in Cincinnati will hear arguments Wednesday afternoon from six same-sex marriage cases that have worked their way up from lower cases in four states.
In all of the six cases, judges in lower courts have affirmed gay rights by either striking down state bans on gay marriage or requiring state governments to recognize the rights of gay couples who were married in states where such marriages are legal.
In two of the cases, Cincinnati's 6th U.S. Circuit Court of Appeals will have to decide whether to uphold same-sex marriage bans in Michigan and Kentucky that were approved by voters in 2004. In the four other cases, the court will rule on whether Ohio, Tennessee and Kentucky should have to recognize the rights of same-sex couples who were married in different states, where gay marriages are legal.
The three-judge panel hearing the cases in Cincinnati is made up of Jeffrey Sutton and Deborah Cook, both appointed by President George W. Bush, and Martha Craig Daughtrey, who was appointed by President Bill Clinton.
Kentucky has two cases — one filed by three couples last year seeking to have their marriages recognized by the state, which was affirmed by U.S. District Judge John G. Heyburn in July; and the second will look at the state's ban on gay marriage, which was struck down by the same judge in February. Both rulings are on hold pending appeal.
Michigan's case challenging its gay marriage ban stems from one lesbian couple who was unable to jointly adopt their three children under state law. The state's ban was struck down by U.S. District Judge Bernard Friedman in March.
Ohio also has two cases. Both involve the recognition of marriage rights for couples who were married out of state. One involves two gay men who sued to be listed as the surviving spouses on their dying husbands' death certificates. In the other lawsuit, three lesbian and one gay couple sued for the right for both spouses to be on their children's birth certificates. U.S. District Judge Timothy S. Black ruled against the state in both cases in December and April, but the orders were stayed pending appeal.
In Tennessee, three same-sex couples sued to be recognized on their children's birth certificates. In March, U.S. District Court Judge Aleta Trauger issued an injunction against the state from enforcing the gay marriage ban against the three couples, who were married in states where same-sex marriage is legal.
Nineteen states and the District of Columbia allow same-sex marriage.
Photo: Fibonacci Blue via Flickr