Federer, Djokovic Roll At Open, Teen Stuns Stosur
@AFP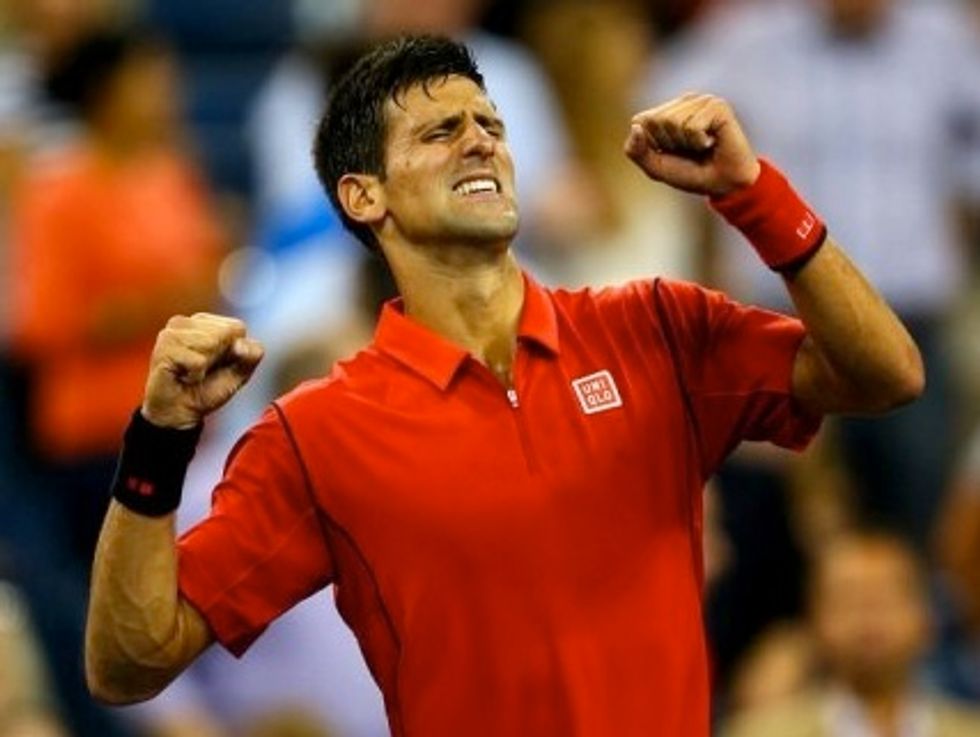 NEW YORK (AFP) – Top-ranked Novak Djokovic and 17-time Grand Slam champion Roger Federer advanced with ease Tuesday at the U.S. Open but 2011 winner Samantha Stosur was ousted by teen qualifier Victoria Duval.
Six-time Grand Slam champion Djokovic who captured his fourth Australian Open crown in January, launched his quest for a fourth consecutive U.S. Open final by beating Lithuanian 112th-ranked Ricardas Berankis 6-1, 6-2, 6-2.
"I managed to make a lot of breaks in the beginning of the match and take over control," Djokovic said. "That's what I wanted to do. I wanted to play every point like it's match point and I'm happy with the performance overall."
Djokovic fired 10 aces and 28 winners and needed only 82 minutes to put himself into a last-64 matchup against Germany's Benjamin Becker.
Djokovic, the 2011 U.S. Open winner who lost to Andy Murray in last year's final and last month's Wimbledon final, improved to 12-1 in Arthur Ashe Stadium night matches, what he called "the most special night matches of any tournament anywhere in the world."
Duval, a daughter of Haitian parents ranked 296th in the world, pulled the day's shocker with a 5-7, 6-4, 6-4 victory over Australian 11th seed Stosur in a tense struggle that lasted for two hours and 39 minutes.
"A lot of different emotions. Mostly happiness," the 17-year-old with the high-pitched voice said. "I played amazing today. The whole match was just really an incredible match and I'm happy I pulled through."
It was only the second Slam match for Duval, who lost to Kim Clijsters last year at New York, and her first meeting with a top-20 rival.
Stosur made 56 unforced errors, 21 more than Duval, on her way to a her 15th first-round Slam exit, the first since last year's Australian Open.
"Just let every single opportunity slip away and made too many errors and it really cost me," Stosur said. "I needed to step up more and do more. I'm not going to be a sore loser and say she didn't do anything but I certainly helped her out there, that's for sure."
Stosur split with long-time coach David Taylor just ahead of the U.S. Open, but said she could not say if that was a factor in the loss.
"I don't know. Who knows?" she said. "It is what it is. I can't change it. I made the decision I made at the time and I stick by it."
Federer made a solid start to his bid for a sixth U.S. Open title by defeating Slovenia's Grega Zemlja 6-3, 6-2, 7-5 in a match delayed a day by rain.
"There wasn't much rhythm out there, but I was happy the way I played," said Federer. "Overall I'm pleased to be in the next round."
The 32-year-old Swiss star, who as the seventh seed is at his lowest spot in the U.S. Open since 2002, will face Argentina's Carlos Berlocq in round two.
Federer, whose 56th Grand Slam start in a row matched South African Wayne Ferreira for the all-time record run, has only one title in his past 14 Slam starts, that coming last year at Wimbledon.
After a second-round exit this year at Wimbledon, Federer took only 93 minutes to eliminate Zemlja despite surrendering a third-set break.
"You're going to have sonme hiccups like I had today. It was a minor one," Federer said. "I might have had more confidence if I had closed it out without that. This way I had to fight a bit more. Who knows? Maybe that gives me confidence too."
Federer, who won five U.S. Open titles in a row from 2004-2008, is on a quarter-final collision course with second seed Rafael Nadal, whom he has never faced at the U.S. Open.
Two-time Australian Open winner Victoria Azarenka, who lost to Serena Williams in last year's final, downed German Dinah Pfizenmaier 6-0, 6-0. The second seed from Belarus faces Canada's Aleksandra Wozniak next.
"Last time I was here it was very emotional. I'm happy to be back," said Azarenka.
"I raised my level when I needed to. There were a few unforced errors (10) but overall I felt pretty consistent."
Canadian 10th seed Milos Raonic fired 28 aces in defeating Italy's Thomas Fabbiano 6-3, 7-6 (8/6), 6-3, and talked confidently of a last-eight run.
"I think I can put myself in that position," Raonic said. "I just have to make the opportunities and convert them. If I play well, I can get very close."
Photo Credit: AFP/Elsa