Federer In Great Escape, Sets-up Cilic US Open Semi-Final Duel
@AFP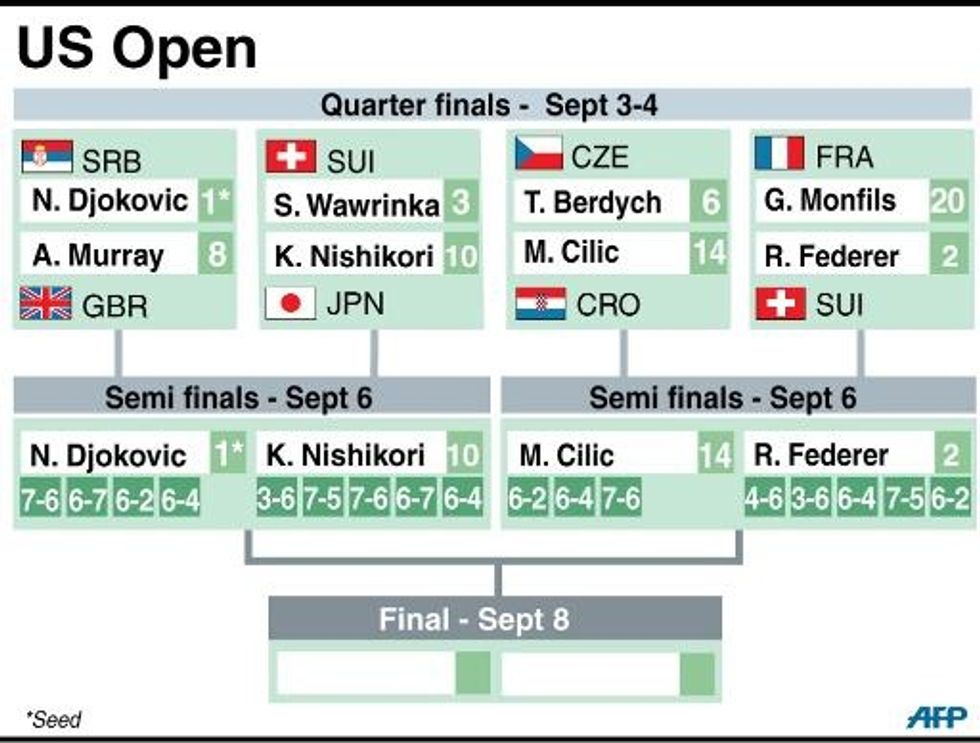 New York (AFP) — Roger Federer saved two match points to defeat Gael Monfils 4-6, 3-6, 6-4, 7-5, 6-2 and reach his ninth U.S. Open semi-final, keeping alive his dream of a sixth title.
The 33-year-old Swiss second seed, bidding to become the oldest winner of a Grand Slam title in more than 40 years, was staring down the barrel of a demoralising exit when French 20th seed Monfils had two match points in the 10th game of the fourth set.
But once they were saved, the lifeblood was suddenly sucked out of the flamboyant but unpredictable 28-year-old Frenchman whose notoriously fickle stamina failed him in a one-sided fifth set.
The victory was Federer's 26th in 27 night-time matches in New York and put him just one win away from a career 600 victories on hard courts, a landmark he can reach if he defeats Marin Cilic to make the final.
Croatian 14th seed Cilic toppled sixth-seeded Czech Tomas Berdych 6-2, 6-4, 7-6 (7/4) earlier Thursday to reach his first U.S. Open semi-final.
Federer's win was his ninth from two sets to love down and first at a major since he had to engineer a similar Houdini act against another Frenchman, Julien Benneteau, at Wimbledon in 2012 on his way to his 17th and most recent major title.
"Gael played great tennis but even when I was two sets down I knew the finish line was still far away for him," said Federer after the three-hour 20-minute duel put him in his first semi-final since 2011.
"I knew I could play better tennis but on match point I wasn't feeling so great anymore. I just thought this could be the last point, don't give it away on an easy shot, make him work for it."
– Lost composure –
As Monfils opened-up a two-set lead, Federer was in danger of falling to pieces with two uncharacteristic losses of his famed composure when he berated umpire Carlos Ramos and smashed his racquet on the net.
But eventually it was Monfils, playing in his first U.S. Open quarter-final since 2010, who suffered the most serious power loss with his failure to convert his two match points in the 10th game of the fourth set leading to a brief final set which saw Federer sweep to victory.
Monfils shrugged off his two missed match points.
"I think he hit two big serves, a good forehand volley and then a good forehand down the line. I did my best, so it was okay," he said.
Cilic, who missed last year's U.S. Open as he sat out a doping ban, pounded 19 aces past Berdych, recovering an early break in the third to force the tiebreaker.
"It was very tricky with the conditions," Cilic said.
"Very gusty — for both of us. We are big guys, it's not easy to deal with the wind and the ball moving in the air. I felt that I was using the wind a bit better today."
Cilic has matched his best Grand Slam performance — a semi-final run at Australia in 2010.
"I had tough times the last couple of years and I'm really happy that things are working out with my team," he said.
Berdych, a semi-finalist in 2012, said he served "horribly" nor could he make many inroads on Cilic's.
"Today was definitely not the day I wanted to have," Berdych said.
AFP Photo
Want more sports news and current events? Sign up for our daily email newsletter!