Feds Investigate El Paso Massacre As Possible Hate Crime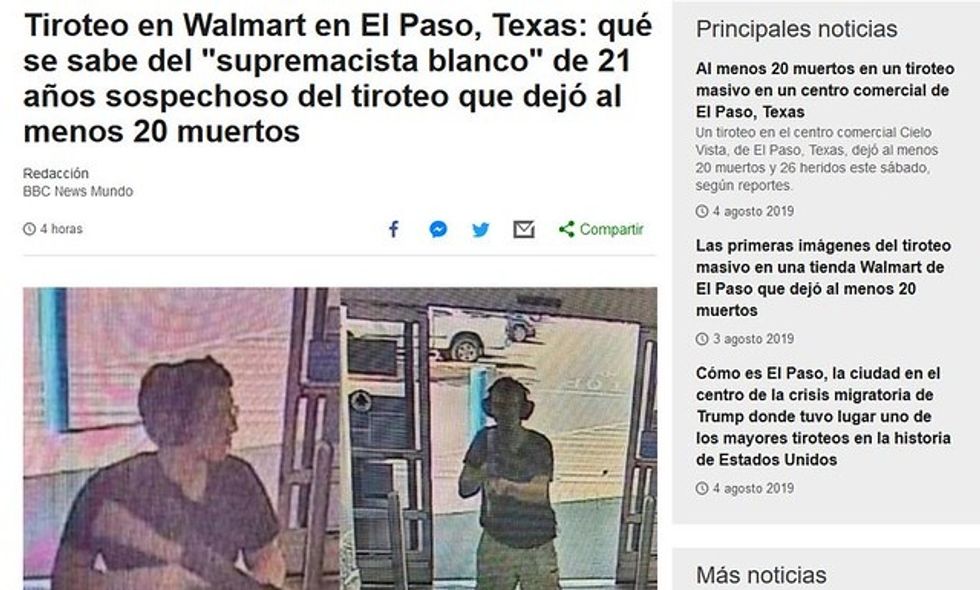 Reprinted with permission from Alternet
John Bash, the United States Attorney for the western district of Texas, on Sunday told reporters the federal government is conducting an investigation into Saturday's mass shooting at an El Paso, TX Walmart with "a view toward bringing federal hate crimes charges and federal firearms charges" against the accused gunman, noting authorities are treating the attack as a domestic terrorist case. Jaime Esparza, the El Paso district attorney, likewise said the state is bringing capital murder charges against the man accused of killing 20 people and wounding at least 26 others.
21-year-old Patrick Crusius of Allen, TX opened fire Saturday morning at a crowded Walmart. As the New York Times reports, 19 minutes before the attack, an anti-immigrant manifesto that lamented the "Hispanic invasion of Texas" appeared on 8chan, a message board described by the Washington Post as "the more-lawless, more-libertarian, more 'free' follow-up to 4chan." Authorities believe Crusius wrote the manifesto.
In a Saturday night press briefing, Texas Gov. Greg Abbott said the state was "going to aggressively prosecute [the attack] both as capital murder, but also as a hate crime, which is what it appears to be." Sunday, the El Paso DA confirmed the state of Texas will seek the death penalty.
"With a heavy heart I talk to you but we are in the process of working together with all law enforcement especially the El Paso police department, the Texas Department of Public Safety and the FBI, also with the U.S. Attorney's office we will proceed with the investigation," Esparza said. "I can tell you from the outsets, the state charge is capital murder and so he is eligible for the death penalty, we will seek the death penalty."
Esparza stressed that the violent attack is not indicative of the community as a whole. "We are a very good and loving community but we will hold him accountable," Esparza said.
Bash, the US attorney, added that "in close consultation with Attorney General [Bill] Barr, we are conducting a methodical investigation, careful investigation, but with a view toward bringing federal hate crimes charges and federal firearms charges which carry a penalty of death. We are seriously considering those charges. We will conduct a methodical internal investigation with those charges. We are also treating this as a domestic terrorist case."
"We will do what we do in terrorists in this country: deliver swift and certain justice," Bash said.
Watch the video below: