Female Voters Will Be Pivotal In Key North Carolina Senate Contest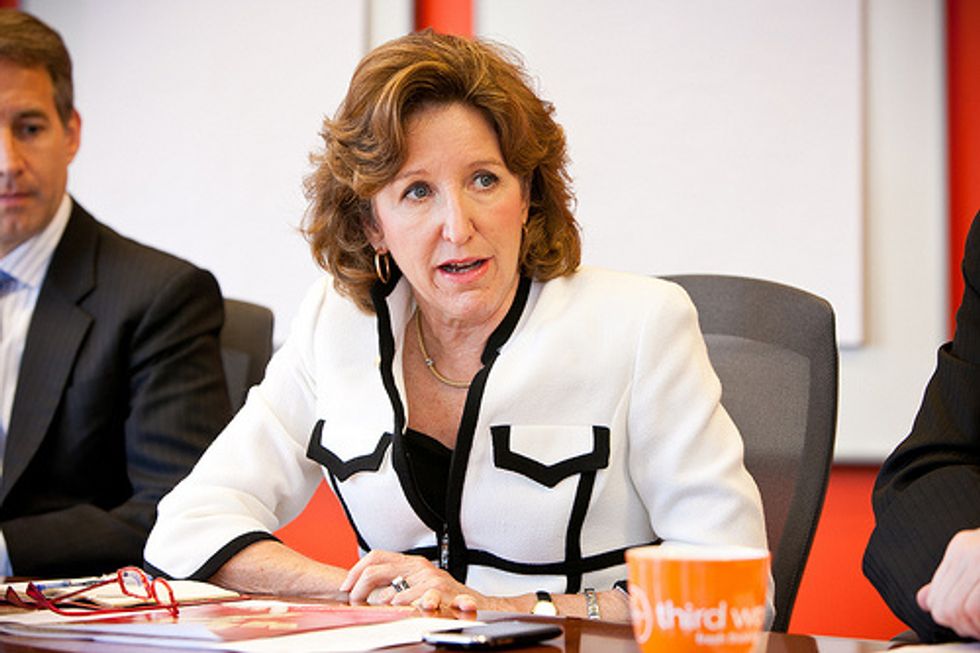 By Renee Schoof, McClatchy Washington Bureau
WASHINGTON — Women were the key to Senator Kay Hagan's election in 2008, and in what is likely to be a close race for re-election this year, she is stressing issues aimed at them — equal pay, health care, birth control and education.
The strategy is part of the North Carolina Democrat's efforts to attack the policies pushed over the past three years by the Republican-controlled state legislature, where her GOP opponent, state House Speaker Thom Tillis, has played a major role.
Hagan's game plan tries to capitalize on her party's strength among women voters and gives her campaign a message that it hopes will appeal to women who vote independent as well. Boosting the Democratic turnout in the November mid-term election is crucial for Hagan, and Democratic candidates across the country. Midterms are traditionally low-turnout elections and often hurt the party in power, and this year it's Hagan's.
"In all close Senate races, male or female, Democrats win by winning women more than they lose men by," said Democratic political strategist Celinda Lake. "So women are key to their victory."
Particularly important for her will be the groups that traditionally drop off in off-year elections — unmarried women under 55, younger women and women of color, Lake said.
In a recent interview, Hagan said she would have "the biggest, most effective turnout operation North Carolina has ever seen in a Senate race." She said it would include "neighbor to neighbor" visits to women by campaign volunteers.
On Monday, the campaign will unveil another piece of her strategy, the formation of "Women for Kay," which will fan out seeking support and post campaign news on Facebook.
The group's chairs are Betty McCain of Wilson, the former head of the state Department of Cultural Resources; Nelda Leon of Charlotte, a criminal justice consultant and president of the Hispanic American Democrats of Mecklenburg County; civil rights leader Minnie Jones of Asheville; and youth advocate Constance Hyman of Wilmington.
Hagan's message will be pointing out policies that Tillis supported in the state legislature that her campaign believes are detrimental to women. Among them, according to the campaign, was his opposition to a state equal pay measure; and his opposition to a proposed increase in the federal minimum wage — from $7.25 an hour to $10.10 –that Congress also rejected.
Tillis also voted for restrictions on abortion services last year, and for a veto override on a budget bill that cut funding for Planned Parenthood. Hagan's campaign says that Tillis has said states should have the right to ban contraception, though he hasn't said whether North Carolina should do so.
Her campaign has also criticized him for supporting a constitutional amendment on "personhood," which would grant legal protections to a fertilized human egg and possibly ban some forms of birth control.
Under Tillis' leadership, the legislature's 2013 budget also cut spending on education, opposed raises for teachers and ended a pay supplement for teachers with master's degrees. In the current legislative session, however, Tillis supports an across-the-board pay raise for teachers for the coming year. Republican Senate leader Phil Berger and Republican Governor Pat McCrory also have said they support the raise.

Tillis spokesman Jordan Shaw said that the Republicans will "target our message" to women as well, and will portray their Senate nominee as someone who can "get the nation's economy back on track."
"I feel that Speaker Tillis has done that during his three years in Raleigh, in showing an ability to pass balanced budgets," Shaw said. "We also feel like there needs to be a demonstrated ability to put more money in the pockets of taxpayers and less money to the government."
Hagan's campaign, meanwhile, ticks off a list of measures that she has supported that it says benefit women: raising the minimum wage; the Lilly Ledbetter Fair Pay Act in 2009, which restored rights to sue for pay discrimination stripped away in a 2007 Supreme Court decision; and the Paycheck Fairness Act, which, among other provisions, prohibited retaliation by employers against workers who disclose the wages of others in response to complaints. The measure failed to get the 60 votes it needed in the Senate in April.
Her campaign also says that she supported "measures that increase women's access to preventive care and stopped insurance companies from charging women more than they charge men." Both are part of the Affordable Care Act. Republicans have attacked Hagan and other Democrats for voting for it and assuring voters that they could keep health care plans if they like them, when instead some, whose plans didn't comply, were forced to get new coverage.
Hagan also voted against a bill to defund Planned Parenthood in Congress, which failed to pass.
Planned Parenthood North Carolina plans to spend $3.3 million on Hagan's re-election. It's major effort will be to target a group of 135,643 voters in Wake and Mecklenburg counties, many of whom vote infrequently.
Tillis, according to Paige Johnson, vice president of external affairs for the Planned Parenthood Action Fund of Central North Carolina, has "run this legislature far to the right and has really pushed through extremist policies. And we are a moderate state. The extremism going on in Raleigh has, I think, sort of woken up people and they're paying attention."
Republican strategist Katie Packer Gage, a partner at Burning Glass Consulting in Alexandria, Va., who focuses on political messaging to women, said she wasn't surprised that Hagan has made women a priority. She suggested that the senator is trying to divert voters' attention from the health care law and the economy.
Gage said that many women feel worse off under the Affordable Care Act, or have heard stories of others who say they're paying more or have found their doctors aren't included in their insurance plans, she said.
The reason for all the political attention is that women vote in higher numbers and make up a bigger part of undecided voters than men do, according to the Center for American Women and Politics at Rutgers University, which provides scholarly research and data.
They are also more likely to support Democratic candidates than men are, and they make their choices on the basis of the candidates' policies, not their gender, said Debbie Walsh, the center's director.
Noting that they earn less, save less for retirement and tend to live longer than men do, "Women feel more economically vulnerable than men do," she said. "That sense of insecurity tends to lead women voters toward the party that supports the social safety net."
When Hagan won her seat in 2008, she carried 55 percent of the women's vote in North Carolina, compared with 41 percent for the Republican incumbent, Elizabeth Dole.
Still, Walsh said, this year will be a jump ball.
"I think you're going to be seeing all over the country on both sides of the aisle a big push to reach women voters," she said. "They have been a pivotal vote in elections."
Photo: Third Way via Flickr