Ferguson To Set Up Civilian Review Board For Police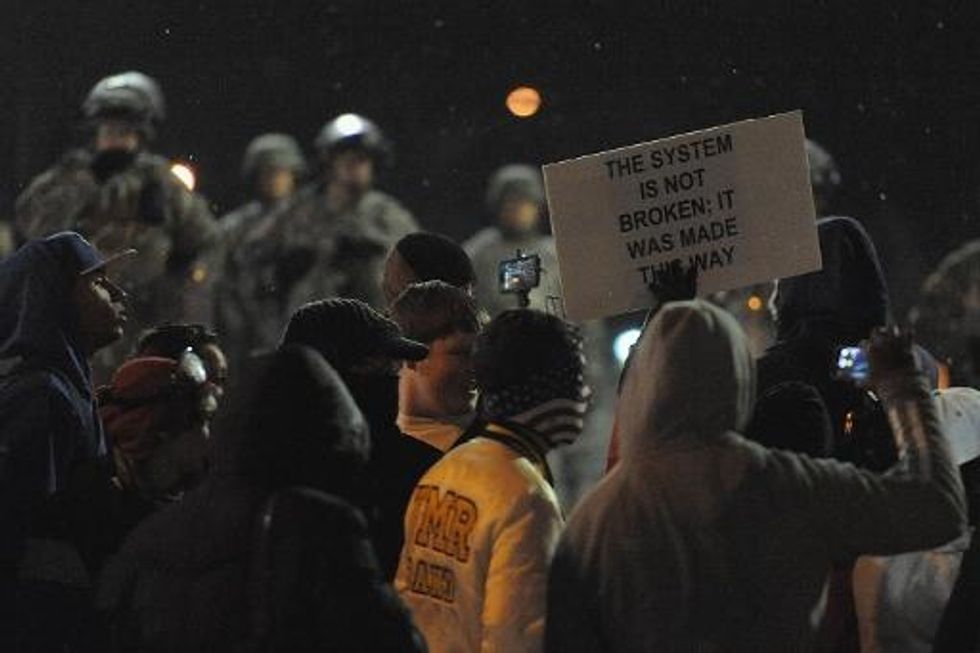 By Kurtis Lee, Los Angeles Times (TNS)
Ferguson, Mo., will establish a civilian review board to monitor police conduct and will actively recruit more African American officers, the mayor announced Sunday.
But Mayor James Knowles III said there would be no imminent changes in the leadership of the police department after the unrest that occurred when a grand jury declined to indict a white police officer who killed an unarmed black man.
Knowles spoke at a news conference a day after Darren Wilson, the officer who fatally shot Michael Brown on Aug. 9, resigned from the police force. Wilson did not receive severance pay, Knowles said.
Also Sunday, the White House announced that President Barack Obama would hold several Ferguson-related events Monday. Obama will meet with his Cabinet to discuss federal programs and funding that provide equipment to state and local law enforcement agencies. Then he will meet with civil rights leaders and later with law enforcement officials and community and faith leaders "to discuss how communities and law enforcement can work together to build trust," the White House said.
In Ferguson, the mayor said that adding a civilian review board and recruiting more African-Americans would help improve the predominantly white police department's relationship with Ferguson's predominantly African-American residents.
"We are committed to rebuilding our city," Knowles said. "And a part of that is having officers invested in the community."
In addition, Knowles said, the city will start a program in public schools to forge a bond between police officers and young people.
"We are here for you and will not leave you," Knowles told residents.
For much of the last week, sometimes-violent protests roiled the St. Louis suburb of about 21,000 after the grand jury's decision.
When Wilson resigned Saturday, he said in a letter that he was told his "continued employment may put the residents and police officers of the city of Ferguson at risk."
"It is my hope that my resignation will allow the community to heal," Wilson wrote. "I would like to thank all of my supporters and fellow officers throughout this process."
Wilson's lawyer, Neil Bruntrager, said the officer had resigned after learning of threats of violence against other officers and the department.
Knowles said Sunday he was unaware of any specific threats to Wilson and did not give him a deadline for a resignation.
Ferguson Police Chief Tom Jackson said Sunday he would not resign, despite widespread criticism from protesters and calls for him to step down.
"My focus has been on safety and security of citizens," Jackson said. "I report to the leadership of Ferguson. I'm concerned about the city. I will not resign."
Jackson said he spoke with Wilson last week and was unaware of any specific threats to him. But Jackson added, "It's been a threatening environment all along. Everybody knows that."
Separately, Benjamin Crump, a lawyer representing Brown's family, said Sunday that Wilson's resignation was no surprise.
"The family will pursue all the legal avenues," Crump said on CBS's Face the Nation. Crump noted that a wrongful-death lawsuit could be filed soon.
In addition, Crump said the Brown family would champion state and federal reforms that would require "every police officer" in "every American city" to wear body cameras.
At the Ferguson news conference, Knowles said the city would do everything in its power to help the businesses that burned in the riots rebuild as soon as possible. As of now, he said, there is no cost estimate for the damaged property.
Missouri Gov. Jay Nixon has called a special legislative session so lawmakers can allocate state funds for the rebuilding efforts.
The U.S. Department of Justice is conducting a civil investigation into the Ferguson Police Department to see if it has a pattern of using excessive force or racial profiling. The Justice Department is also conducting a criminal investigation of Wilson, but experts say a federal indictment is unlikely because the government would have to prove at a trial that Wilson purposely violated Brown's civil rights.
AFP Photo/Michael B. Thomas