Feuding House To Vote On Cantor-Led $40 Billion Food Stamp Cuts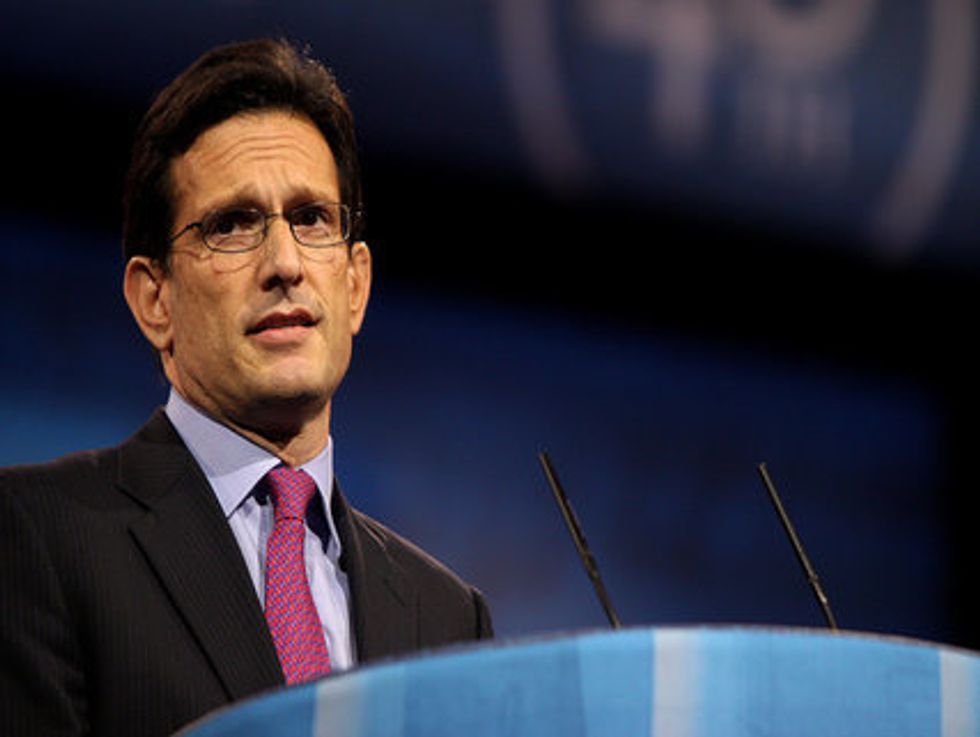 The House is expected to vote soon on a Republican-backed bill that would cut $40 billion from the food stamp program, formally known as the Supplemental Nutrition Assistance Program (SNAP).
The nearly $80-billion-a-year program currently provides food aid to an estimated 47 million Americans. The proposed bill would cut the program in half, forcing an estimated 6 million people off the program over the next decade.
The legislation, which is being pushed by House Majority Leader Eric Cantor (R-VA) and the right wing of the Republican caucus, could lay the groundwork for a farm bill conference with the Senate – which has already passed its own bill, cutting only $4 billion from SNAP — that could eventually lead to the passage of a new bill by the end of the year.
The proposed cuts, however, have resulted in even greater partisan feuding in the House.
In June, Democrats pulled support that would have cut $20.5 billion from SNAP, calling the cuts too deep. That original bill also met with opposition from some Republicans who felt the cuts were not harsh enough, preventing it from passing and causing a humiliating defeat for Speaker John Boehner (R-OH).
After the vote, Rep. Rosa DeLauro (D-CT) wrote Speaker Boehner a letter stating that Democrats would only vote for legislation "crafted to ensure that we do not increase hunger in America." The letter was signed by all House Democrats.
Now, House Democrats are enraged that despite expressing their opposition to such harsh cuts to the nation's largest anti-hunger program, Republicans have nearly doubled the proposed reductions.
"There are 50 million people in the United States of America who are hungry, 17 million are kids. It is something we all should be ashamed of, and the United States House of Representatives is about to make that worse," said Representative Jim McGovern (D-MA).
Representative Nick J. Rahall II (D-WV) described the proposed reductions as "numbness" and said they will harm those who "depend on these programs to feed their families…people who are feeling a great deal of pain."
Senate Agriculture Committee chairwoman Debbie Stabenow (D-MI) believes Tea Party Republicans are only pushing the harsh cuts in "an effort to stop a farm bill from being passed," while continuing to appease Tea Party conservatives who want stricter provisions attached to the program.
Republican leadership has offered other explanations for the legislation. Rep. Stephen Fincher (R-TN) made a religious argument, saying, "The role of citizens, of Christianity, of humanity, is to take care of each other, not for Washington to steal from those in the country and give to others in the country."
Republican Iowa representative Steve King echoed Fincher and described the goal of the bill as a way to "ensure that while you have a safety net you shouldn't be giving welfare benefits to people who are able-bodied and capable of getting a job who just choose to continue to get food stamps."
However, as many critics of food stamp reductions note, exemptions made to SNAP's work requirements are made to help able-bodied, childless adults who are unable to find employment because of the lack of available jobs.
Meanwhile, as Congress negotiates the cuts, private organizations and charities that provide free meals and food aid nationwide fear the proposed legislation would force them to feed more people than they are actually able to. As Margarette Purvis — president and CEO of the largest food bank in the nation, Food Bank of New York City — told The Washington Post, "We have no ability to make up for these cuts."
Photo:Gage Skidmore via Flickr.com