Fire Near Yosemite Turns Up Heat On California Wildfire Season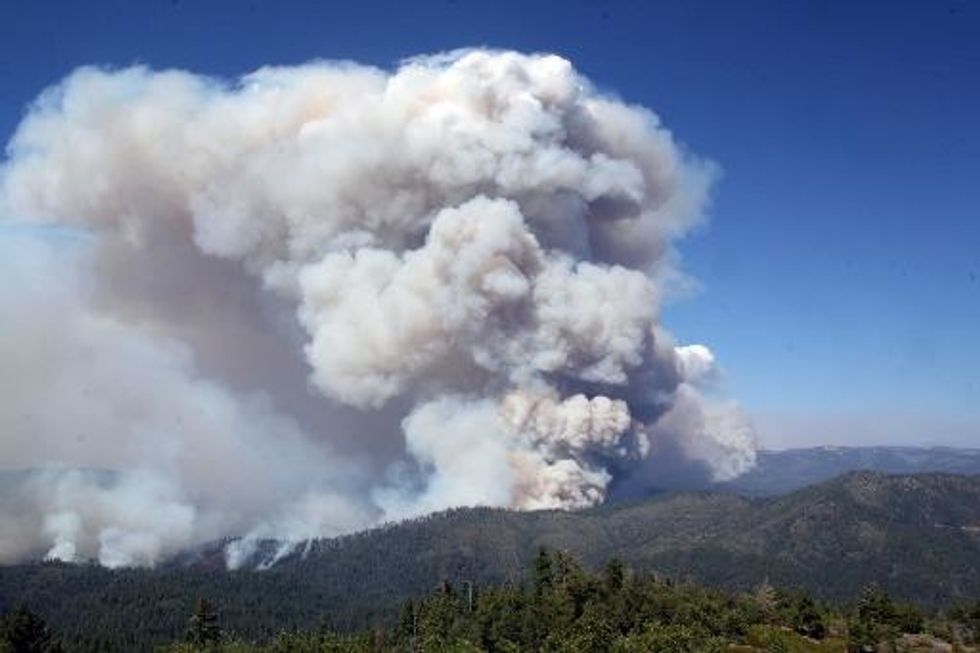 By Lisa M. Krieger, San Jose Mercury News
SAN JOSE, Calif. — For the second year in a row, flames in Yosemite National Park are turning up the heat on California's wildfire season, fueled by one of the most severe droughts in decades.
But despite dangerously dry conditions, tens of thousands of lightning strikes and a remarkably early start, aggressive firefighting has helped keep this year's fire season surprisingly mild — so far.
As of Sunday, a total of 51,903 acres have burned in California this year, slightly below the 60,379 five-year average for this time of year, according to totals from the U.S. Forest Service and the California Department of Forestry and Fire Protection, or Cal Fire.
But nobody is resting easy in and around Yosemite, where the El Portal fire threatened communities west of the park and the storied giant sequoias at the Merced Grove. The El Portal fire — like the dozens of other fires this year — ignited quickly like a matchstick.
"That thing ripped up 2,000 acres in an afternoon. That's a big run," said San Jose State University meteorologist Craig Clements, who traveled to Yosemite to study the fire.
Fires this time of the year tend to spread more slowly.
"Usually, in the early part of the season, there's more moisture in the vegetation. But the fires we're seeing are growing rapidly, moving rapidly, which is very challenging," said Sonoma-based fire captain Amy Head, a Cal Fire spokeswoman.
The soft humid skies lingering over much of California offer little relief — and can throw down dangerous spears of lightning into super-dry forests.
This is California's monsoon season, when a high pressure system over the desert Southwest expands north, bringing thunderstorms to the Sierra.
But the rain evaporates as it falls, providing little relief to fire danger.
"You felt just small drops on your skin," said SJSU meteorology graduate student Richard Bagley, who was also at Yosemite earlier this week. "There was zero accumulation."
Even though the rain doesn't hit the ground, flashes of lightning do, and they are the most common cause of California wildfires. And when a storm has passed, firefighters worry about what they call "holdover fires."
"Lightning can hit a tree and just hang out," particularly after rain, said Brenda Belongie, a meteorologist with the U.S. Forest Service in Redding. "It can smolder for several weeks. Think of a long, slow, glowing ember. Then, when it warms up and dries, a fire emerges," she said.
But humans are to blame for some of this month's most destructive wildfires. A car driven through high, dry grass July 25 started the Sand Fire in the Sierra foothills east of Sacramento. It destroyed 19 homes and 47 outbuildings, burning 4,240 acres and by Tuesday was 85 percent contained.
Car exhaust from suspected marijuana farmers ignited the Bully Fire on July 11 in Shasta County, killing one person and destroying 20 structures and burning more than 12,600 acres.
No cause has been determined for the El Portal fire, which by Tuesday night, had burned through more than 3,000 acres and was 19 percent contained. Residents were allowed to return home to Foresta and El Portal on Tuesday after evacuating earlier this week.
Ignition starts in tinder-dry brush and timber, accumulated over three years of drought.
In the San Francisco Bay Area, research from the federal government's National Fuel Moisture database shows that vegetation is drier than normal. Samples of wild plants show 49 percent moisture content in the Mount Diablo area where 61 percent is average. In the Los Gatos mountains, moisture content is 63 percent; 68 is average. Sixty percent is considered a "critical," or dangerous, level.
AFP Photo/Mike Mcmillan
Interested in national news? Sign up for our daily email newsletter!