First Ebola Case Diagnosed In U.S.: Here's Why You Don't Need To Panic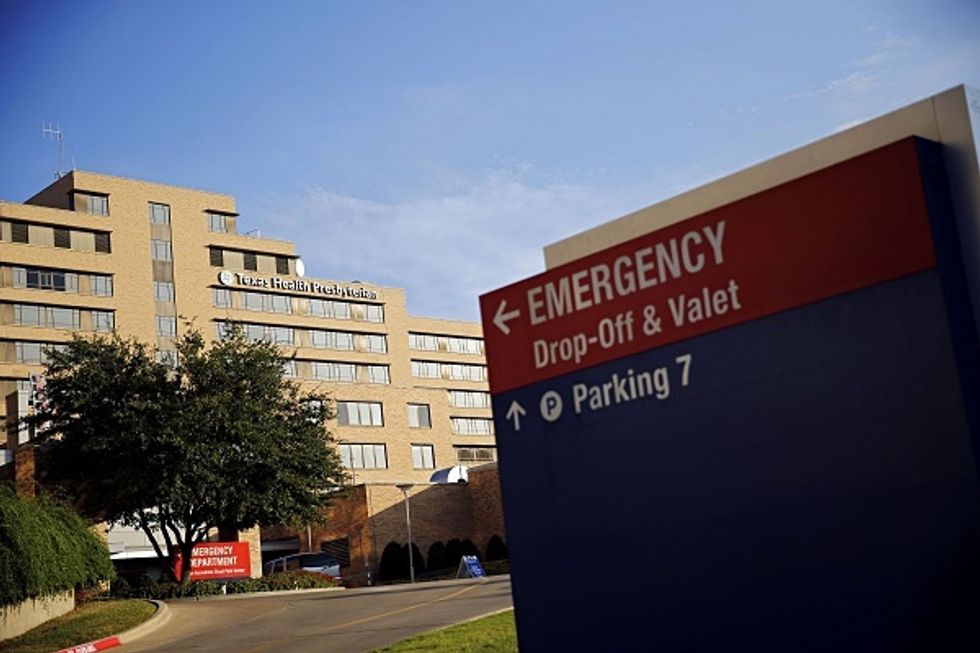 By Christine Mai-Duc, Los Angeles Times
With officials confirming the first Ebola case diagnosed in the United States, and the first case diagnosed outside of Africa during this outbreak, some Americans continue to express fear that the deadly disease — which is believed to have killed at least 3,091 people in West Africa — could spread in the United States.
If you're one of them, you can calm down. Health officials say there is virtually no danger to the public. Here's what you need to know about the virus:
Question: What's the likelihood of a major Ebola outbreak happening in the U.S.?
Answer: Remote, according to officials from the U.S. Centers for Disease Control and Prevention. Now that an Ebola patient has been diagnosed in Texas, the first human case ever diagnosed in the United States, health officials say the American health system will work to contain the disease and the likelihood of it spreading is very low.
Once an Ebola patient is identified here, says CDC Director Thomas Frieden, protocols allow doctors and health officials to quickly isolate and treat the person, and to put anyone who may have come in contact with him or her under close surveillance for 21 days, the incubation period for Ebola.
If any of those people develop symptoms, the contact tracing cycle begins all over again.
The CDC has issued travel advisories recommending that U.S. citizens avoid nonessential travel to the most affected countries, but have also said Ebola exit screening at airports in West Africa and entry screening for those travelers arriving from affected countries will identify anyone showing symptoms of the virus.
The CDC has said in the past that it's very unlikely that American travelers to West Africa could contract the disease, since they'd have to come in direct contact with an infected person's blood, organs or other bodily secretions, but it issued the advisories amid concerns that travelers might find themselves at risk in West African hospitals.
Weak health care systems in West Africa have led to the virus spreading rapidly there. So have traditional burial rituals that involve washing the bodies of loved ones after death.
Q: Why are we allowing people with Ebola into the country?
A: The patient who was diagnosed at a Texas hospital on Sept. 30 was not showing any symptoms of the disease until four days after arriving in the U.S., CDC and hospital officials said.
The person was subject to screening when leaving West Africa and upon arrival in the United States and exhibited no symptoms of the disease at the time, officials say. That means the patient was not contagious at the time, and there was no reason to isolate the person or restrict his or her movement into the United States.
In the case of the three U.S. missionaries who have been evacuated to American hospitals after becoming ill with Ebola, officials have said bringing them to the U.S. ensured that they had access to "modern medical facilities and technology" that could save their lives.
Dr. Kent Brantly, missionary Nancy Writebol and Dr. Rick Sacra all contracted Ebola while working in West Africa and were evacuated to the United States for treatment.
They have all since recovered and been released.
No other secondary infections have been reported as a result of their transport and treatment here.
Q: Were other people in the plane or at the airport with the patient in danger?
A: Officials have not revealed the flight on which the Texas patient arrived to the United States, saying there was "zero risk" of transmission to anyone traveling with the person since he or she did not show symptoms until four days after arriving.
The CDC says there's no reason to think anyone on the flight might have been at risk.
The patients who have been evacuated to the United States have been transported via specially equipped medical planes outfitted with an isolation pod, a portable, tent-like structure that can prevent infected patients from exposing flight crews and other personnel.
Q: What happens after an Ebola patient is identified in the U.S.?
A: When a patient shows signs or symptoms of Ebola and is confirmed to have recently returned from West Africa, CDC protocol requires that the patient be isolated immediately and blood samples be sent to the CDC for testing.
Even low-risk patients have been tested out of an abundance of caution, such as a recent patient in Sacramento who ultimately tested negative.
If a patient tests positive, CDC officials and the U.S. health system have strict protocols for keeping and treating the patient in isolation, including use of personal protective equipment including gloves, full-body suits, goggles and masks for healthcare workers in direct contact with the infected person.
In most cases, local and state public health officials, as well as the CDC, must be informed immediately of any suspected or confirmed case.
U.S. health officials have said that any U.S. hospital should be capable of properly isolating and caring for a contagious Ebola patient.
There is no specific treatment or cure for Ebola, so patients are typically closely monitored and receive blood and IV drips for dehydration. However, it has been disclosed that all three patients evacuated to the U.S. were treated with experimental Ebola treatments.
Hospital officials in Texas say they are in discussions with federal authorities and the patient's family regarding using an experimental treatment on the recently diagnosed patient.
Q: Are there any other Ebola patients in the United States now?
A: This is the first and only patient diagnosed so far in the United States, and the only patient diagnosed outside of Africa so far in the current outbreak.
But the CDC and a number of state and local governments have said they are preparing for the possibility that new patients could emerge, especially with the amount of international travel that happens to and from the United States and the number of health care volunteers traveling to assist in the Ebola crisis in West Africa.
There have been three other Ebola patients treated in U.S. hospitals — Brantly, Writebol and Sacra_but all have recovered and been released.
CDC Director Frieden says it's "certainly possible" that new cases could emerge since the Texas patient had contact with "a handful" of family members and friends.
New Ebola cases could pop up as long as the outbreak in West Africa continues, he said.
But, he added, health officials are committed to "stopping this in its tracks" in the United States.
Q: Might I encounter someone with Ebola at an airport?
A: Probably not. All of the affected West African nations have announced plans to screen airport passengers before they leave. That includes taking their temperatures to check for fevers.
In the event that a passenger does become ill on a flight, commercial airlines have received special instructions from the CDC on how to notify the agency and effectively isolate the patient_as well as anyone who may have had contact with them — on arrival. The CDC has 20 isolation stations at major airports around the country, including one at the Tom Bradley International Terminal at LAX. These are staffed 24/7 and are fully equipped to deal with an Ebola patient should they enter the country ill.
Q: I'm still worried about contracting Ebola. Should I be on the lookout for symptoms?
A: There's really no need. Unless you or someone you have been in close contact with has recently traveled to West Africa, there's almost no chance you will get sick with Ebola.
Even if someone is infected, they are not contagious until they exhibit obvious symptoms of being ill, such as fever, vomiting or diarrhea, according to the World Health Organization.
But just so you know, symptoms of Ebola include sudden fever, intense weakness, muscle pain and headaches, along with vomiting and diarrhea. The disease can cause kidney and liver failure, as well as internal bleeding. If you or someone you know is experiencing these symptoms and has recently traveled to Guinea, Liberia, Sierra Leone, Nigeria or a country nearby, go immediately to your doctor and tell them about your recent travel.
Photo: Texas Health Presbyterian hospital on Tuesday, September 30, 2014, in Dallas. A patient at the hospital tested positive for the Ebola virus. (G.J. McCarthy/Dallas Morning News/MCT)