Trumped Up: The First Seven Days In Trumplandia
@JamieStiehm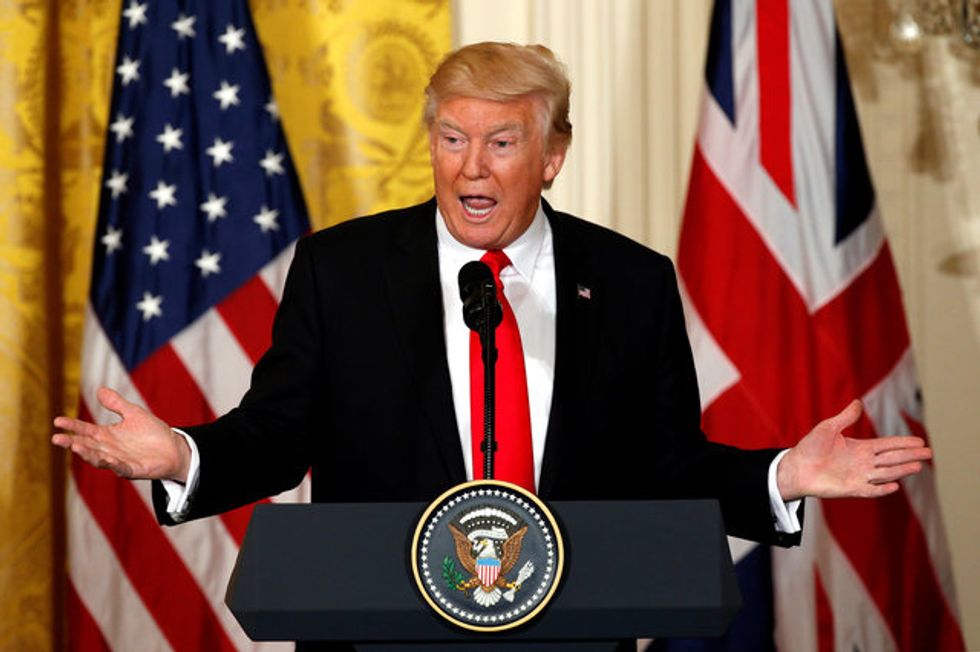 Does it feel like a coup to you, too?
Here in the eye of Donald, the police presence on corners, even in my peaceful Cathedral neighborhood, is slowing traffic and sounding sirens. President Obama was a peaceful neighbor, but as Elizabethan playwright Christopher Marlowe wrote, that was another country.
We're living in Donald Trump's reality now. Let's say it this way: If there were a coup to take over America, it would look like this. A glowering old man — who looks his age, 70 — seeks to silence and intimidate all sources of dissent and moves to consolidate power as quickly as he can.
Trump's new freeze on hiring in the federal workforce, a highly educated sector, hit home here. (The military is exempted.) Taking down the latest news and findings on climate change on the Environmental Protection Agency website amounts to a blackout on planetary science. Just as if there were a five-alarm fire in their library, some EPA people are scurrying to save what has been published before going dark.
Organizing a Scientists March on Washington is underway.
At the State Department, four senior managers have resigned in protest. Maybe they don't want to work for the former CEO of Exxon Mobil, Rex Tillerson, a man who has zero government or diplomatic experience. Texas oilman Tillerson is not even Trump's most egregious Cabinet pick. Trying to translate his nonsense, it's clear Trump actively sought several people opposed to the mission of their agencies.
One federal worker whose job is secure is James Comey, the FBI director who hurt Hillary Clinton's campaign in the end with a fruitless email "investigation." Trump says he's going to keep him. They owe each other.
True to his Teutonic roots, Trump aggressively started up two huge pipeline projects, which were halted by the Obama White House after careful study, and then he announced building that wall along the Mexican border, all in a day.
It's better that way, breakneck speed, because bewildered opponents are lost in a blizzard of executive orders and cabinet appointments. Do you think this president lost a wink of sleep over the predicted environmental damage or the land theft from American Indians at Standing Rock?
As for investing billions in a wall: He had a promise to keep.
Authoritarians love walls. That will be his scrawl across America. It will make an enemy of our neighbor, Mexico, but who cares? That may be his foreign policy in a nutshell.
One week in, we saw this president hates to lose by numbers and ratings. Living in a fact-free zone, he thinks by saying stuff he can make it so — to wit, that his inaugural attracted more people than Obama's joyous first inaugural and the mass uprising, the Women's March on Washington, the next day.
Wrong on both counts, but he still had spokesman Sean Spicer, his young doppelgänger, pushing falsehoods — excuse me, Kellyanne Conway, "alternative facts" — without taking a question. Rough seas from the start on the press front.
White House correspondents are concerned at this ranting debut and other early signals. "There's a lot that he (Trump) doesn't know," said Jeff Mason, president of the White House Correspondents Association. The press are braced for trouble, perhaps being thrown out of their precious small space in the complex.
And first impressions count. They foretell. Trump's first inaugural address was a pedestrian piece of work that insulted all the past presidents sitting right there. It was astonishing.
Trump also repeated a false claim to visiting congressional leaders — that three to five million people voted illegally. That's the margin by which he lost the popular vote to Clinton. Let him eat his heart out, but did any of the leaders speak out to correct him? That's not clear from the record. Again, if he says so, it makes it so.
In Harper's Bazaar, Madonna noted the entertainment industry is feeling silenced along with government: "Nobody takes a political stance or expresses an opinion." She spoke at the Women's March.
City sophisticates who think watching Saturday Night Live is a form of protest are being jolted out of that slumber.
In our new reality, the truth is what Trump says it is.
To find out more about Jamie Stiehm and read features by other Creators Syndicate writers and cartoonists, visit creators.com.
IMAGE: U.S. President Donald Trump speaks as he holds a joint news conference with British Prime Minister Theresa May at the White House in Washington, U.S., January 27, 2017. REUTERS/Kevin Lamarque