First-Time Visitors To Vegas: Prepare To Be Overwhelmed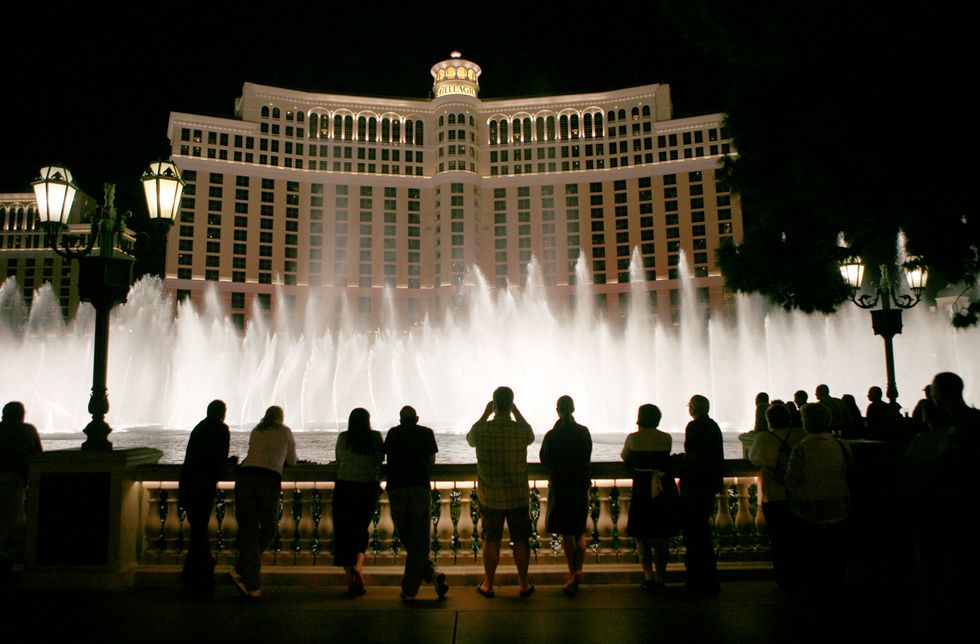 By Patti Nickell, Lexington Herald-Leader (TNS)
LAS VEGAS — Las Vegas rises, Oz-like, from the scorched brown earth of the desert, an Emerald City whose hue is the color of money. Money, one casino employee joked, that comes from vice and virtue — its two biggest industries being gambling and weddings.
The Vegas mystique is writ large. Chevy Chase took a memorable vacation here; Hunter S. Thompson found "fear and loathing" here; Bradley Cooper and Zach Galifianakis woke to the mother of all Hangovers here. Las Vegas — for better or worse — affects all comers.
Although legalized gambling came to this sleepy southern Nevada town in 1931, it was the 1960s that saw Vegas transformed into an international playground for the famous and infamous.
One of the most famous was eccentric billionaire oilman Howard Hughes, who after being asked to vacate his room at the Desert Inn, retaliated by buying the entire hotel. Around that same time, a trio of entertainers — Frank Sinatra, Dean Martin and Sammy Davis Jr. — dubbed the "Rat Pack," became regulars on the Strip. Las Vegas never looked back.
While iconic properties such as the Sands and the Dunes have given way to bigger, glitzier ones — the Venetian and Bellagio respectively — Vegas is still a town of one-name headliners. Dean, Frank and Sammy are gone; now there's Britney, Reba, Donny and Marie.
And it's not just the entertainers who have achieved a one-name level of fame. Check out the myriad of restaurants in the resorts, and you'll find Gordon, Giada, Wolfgang and Emeril. In Vegas, it seems celebrity trumps everything, except, of course, money.
ARRIVING ON THE STRIP
Unless you're a regular, when you first arrive on the Strip, you may find yourself overwhelmed by the sheer enormity of it all — the skyscraper resorts, neon signs and towering billboards. A good way to get your bearings is to purchase a GO Las Vegas Explorer Pass (choice of 3, 4, or 5 attractions and good for 30 days.)
Among the attractions your pass will get you into are the outdoor gondola ride at The Venetian Hotel and the High Roller at the LINQ, Vegas' answer to the London Eye. You can walk on the wild side at the Mob Museum or stay on the right side of the law at CSI: the Experience. You can even party like Elton or Rod on the Rockstar VIP Club Tour.
Should you wish to do your own thing, just remember: taxis are expensive (second only to New York City) and distances between places — even on the Strip — can make for a long walk, especially in 100-plus temperatures.
THE RESORTS
Understated Vegas is not, with every property vying to out-glitz its competition. My first stop was the Bellagio, which dazzles with the Dancing Fountains spectacle on its artificial lake (get there early for a prime viewing spot); Cirque de Soleil's most spectacular show, O, (which transforms the stage into a gigantic swimming pool) and the lobby Conservatory, which draws as many people as the casino.
The Conservatory changes its floral display five times a year — for each season and the Chinese New Year. An ocean-themed display was up during my stay. To say it's eye-popping is an understatement. Giant seahorses cavort with equally large turtles; oysters open to reveal shimmering pearls, and a 7-foot mermaid lounges on a rock. It would have been spectacular even if the entire display hadn't been fashioned of real flowers, which are replaced every couple of days as needed.
Other properties are equally over-the-top. The Venetian has gondoliers to take you on a ride through indoor and outdoor lagoons; Caesar's Palace has a Roman-inspired shopping street featuring the best Italian brands — Ferragamo, Versace, Armani and Gucci — and Paris Las Vegas has a half-scale replica of the Eiffel Tower.
If these properties are all about conspicuous excess, the Cosmopolitan is the very definition of cool. Large graphics that explode in a kaleidoscope of colors and shapes dominate the lobby, and make the often-lengthy check-in process at least entertaining.
Also entertaining is the Cosmopolitan's Chandelier Bar. The multi-level bar, cocooned in rows of crystal beads, is meant to resemble, what else, a chandelier, but I felt more like I was sipping champagne in a giant jeweled spider web.
If the craziness gets to be too much and you need a quiet retreat, don't despair. You can find one in the peaceful oasis of the Mandarin Oriental Hotel. Tucked away in an enclave, there are no garish lights or signs here, just the tranquil zen-like feel of an Asian garden.
I booked a table at MOZEN for lunch one day and had a delicious sushi/sashimi platter accompanied by a plum-flavored sake with delicate notes of blood orange and cinnamon. That was followed by a 60-minute massage in the Mandarin Oriental's acclaimed spa. It was so relaxing that I was ready to take on the Strip again.
THE SHOWS
Almost as popular as gaming in Vegas are the shows. Everyone who is anyone in the entertainment world makes Las Vegas a regular stop. Everyone from pop stars to Cirque de Soleil, which has no fewer than eight shows running on the Strip (the Michael Jackson Thriller scene at Mandalay Bay will, pardon the pun, thrill you.)
However, if you are into nostalgia and want a look at Las Vegas in the days of glamorous showgirls, magicians and animal acts, save a night for Planet Hollywood Hotel and Casino's Saxe Theater production of VEGAS! The Show.
Beginning with Frank, Dean and Sammy, the show segues through all the great performers who left their mark here: Judy Garland, Elvis, Sonny & Cher, and Tina Turner come alive through talented impersonators singing and dancing their hearts out.
THE RESTAURANTS
Forget the $3.99 buffets. Las Vegas is a food lover's paradise. Your only problem will be how to squeeze in all the places you want to go in the time you have. During my three days, I managed three lunches and two dinners.
Aside from the previously mentioned MOZEN, lunch spots included TREVI at Caesar's Palace and GIADA at the Cromwell Hotel (they do love capital letters here.)
Step out of the white-hot glare of a desert afternoon into the lavender twilight of the Eternal City at TREVI. Tables surround the Fountain of the Gods in the Forum Shops at Caesar's Palace, which has been designed to resemble a Roman street, right down to the painted blue ceiling with fluffy white clouds. It may sound kitschy, but it really does give the feel of dining al fresco in Rome.
For a more sophisticated take on Italian cuisine, I had lunch another day at GIADA, the only restaurant of Food Network superstar Giada De Laurentis. The oval-shaped dining room in soothing earth tones of beige, cream and burnt orange has floor-to-ceiling windows overlooking the Bellagio fountains.
The food matched the view. I started with a Parmigiano-Reggiano cheese dish with wild sage honey, and followed that with more cheese in the form of a lemon pesto grilled mozzarella and fontina cheese sandwich with heirloom tomatoes.
Dinners both nights were small plate affairs where the emphasis was on taste rather than size. Jaleo in the Cosmopolitan showcases the exquisite tapas of Barcelona-raised chef Jose Andres. Here, my chilled gazpacho, watermelon and tomato salad with goat cheese and pistachios and the signature shrimp tapa sauteed with garlic were accompanied by a 2005 Reserva from Bodegas Ontanon in Spain's Rioja region.
Lago, overlooking the Bellagio Lake, is also known for small plates — Italian rather than Spanish (I loved the roasted green olive focaccia with pecorino.) The outdoor terrace is a great spot for dining, if you can get over the unsettling feeling that Donny and Marie are watching you eat from their billboard-size images on the side of the Flamingo Hotel.
From resorts to restaurants, gaming to golf, Las Vegas puts on a show that's destined to run forever.
(Patti Nickell is a Lexington-based travel writer. Reach her at pnickell13@hotmail.com.)
(c)2015 Lexington Herald-Leader (Lexington, Ky.). Distributed by Tribune Content Agency, LLC.
Tourists line up in front of the Bellagio in Las Vegas to watch the water show in an October 2007 file image. (Mark Boster/Los Angeles Times/TNS)